Brain Cancer Awareness Day
Join Canadians from coast to coast to coast as we recognize Brain Cancer Awareness Day. Saturday, October 24, is a day to recognize the prevalence and seriousness of brain cancer, while also celebrating our survivors and striving to find a cure.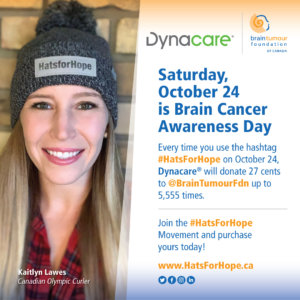 Every day in Canada, eight people will be diagnosed with brain cancer. Together, we can provide hope for all of those affected by brain cancer – through research, support and education.
In honour of Brain Tumour Awareness Day, Brain Tumour Foundation of Canada is once again celebrating with Hats For Hope. All Canadians are invited to take part. Just put on your favourite hat, take a selfie and post to social media using the hashtag #HatsForHope and tag @braintumourfdn.
New this year, for every post using the Hats For Hope hashtag, Dynacare will donate 27 cents to brain tumour research.