Brain Tumour Webinar Series – Advances in Neurosurgery: 5-ALA Fluorescence Guided Surgery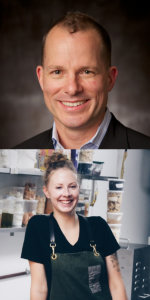 Dr. John Sinclair, Neurosurgeon at Ottawa Civic Hospital
Advances in Neurosurgery: 5-ALA Fluorescence Guided Surgery
Dr. Sinclair will provide an overview of the advances in neurosurgery using 5-ALA Fluorescence Guided Surgery in the surgical resection of high-grade gliomas. This new technique enables differentiation between tumour and normal brain tissue, allowing a higher degree of resection, and improves patient outcome.
Stef Scrivens
Personal Story of Hope
Stef was diagnosed with an oligodendroglioma (grade II). Symptoms always differ from person to person based on the type of brain tumour they are diagnosed with, the location and rate of growth of the tumour. For Stef, she experienced morning headaches, simple and complex partial seizures, and exhaustion. These symptoms went on for 8 years until she received her diagnosis.