Brain Tumour Webinar Series – Changing the Caregiver Experience: Ways to Take Charge and Support Yourself and Your Loved One Living with a Brain Tumour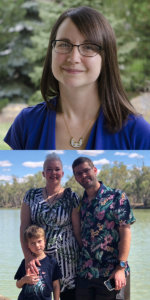 Melina Ladouceur, Cancer Coach & Survivorship Care at the Ottawa Regional Cancer Foundation
Changing the Caregiver Experience: Ways to Take Charge and Support Yourself and Your Loved One Living with a Brain Tumour
All caregivers have their own personal experience with caring for a loved one diagnosed with a brain tumour. For some caregivers, maybe that's knowing what to say and how to support their loved one when they are struggling or wanting to know how to help them manage side effects or wanting to come up with a plan to take care of yourself and avoid caregiver burnout. In this presentation, you will learn useful tools, resources, and information to help you as a caregiver feel more confident on how you can support your loved one, while also taking active steps to manage stress and prevent caregiver burnout.
Erin Dykstra
Personal Story of Hope
In 2016, after 9 months of focal seizures, dismissed by many providers, Erin's husband Caanan was diagnosed with oligodendroglioma (grade II). He underwent a 9-hour surgery in May of 2016, finished radiation and chemotherapy. Erin and her husband have learned a lot on their brain tumour journey and even as an RN herself was astonished at the level of health literacy required to navigate our system as a caregiver. Erin facilitates the Western Canada Caregiver Support Group once a month to help pass on some of what she has learned.