Brain Tumour Webinar Series – Genomic and Molecular Markers in Glioma: Where Are We Now?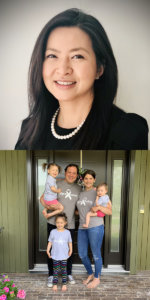 Dr. Mary Jane Lim-Fat, Neuro-Oncologist at Sunnybrook Health Sciences Centre
Genomic and Molecular Markers in Glioma: Where Are We Now?

This presentation will review the current use of molecular and genomic markers in glioma in clinical care and some of the potential benefits and current limitations. We will also discuss how these markers are impacting management decisions for specific groups of patients with gliomas, in particular young adult diagnosed with a glioma.
Kyleigh Provenzano
Personal Story of Hope
Kyleigh was originally diagnosed with a low-grade glioma in October 2019. At the time her daughters were aged three, one, and four months. There were signs that something was not right, but she often attributed them to something else. There were times when Kyleigh would lose her train of thought and had trouble forming sentences. These spells lasted only 30-40 seconds – something she attributed to 'baby brain.' As of December 2020, Kyleigh is in the "wait and see" phase for surgery because the tumour is in a dangerous spot and too much risk to permanent speech disability.
Kyleigh is our 2020 Cup of Hope Winner! She led the nation in fundraising for the 2020 Virtual Brain Tumour Walk and created a local movement in the process in Sault Ste. Marie. Her team, the Brain Stormers, raised close to $40,000 for Brain Tumour Foundation of Canada, of which, Kyleigh herself raised about $34,000.