Brain Tumour Webinar Series – Navigating the Twists and Turns of Survivorship: School and Work Considerations for Youth and Young Adults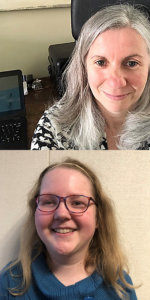 Barb Williams, Provincial Coordinator, School and Work Transitions Program at the Pediatric Oncology Group of Ontario (POGO)
Navigating the Twists and Turns of Survivorship: School and Work Considerations for Youth and Young Adults

This presentation will address options and strategies for childhood cancer/brain tumour survivor as related to the later years of high school, transitioning into post-secondary, and achieving post-secondary success, as well as job seeking and the workplace.
Stephanie Doucet
Personal Story of Hope
After surviving childhood leukemia, a central nervous system relapse is where Stephanie lost the vision in her right eye and needed a bone marrow transplant. Stephanie completed a B.Sc. in Wildlife Biology and Conservation. Then, while pursuing a Veterinarian Assistant college program, she was diagnosed with a radiation induced meningioma, requiring two surgeries, which left her with no hearing in her right ear. Stephanie has developed many tips and tricks over the years to keep a positive outlook.