Brain Tumour Webinar Series – Advances in Radiation: Developing the MR-Linac for Patients with Glioma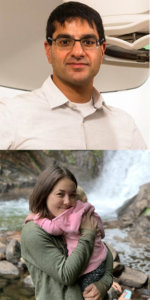 Dr. Arjun Sahgal, Deputy Chief & Radiation Oncologist at Sunnybrook Health Sciences Centre
Advances in Radiation: Developing the MR-Linac for Patients with Glioma

This presentation will educate us on a new technology called MR-Linac. This is the first machine in the world to combine radiation and high-resolution magnetic resonance imaging (MRI). This hybrid technology lets doctors at the Odette Cancer Centre target tumours and monitor their response to radiation with unprecedented precision – even as a tumour moves inside the body – thanks to the machine's real-time MRI guidance. Dr. Sahgal will describe this technology and its development and how they are treating patients with glioma with this advanced radiation technology.
Jodi Quinn
Personal Story of Hope
Jodi will share how she is coping with an incurable brain tumour, while trying to be an active Mom to two small children during a pandemic. Jodi was diagnosed with a glioblastoma (GB) and received radiation treatment with the MR-Linac at Sunnybrook hospital. Jodi will share what her treatment was like both physically and emotionally.