Helping Families Navigate the Grief of Living with a Brain Tumour
When a child is diagnosed with a brain tumour, we often feel unprepared and ill-equipped to deal with our emotions and the journey that lay ahead.
Sadly, we haven't been taught the information on how to navigate our grief in a healthy and meaningful way. Instead, we are told, "keep busy," "be strong," and "wait for time to pass".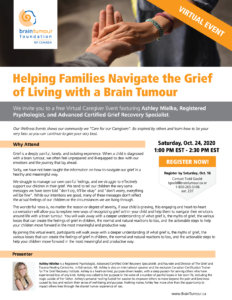 Not only do we struggle to manage our own painful feelings, we struggle to effectively support our children in their grief, feeling at a loss when it comes to identifying and supporting their emotional reactions.
This virtual event is designed to allow you to explore new ways of recognizing grief within your child and help them to navigate their emotions around life with a brain tumour.
You will walk away with a deeper understanding of what grief is, the myths of grief, the various losses that can create the feelings of grief in children, the normal and natural reactions to loss, and steps to help your children move forward in the most meaningful and productive way.
Ashley Mielke Bio
Ashley Mielke is a Registered Psychologist, Advanced Certified Grief Recovery Specialist®, and Founder and Director of The Grief and Trauma Healing Centre Inc. in Edmonton, AB. Ashley is also an international speaker and the exclusive Canadian Certification Trainer for The Grief Recovery Institute.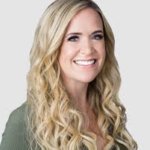 Ashley was called to her purpose in the wake of a number of painful losses in her own life, including the tragic suicide of her father. Ashley's personal healing fueled her passion to empower others to move beyond the pain and loneliness caused by loss and reclaim their sense of well-being and purpose.