Regina Caregiver Wellness Event (postponed)
Brain Tumour Foundation of Canada cares for our caregivers as they go through their own brain tumour journey. We are hosting this free Caregiver Wellness evening at the Hotel Saskatchewan.  Be inspired by others and learn how to be your very best so you can continue to give your very best.
The role of the Caregiver is so important; not only in caring for our loved ones but also in caring for ourselves. You are not alone, and this Caregiver Wellness retreat will provide you with tools to help you on your journey. We recognize how challenging it is for families to go through unexpected changes like a brain tumour diagnosis. Compassion is key, and this event will explore ways to help you improve quality of life for yourself and loved ones, even when facing adversity. Speaker Peggy Collins-Gibson understands that self-love cannot be sacrificed, and life skills will be shared that can last a lifetime!  In our time together, we will acknowledge unmet hopes, dreams and expectations as well as looking forward to new hopes and a future with new dreams and expectations.
About the speaker: Peggy Collins-Gibson is a Certified Grief Recovery Specialist, Founder and CEO of the company Purpose to Prosperity Consulting. Peggy believes that personal growth and healing is within our reach and provides programs to help people find their way to their purpose and potential, building a life that is full of love and rich with accomplishment.
About the venue: When the visionaries of the Canadian Pacific Railroad united east and west Canada, they built The Hotel Saskatchewan as a place that connected the people of Regina to each other and the world.  Since 1927, it is the place to be in Saskatchewan's capital city.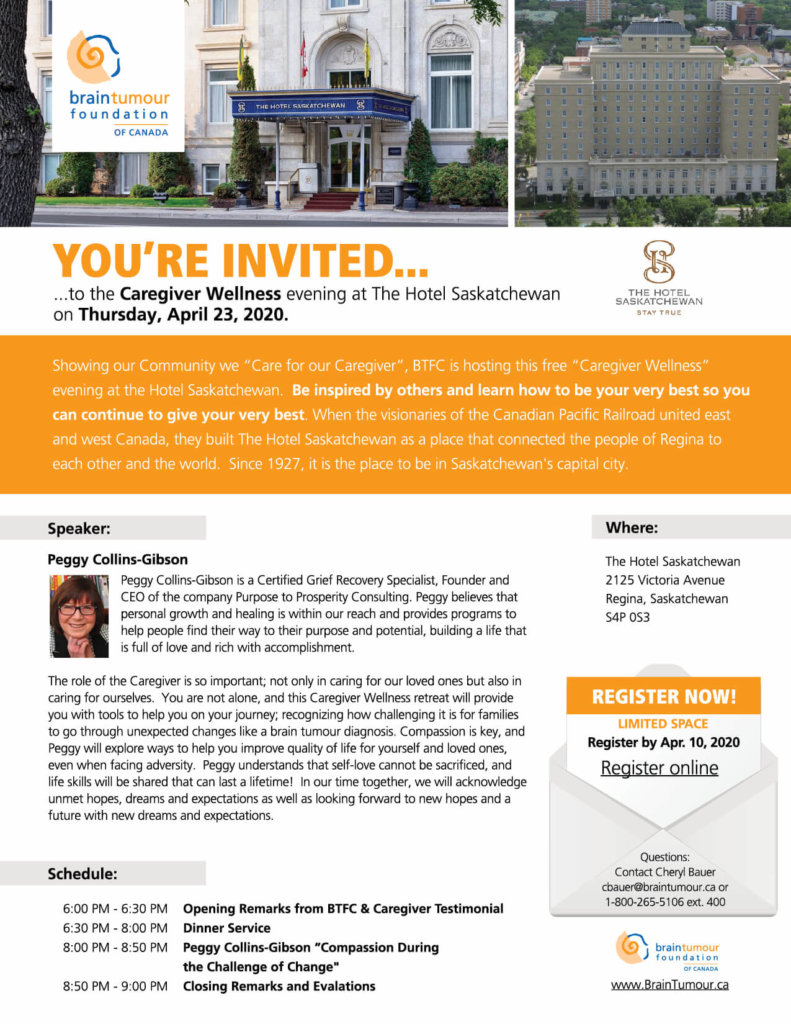 When:  April 23, 2020
Schedule:
6:00 pm Opening Remarks from BTFC & Caregiver Testimonial
6:30 pm – 8:00 pm Dinner Service
8:00 pm – 8:50 pm Peggy Collins-Gibson "Compassion During the Challenge of Change"
8:50 pm – 9:00 pm Closing Remarks and Evalations
Please register by April 3.