#SupportAtHome Concert Series: Rhonda Head
Join us for a live stream concert by the talented classical Cree singer Rhonda Head.
Rhonda is a five-time award winning international Classical singer from the Opaskwayak Cree Nation.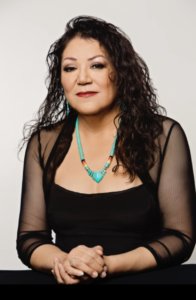 She gets her inspiration from other Indigenous Musicians and the landscape of Opaskwayak Cree Nation, and was selected to perform O Canada with the Toronto Symphony Orchestra in the Cree language as part of a Canada 150 project.
Among her many accomplishments, she received a nomination for Best Inuit, Indigenous Language or Francophone and won.
Rhonda has also been personally touched by a brain tumour. Her visit to the doctor followed by an MRI found an acoustic neuroma brain tumour. Despite the tumours, deafness, paralysis and tinnitus, it wasn't long before Head wanted to sing again. She returned to vocal lessons and a year after her Gamma Knife surgery, she sang publicly for the first time.
The concert will be streamed live on Rhonda's Facebook page.
Learn more about Rhonda Head at her website.