Virtual Scientific Communication Contest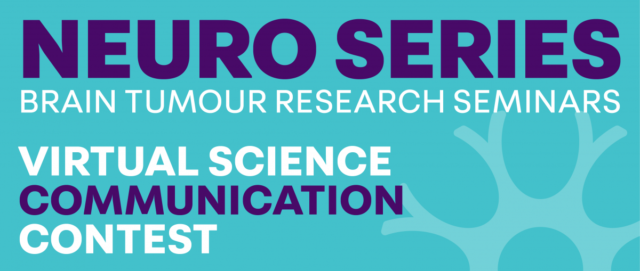 The Brain Tumor Research Seminar Series is proud to announce our virtual Science Communication contest!
Each participant has prepared a short (3-5min) presentation, explaining the general scope and goals of their project. You can vote for your favourite presentation here.
The presentation with the most votes will win the People's Choice Award, valued at $500!
If you have any questions for any of the presenters, please email us at btrsstheneuro@gmail.com, or tweet us (@btrsstheneuro) using the hashtag #BTSciComm. Your question will be answered within 24-48 hours, and the answer will be posted directly on the event page!
The participants will be judged on how clear, engaging and understandable the presentations are, as well as how well the participants answer questions from the general public. Two prizes will be awarded: First Place and People's Choice Award. The judges are Dr. Roberto Diaz, a neurosurgeon and scientist from the Neuro, and Susan Ryupers, Research Program Specialist at the Brain Tumour Foundation of Canada.
---
Presenters
Dr. Audrey Burban
Post-doctoral fellow, Jahani-Asl lab, Lady Davis Institute for Medical Research, McGill University
Dr. Audrey Burban is a postdoctorate fellow in the laboratory of Dr. Arezu Jahani-Asl in the department of Molecular and Regenerative Medicine at the Lady Davis Institute, Montréal, Canada. She joined the laboratory of Jahani-Asl after completing her PhD degree from Rennes 1 University in France, where she studied the mechanisms of drug-induced liver injury. Her main research interests in the Jahani-Asl lab is to study the underlying molecular mechanisms of gliobalstoma pathogenesis to help in identifying new targets for glioblastoma therapy.
Find Dr. Burban's Submission here
Rahul Suresh
Undergraduate student, Diaz lab, The Neuro, McGill University
Rahul is a fourth-year undergraduate student studying Honours Anatomy and Cell Biology at McGill. He is originally from Toronto, ON, and has been volunteering in the Diaz lab for about two and half years, conducting neuro-oncology research. After finishing his degree, he hopes to continue to graduate studies.
Find Rahul's Submission here
Rima Ezzedine
PhD Student, Siegel lab, Goodman Cancer Research Centre, McGill University
Rima started her PhD in Biochemistry at the Siegel Lab in September 2019. Her project involves investigating the role of CIRP in breast cancer metastasis to the brain; particularly to the leptomeninges. Prior to pursuing her PhD, Rima held an instructor position at the American University of Kuwait for 6 and half years. She earned both her Bachelor of Science in Biochemistry, minoring in molecular biology, and her Master of Science in Biochemistry degrees from Kuwait University
Find Rima's Submission here
---
This event is funded by Brain Tumour Foundation of Canada.