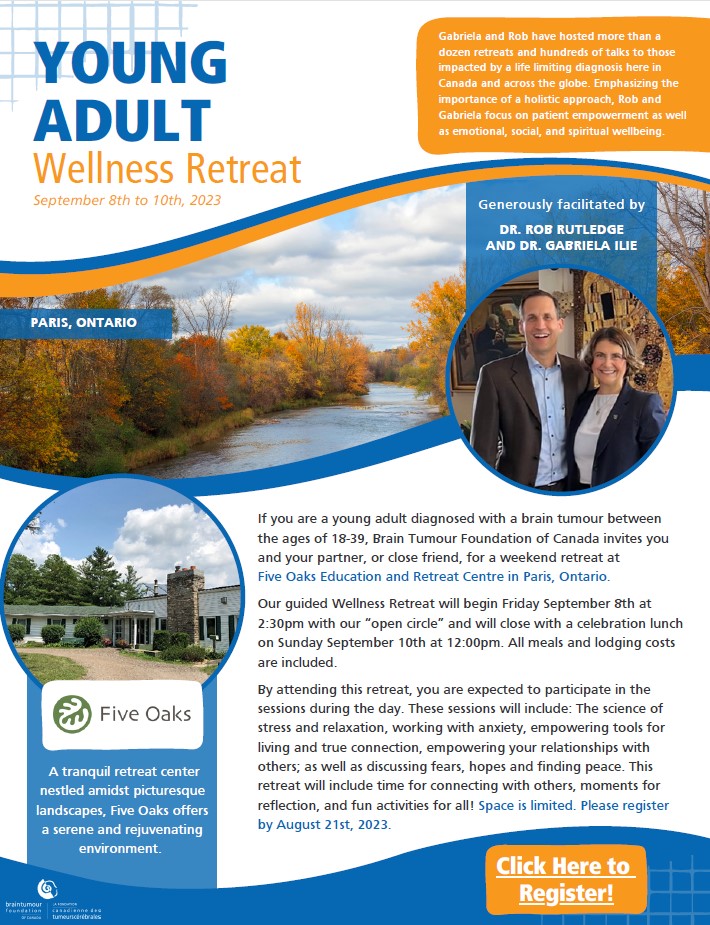 If you are a young adult diagnosed with a brain tumour between the ages of 18-39, Brain Tumour Foundation of Canada invites you and your partner, or close friend, for a weekend retreat at Five Oaks Education and Retreat Centre in Paris, Ontario.
Our guided Wellness Retreat will begin Friday September 8th at 2:30pm with our "open circle" and will close with a celebration lunch on Sunday September 10th at 12:00pm. All meals and lodging costs are included.
By attending this retreat, you are expected to participate in the sessions during the day. These sessions will include: The science of stress and relaxation, working with anxiety, empowering tools for living and true connection, empowering your relationships with others; as well as discussing fears, hopes and finding peace. This retreat will include time for connecting with others, moments for reflection, and fun activities for all!
All meals and lodging costs are included!
Generously facilitated by:
Gabriela and Rob have hosted more than a dozen retreats and hundreds of talks to those impacted by a life limiting diagnosis here in Canada and across the globe. Emphasizing the importance of a holistic approach, Rob and Gabriela focus on patient empowerment as well as emotional, social, and spiritual wellbeing.
Space is limited. Please register by: Monday, August 21st, 2023