Young Adult Virtual Retreat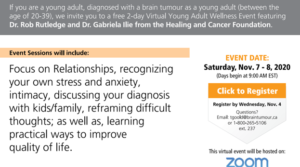 If you are a young adult (between the ages of 20 and 39), diagnosed with a brain tumour as a young adult, or caring for one, we invite you to a free 2-day Virtual Young Adult Wellness Event featuring Dr. Rob Rutledge and Dr. Gabriela Ilie from the Healing and Cancer Foundation.
Topics will include:
Focus on relationships, managing stress and anxiety, intimacy, discussing your diagnosis with family, reframing difficult thoughts and practical ways to improve your quality of life.