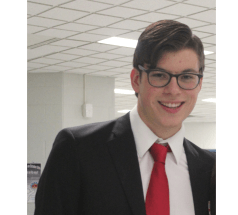 Youth Education Award Recipient 2017
Max Van Den Driesschen (London, ON)
Pursuing studies in Computing and Financial Management at Waterloo University
Diagnosed with a pilocytic astrocytoma at age 11
Generously funded by Rigatoni for Research
"Time is one of the only things in life that is finite and infinite at the end of the day. I'm a 19 year of student from South Western Ontario who never lets a minute go by without it being wasted. I wake up and act as if carpe diem is the style of shoes I wear. It is with this mantra that I enter into Computing and Financial Management at Waterloo University.
I am very fortunate and proud to have received this award and know that the impact it has on my education is tremendous. When I was 10 years old I was diagnosed with a Pilocytic Astrocytoma. It was during my diagnosis that I realized how important financial stability is and it has become a passion of mine. In the future, I would like to start a charity geared toward Financial Literacy, and helping those in need either through a program in a fund or as a non-profit charity. To preserve and give everything you have no matter what, is where true change comes from. Maybe with this drive, one day I could help those as I was helped, and make their time feel as if it's infinite."
---
August 2018 Update:
I learned a lot in my first year of University. I'm currently working as a Software Engineer at a cybersecurity company this summer. Over the course of my first year, I developed an interest in Mathematics. I hope to continue studying Mathematics, and to eventually apply that within the cybersecurity field.