Ashley Adile – Bourse de stagiaire de recherche 2017
Ashley Adile is an Undergraduate Science Student at McMaster University
Ashley's project has been generously supported by a gift from the Taite Boomer Foundation
About the research
Project:"Small molecule inhibitors targeting self-renewal as a therapeutic option for recurrent childhood medulloblastoma"
As the most common malignant pediatric brain tumour, medulloblastoma (MB) remains one of the leading causes of childhood cancer mortality. Its aggressive nature has recently been attributed to a rare cell population termed brain tumour-initiating cells (BTICs). BTICs alone can drive tumour formation and lead to poor outcomes by escaping available radio-chemotherapy regiments. MB patients who have relapsed hold the worst clinical prognosis, as they are limited to palliation due to a paucity of clinical trials using targeted approaches. In our work, we have identified novel therapeutic targets, Bmi1 and STAT3, both of which play an important role in MB development and metastasis. Our early experiments have identified small molecule inhibitors that can effectively reduce levels of both targets and prolong survival in preclinical models. The main objective of the proposed study is to discover new opportunities for treating the most aggressive type of brain cancer affecting children, and thus not only improves the quality of treatment received by the children but also the overall survival of patients with MB.
About Ashley, in her own words…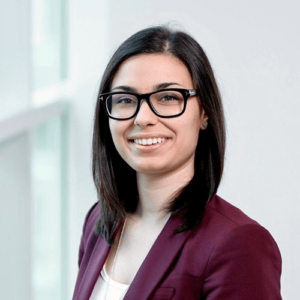 Being awarded a Brain Tumour Research Studentship means the opportunity to continue my life motto that "the learning never stops", allowing me to pursue valuable work in medulloblastoma research. This recognition strengthens my commitment towards a career in medicine, in hopes of making a meaningful contribution towards finding a cure for those impacted by this debilitating disease. I am both honoured and humbled by this studentship and sincerely thankful to Brain Tumour Foundation of Canada, its generous donors and patients who nobly donate their tumour samples to make this research possible. I am grateful for the opportunity to work alongside Dr. Sheila Singh and her lab of innovative scientists.
They, along with the patients through my volunteer work at McMaster Children's Hospital and Ronald McDonald House Charities South Central Ontario fuel my motivation, making it a privilege to explore such novel work over the next two summers and beyond.
As a recipient of this research studentship, I aspire to further progress and make a difference in pediatric brain cancer research. I hope that one day I will make Taite and his family, who graciously funded this award, proud knowing how his life gave meaning to the world.
Progress Report
To date, dose response curves, western immunoblotting, RT-qPCR, secondary sphere formation, limiting dilution and cell cycle analysis assays were employed to functionally investigate the effects of small-molecule inhibitors against Bmi1. Collectively, the multitude of in vitro experiments demonstrated the ability of Bmi1 inhibitors to significantly diminish Bmi1 activity in medulloblastoma. A loss in Bmi1 expression levels have shown increased sensitivity to ionizing radiation, rather than resistance – typical of BTICs. This insinuates that decreased Bmi1 protein levels may circumvent challenges of current therapeutic modalities for treatment of pediatric MB. With Group 3 MB patients limited to palliation, novel Bmi1 inhibitors show promise to selectively target the driving clonal populations. Additionally, dose response curves were generated in our Group 3 MB stem cell lines with various Stat3 inhibitory agents, generously provided by our collaborator from the University of Toronto. One such compound was found to be a potent inhibitor of histone deacetylase, which is thought to impede on the survival of cancer cells. A publication for this small molecule inhibitor is in preparation. Future work will consist of in vivo validation of the inhibitor with the greatest in vitro efficacy in our established mouse-adapted patient-derived therapy models.
Final Report – October 2018
Previous findings from Dr. Singh's lab identified novel therapeutic targets, BMI1 and STAT3, both of which play an important role in medulloblastoma (MB) development and metastasis. During both terms of my studentship, I conducted a multitude of in vitro and in vivo experiments, demonstrating that the most efficacious BMI1 inhibitory agent significantly diminished protein levels of the target in preclinical models. With a gain in BMI1 expression levels associated with resistance to ionizing radiation, this studentship allowed further investigation into the prospect that a reduction in BMI1 may circumvent challenges of current therapeutic modalities for treatment of pediatric MB.
Following vigorous in vitro testing in the first term, the BMI1 inhibitor was validated in the lab's established mouse-adapted patient-derived therapy models. The small-molecule inhibitor was found to be highly effective at minimizing tumour burden, while also prolonging mouse survival. Specifically, introduction of the BMI1 inhibitor, in combination with chemoradiotherapy – the best current standard of care protocol – resulted in a significant survival benefit. Such data has resulted in the commencement of a North American clinical trial for children with newly diagnosed diffuse intrinsic pontine glioma (DIPG) and recurrent MB. With no treatment options beyond palliative care, the main objective of my research is to discover new therapeutic avenues for those suffering from pediatric brain tumours, while striving for a cure, but valuing contributions made towards lengthening patients' survival and quality of life.
As an active lab member, I have presented at various conferences, as well as authored book chapters and refereed papers. For such commitment and research expertise, I was honoured to be the recipient of the 2017-2018 Brain Tumour Foundation of Canada, allowing me to further explore innovative work in pediatric brain cancer research. Connection to the foundation also presented me with opportunities, like participating in the 2017 Pam And Rolando Del Maestro Family Undergraduate Student Research Competition, where I mentored a fellow undergraduate student in the Singh lab. Here, student teams across Canadian institutions created and presented an innovative proposal based on the case study given, which was judged by a panel of physicians and researchers. As the only team representing McMaster, we presented on novel agents targeting therapy-resistant stem cells of glioblastoma, the most common malignant primary brain tumour in adults. Having come first place in this competition, we were given the opportunity to present at the Join the Movement to End Brain Tumours National Conference, along with a monetary award. The ability to connect with individuals who have lost, currently fighting or supporting a loved one with brain cancer, at the national conference was a truly invaluable experience; one that I continue to cherish. Most recently, I participated in the 2018 Hamilton-Niagara Brain Tumour Walk, where I walked alongside patients and their families, marching in support of this community and with the hope to make a difference in the field of pediatric brain cancer.  Read the full final report.
Ashley has also shared this video on Clinical Trials with us that she and a group of students at McMaster created. Thank you Ashley!