Dr. Brent Guppy – Bourse de recherche 2018
Dr. Brent Guppy, William Donald Nash Brain Tumour Research Fellow, University of Manitoba
Project Title: Enhancing selumetinib-mediated killing of SHH medulloblastoma
Project Summary: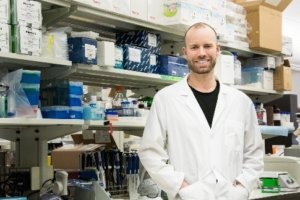 Medulloblastoma is the most common primary malignant childhood brain cancer and can be subdivided into at least 5 groups. One of these groups, named Sonic Hedgehog medulloblastoma, has a variable outcome in which some patients survive while others do not. Several efforts have been made to identify novel drugs to specifically treat Sonic Hedgehog medulloblastomas. Patients initially respond well to these drugs, however, the cancer cells can eventually develop drug resistance, which may ultimately lead to therapy failure and patient death.
Researchers have identified "brain tumour stem cells" within Sonic Hedgehog tumours that appear to play an important role in drug resistance. Accordingly, considerable research efforts are dedicated to identifying and understanding these cell types, which are generally considered to be at the "root" of drug resistance within several cancer types including Sonic Hedgehog medulloblastoma. We recently discovered an important marker on the surface of Sonic Hedgehog medulloblastoma tumours that is associated with these types of "brain tumour stem cells". We have discovered that cells bearing this marker can be specifically targeted and killed with a drug named selumetinib. Although our preliminary evidence shows selumetinib to be a promising new drug strategy to treat Sonic Hedgehog medulloblastomas, we wish to further increase the efficiency of selumetinib by combining it with additional cancer fighting drugs. Consequently, our study will test the combination of selumetinib with other known cancer fighting drugs with the goal of increasing survival and enhancing the quality of life for those children who survive long term.
Read what being awarded this Fellowship means to Brent:
« Being awarded the William Donald Nash Brain Tumour Research Fellowship has accelerated my research goals of increasing the survival and improving the lives of pediatric brain tumour patients worldwide.
Current treatment for medulloblastoma typically involves surgery, chemotherapy, and radiation, which target the cancer cells and healthy developing brain cells alike. Accordingly, medulloblastoma survivors often suffer from neurological, endocrinological, and social challenges as they mature. Therefore, rational biomarker classification for medulloblastoma subgroups is an essential step towards better patient stratification, better clinical trial design. Moreover, identification of novel molecularly targeted therapies would ultimately allow for current aggressive treatment strategies to be attenuated. Enhanced chemotherapeutic strategies such as the ones proposed in my study could limit the collateral damage to the developing nervous system and improve the quality of life for those who survive long term.
Working closely with Dr. Werbowetski-Ogilvie and colleagues, we will identify an optimal selumetinib-based combinatorial drug therapy, characterize mechanisms of Sonic Hedgehog medulloblastoma drug resistance, and identify novel druggable targets that will be exploited by the next generation of chemotherapeutics designed to reduce the morbidity and mortality associated with medulloblastoma.
I would like to thank the Nash Family for continuing to support the Brain Tumour Foundation of Canada fellowships. It is through generous donations like yours that bring hope to those most in need. »
Project Update – October 2019
We have validated our preliminary findings using multiple cell models in a dish and found that selumetinib, along with drugs targeting JAK/STAT3, significantly enhance the effects on stem cell growth, cell death and cell movement which is quite exciting. We have now moved into animal trials where we have optimized the concentration of drugs utilized that can get through to the tumour but are also not toxic. The anticipated completion date for these studies is April 2020. Read more from the final report.
Brent has chosen not to complete the second year of his fellowship.  We wish him the best in his future endeavours.
William Donald Nash Brain Tumour Research Fellowship
Supporting research into the potential causes of and cures for brain tumours is often great motivation for patients and families to get involved, to donate funds or time or to raise awareness about brain tumours. For William "Bill" Nash, a dairy farmer from Ingersoll, Ontario who was diagnosed with a brain tumour in 1992, this was particularly true. Bill was so committed to advancing research that he committed a portion of his future estate to the goal of a fellowship program targeting brain research.
Sadly Bill passed away in 2007. According to Bill's cousin Vince Nash, « Bill certainly wanted a cure for brain tumours to be discovered and he understood the importance of research and youth mentorship to that goal. »
Launched in August 2009, this Fellowship is offered to help us with our vision to find the cause of and cure for brain tumours while improving the quality of life for those we serve. It is also offered in recognition of the critical need for increased focus on brain tumour research. The Fellowship encourages and enables young clinicians and scientists to enter the field of brain tumour research and will accelerate studies leading to a cure for brain tumours.
Help build Canada's brain tumour research community by funding a Brain Tumour Research Fellowship. Contact us at 1-800-265-5106.