Dr. Slawomir Kumala – Bourse de stagiaire de recherche 2013
Dr. Slawomir Kumala, William Donald Nash Brain Tumour Research Fellowship, Jewish General Hospital, Segal Cancer Centre, Montreal, Quebec
Project Title: Combi-molecule, ZRBA1, as a novel molecular targeted therapy integrated with high dose rate ionizing radiation to treat malignant glioma tumours
Project Summary: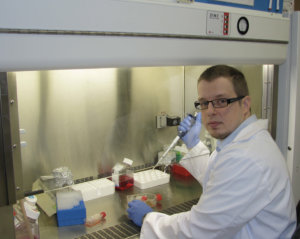 Every day, 27 Canadians are diagnosed with a brain tumour, one of the most difficult to treat and lethal entities in human health. The most common and deadliest primary brain tumour derives from the cells that support neurons in the brain and is called glioblastoma multiforme.
Although no contemporary treatments are completely curative and glioblastomas are known to be one of the most radioresistant types of tumour, development of new targeted drugs termed "combi-molecules" has spawned renewed interest and enthusiasm for investigating new treatments possibilities and increase the effect of radiotherapy.
In my project I aim to demonstrate that efficacy of the therapy against glioblastoma can be significantly enhanced when this novel drug is administered in tandem with the newest, ultra high dose rate radiotherapy.
Progress Report:
In June 2014. Dr. Kumala submitted a mid-point report on the progress of his research.
From the final report:
Glioblastoma (GBM) is the most common and aggressive malignant primary brain tumour in adult patients. The current standard of care comprises of maximum safe resection surgery followed by chemoradiation with Temozolomide (TMZ). However, a large percentage of tumours are resistant to the cytotoxic effects of TMZ due to the elevated expression of the repair protein O6-methylguanin-DNA-methyltransferase (MGMT) and/or a defect in the mismatch repair (MMR) pathway. Additionally, among key elements involved in driving of glioblastoma growth is the transmembrane epidermal growth factor receptor (EGFR) which is known to be over expressed in 40-70% of GBMs and has been associated with aggressive tumour progression, invasion, and reduced sensitivity to chemoradiation.
Therefore the main objective of these studies, as a part of the William Donald Nash Fellowship, was to develop a novel, targeted and more effective GBM treatment. I have been testing the radiosensitizing abilities of a novel binary targeting molecule, ZRBA1, designed to inhibit EGFR activity while additionally inducing DNA lesions of the similar class to TMZ. Collected data show that combination of this novel multi-targeting agent with radiation represents an extremely promising treatment option for GBM patients which has demonstrated to be very effective in subtypes of patients who acquired resistance to current therapy. Read the final report on the progress of this research.
William Donald Nash Brain Tumour Research Fellowship
Supporting research into the potential causes of and cures for brain tumours is often great motivation for patients and families to get involved, to donate funds or time or to raise awareness about brain tumours. For William "Bill" Nash, a dairy farmer from Ingersoll, Ontario who was diagnosed with a brain tumour in 1992, this was particularly true. Bill was so committed to advancing research that he committed a portion of his future estate to the goal of a fellowship program targeting brain research.
Sadly Bill passed away in 2007. According to Bill's cousin Vince Nash, « Bill certainly wanted a cure for brain tumours to be discovered and he understood the importance of research and youth mentorship to that goal. »
Launched in August 2009, this Fellowship is offered to help us with our vision to find the cause of and cure for brain tumours while improving the quality of life for those we serve. It is also offered in recognition of the critical need for increased focus on brain tumour research. The Fellowship encourages and enables young clinicians and scientists to enter the field of brain tumour research and will accelerate studies leading to a cure for brain tumours.
Help build Canada's brain tumour research community by funding a Brain Tumour Research Fellowship. Contact us at 1-800-265-5106.