Dr. Ugljesa Djuric – Bourse de recherche 2017
Dr. Ugljesa Djuric, Richard Motyka Brain Tumour Research Fellow, University Health Network
Project Title: « Systematic proteomic profiling and subclassification of Glioblastoma"
Project Summary:
Glioblastoma (GB) is a brain tumour with a patient median survival period of 15 months, a clinical outcome that has remained unchanged over the last 40 years. Recent molecular profiling efforts have established that DNA mutations in a gene called IDH1/2 result in improved patient survivals beyond 5 years. However, such DNA mutations only represent a minority of GB patients (5-10%) and thus novel molecular approaches are needed to further subclassify and provide more superior prognostic and therapeutic approaches. I will use state of the art mass spectrometry-based global proteomic analysis to define GB subgroups based on their protein make-up. Analysis of epidemiologically defined group of 200 primary GB samples of varying patient outcomes, from short to long term survivors, will be used to define proteomic diagnostic predictors of patient survival, in tumours lacking definitive genomic mutation classifications. Furthermore, identification of proteomic signatures with more refined GB classifications will establish a platform for assessing pharmacologic effectiveness on proliferation and cancer stem cell identities of tissue culture models of GB. Collectively, our research proposal aims to yield novel molecular predictors of patient outcomes that offer an avenue for more patient-specific pharmacological interventions and ultimately result in improved GB patient treatment.
Read what being awarded this Fellowship means to Ugljesa: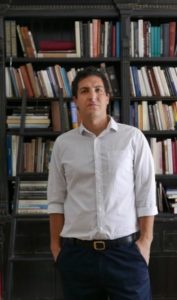 « Being awarded the Richard Motyka Brain Tumour Research Fellowship means that I can continue to pursue my passionate career of finding better treatment options for glioblastoma brain tumour patients.
Although genomics-based breakthroughs have made moderate impacts on improving patient diagnosis, overall glioblastoma survival rates have remained stagnant over the last twenty years.
With the generous support of this fellowship I can focus on utilizing the newest available proteomics technologies to further understand this devastating cancer and improve patient outcomes as a result. Indeed, mass spectrometry-based proteomic efforts have shown promise in other tumour types as a superior profiling method to understand abnormal tumour-related biological pathways. Translating this technology has potential in further subdividing glioblastoma tumours into distinct subtypes and thus could uncover previously unrecognizable treatment approaches.
As a medical researcher, I always strive to generate results that can positively affect patient outcomes and I am tremendously grateful for the generosity of the Motyka family and Brain Tumour Foundation of Canada for their continued support of the brain tumour research field ».
From the first year report
It is my pleasure to provide my progress report for the Richard Motyka Research Fellowship that I received from Brain Tumour Foundation of Canada in July, 2017. In my project proposal "Systematic proteomic profiling and sub-classification of glioblastoma" I set out to use state of the art mass spectrometry (MS) proteomic analysis of clinically and molecularly annotated glioma cohorts to define novel molecular predictors of either prognostic or therapeutic relevance. The conception of this project was based on similar experimental approaches I used to spatiotemporally define proteomic landscapes of human fetal brain development1. In that study I optimized specialized sample preparation techniques to make use of plentiful archival tissue material stored in formalin-fixed paraffin-embedded (FFPE) blocks. I established that sectioning of this material enables us to by macro-dissect and isolate different cellular layers of the brain to resolve intra-tissue heterogeneity issues for molecular profiling. With the emergence of mass spectrometry approaches to reliably quantitate global proteomic profiles, I decided to translate my developed tools to sub-classification of glioblastomas (GBMs). Read the full report…
From the final report – August 2019
I have now translated my abbreviated MS workflow to tissues of common brain tumours. To achieve this goal we have assembled three cohorts containing IDH-wt and IDH-mut GBMs, low grade oligodendrogliomas and pilocytic astrocytomas, as well as control samples of meningiomas and medulloblastomas. Read the full report….
Publication Updates
Defining protein pattern differences among molecular subtypes of diffuse gliomas using mass spectrometry. 
Djuric U, Lam KHB, Kao J, Batruch I, Jevtic S, Papaioannou MD, Diamandis PE.
Mol Cell Proteomics. 2019 Jul 28. pii: mcp.RA119.001521. doi: 10.1074/mcp.RA119.001521.
PMID: 31353322
Physician perspectives on integration of artificial intelligence into diagnostic pathology.
Sarwar S, Dent A, Faust K, Richer M, Djuric U, Van Ommeren R, Diamandis P.
NPJ Digit Med. 2019 Apr 26;2:28. doi: 10.1038/s41746-019-0106-0. eCollection 2019.
PMID: 31304375
Deep learning for image analysis: Personalizing medicine closer to the point of care. 
Xie Q, Faust K, Van Ommeren R, Sheikh A, Djuric U, Diamandis P.
Crit Rev Clin Lab Sci. 2019 Jan;56(1):61-73. doi: 10.1080/10408363.2018.1536111. Epub 2019 Jan 10.
PMID: 30628494
The Richard Motyka Brain Tumour Research Fellowship
This Brain Tumour Research Fellowship was first established in 2009 in honour of brain tumour survivor Richard Motyka.
Richard's sister Alison and her husband Darrell, along with former business partner Howard Crone and his wife Michelle have played a vitally important role with the financial front in helping with the battle against brain tumours. Together, they have donated generously to Brain Tumour Foundation of Canada.
This had led to the creation of a research fellowship named in Richard's Honour: Richard Motyka Brain Tumour Research Fellowship. The Fellowship is offered to help with the vision to find the cause of and cure for brain tumours while improving the quality of life for those affected. It supports the critical need for an increased focus on brain tumour research and enables young clinicians and scientists to enter the important field. These steps help to accelerates studies leading to a cure for brain tumours.
Help build Canada's brain tumour research community by funding a Brain Tumour Research Fellowship. Contact us at 1-800-265-5106.