Shriya Deshmukh – Bourse de stagiaire de recherche 2014
Shriya Deshmukh is a neuroscience student at the University of Toronto. With her 2014-2015 research studentship she will work with Dr. Uri Tabori at the Hospital for Sick Children in Toronto on a project focused on brain tumour progression and personalized therapies.
Shriya's project has been generously funded by Rene Cayouette, Toronto ON
About the Research
Project title: « Novel clinical applications of THOR methylation in cancer »
Project Description:
Dr. Tabori's lab has recently uncovered that methylation at a specific region of the telomerase TERT gene promoter known as THOR (Tert Hypermethylated Oncological Region) may be implicated in the telomeric maintenance mechanism that is key to a cancer cell's unlimited proliferative capability. Normal cells and low-grade (non-malignant) gliomas (brain tumours) were found to lack THOR methylation, whereas high-grade (malignant) gliomas presented with THOR hypermethylation.
This project examines the potential application of THOR methylation signature as a diagnostic and prognostic tool for gliomas and other cancers. Next-generation sequencing (NGS) will be used to determine THOR methylation signature. Next-generation deep sequencing may be sufficiently sensitive to detect minute quantities of THOR methylation in urine and blood of cancer patients. This would provide a non-invasive means to detect brain cancer with accuracy.
The specificity and sensitivity of THOR methylation in predicting brain tumour malignancy also suggests its application as a biomarker for tumour malignancy and patient outcome. One of the aims of this project is to create individualized tumour specific telomere maintenance identity cards that will enable better understanding of the risk of progression associated with specific tumour types and to develop novel, personalized therapies for patients.
Over the course of two summers, Shriya will learn to perform the NGS deep sequencing and bisulfite conversion assay to determine THOR methylation status of a large cohort of low, intermediate/questionable and high-grade gliomas. She will also analyze the role of ALT, an alternative mechanism of telomere maintenance in high-grade gliomas. Shriya will also conduct  experiments to identify mutations in genes associated with telomeric alterations. She will then assimilate the patient specific
THOR methylation information and other known genetic mutations associated with telomere maintenance to create an individualized tumour-specific telomere maintenance identity card.
About Shriya, in her own words…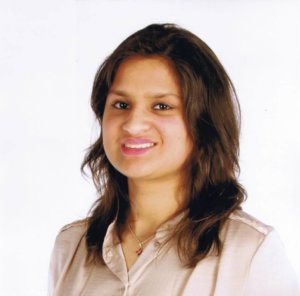 Being awarded a Brain Tumour Research Studentship means that students like me are encouraged to pursue a career in research. I have always been fascinated by the workings of the human brain, in all its bewildering yet beautiful complexity.
To be afforded the opportunity to probe the molecular and genetic mechanisms of cancer while actively extending the boundaries of modern medical science is a dream come true.
Receiving a brain tumour research studentship would allow me to further my understanding of research techniques currently used to study the genetics of brain tumours as well as explore the clinical relevance of our research findings. Dr. Tabori's project is particularly exciting because of its potential to integrate genomic research findings into personalized brain tumour treatments.
Final Report
Biallelic Mismatch-Repair Deficiency (bMMRD) is a cancer predisposition syndrome characterized by childhood onset of multiple cancers including brain and colorectal cancers. bMMRD patients are born with mutations in mismatch repair genes. There is an adult-onset counterpart of bMMRD syndrome termed Hereditary Nonpolyposis Colorectal Cancer (HNPCC), which occurs in adults carrying mutations in the same mismatch repair genes. The well-validated diagnostic hallmark of HNPCC is the presence of expansions and contractions of repetitive DNA sequences in tumour cells, termed Microsatellite Instability (MSI). Curiously, patients with bMMRD syndrome do not consistently display MSI. Our genomic analysis of 8 microsatellite markers in 12 bMMRD tumours and 10 normal bMMRD tissues corroborated this inconsistence.
To clarify MSI expression in normal and cancerous cells of bMMRD patients, we conducted conventional MSI testing on 38 bMMRD samples. 26% (10 of 38) bMMRD tumours displayed MSI. MSI was more frequently expressed in certain tissues: only 10% of brain tumours displayed MSI, relative to 44% and 100% of colorectal polyps and tumours respectively. Using novel genomic technologies, we then performed MSI testing on single-cells derived from bMMRD normal tissues. We showed that MSI can be detected in bMMRD single-cells: between 6 to 23% of cells tested displayed MSI. The low frequency of MSI expression in bMMRD cells could explain why conventional diagnostic techniques fail to capture MSI in bMMRD samples. Next steps for this research include investigating the tissue-specific nature of MSI, isolating the effect of specific mutations on MSI expression, and examining the change in MSI expression over time in bMMRD cells.
Diagnosing bMMRD syndrome is currently complicated by variable clinical presentation and difficulties performing genetic sequencing. As the first study to identify MSI in bMMRD single cells, the novel genomic technologies employed in this study could be adapted into a diagnostic tool for bMMRD syndrome. Swift and accurate diagnosis of bMMRD patients is important for surveillance and treatment considerations.
Read Shriya Deshmukh's final report…
About my experience
The research that I had the opportunity to conduct in Dr. Uri Tabori's lab because of  Brain Tumour Foundation of Canada's Research Studentship award sparked my interest in a career as a clinician-scientist. I particularly enjoyed the challenges of basic science research delving into the molecular intricacies of brain tumour development. At the same time, I was driven by the promise this research holds for improving outcomes for brain tumour patients. As a result, I applied for, and was successful in my application to McGill University's MD-PhD program. I will be continuing in the field of brain tumour research as a PhD student in Dr. Nada Jabado's lab, investigating the role of epigenetics in the development of pediatric brain tumours.