Di Zhu – Studentship – 2018
Di Zhu is an Undergraduate Science Student at the University of Toronto
Di's project has been generously supported by a gift from the Taite Boomer Foundation
About the research
Project title: « Targeting Obligate Pathways of Metastasis and Recurrence in Medulloblastoma"
Medulloblastoma is the most common malignant brain tumour in children. The main tumour 'lump' in the brain is called the 'primary tumour'. The primary tumour can spread (metastasize) to cover other regions of the surface of the brain and spinal cord. The dream of curing cancer through precision medicine has entailed sequencing cancers to identify tumour specific mutations, which could in turn be targeted by specific drugs that are lethal to the tumour but harmless to a child's normal cells. While this model is showing early success for some cancers, it holds limited promise for treatment of medulloblastoma; recent results from the Taylor lab have shown that most medulloblastomas tumours differ greatly both across a given 'lump' and between the primary tumour and the metastases. Instead, medulloblastomas appear to be driven by instability in the number of chromosomes (the part of the cell that contains genes). We also know that some of these differences are seen regularly in the metastases and this makes them an excellent choice for targeted therapy. We have begun testing new drugs which target these defects—we strongly believe this is the best, and perhaps the only way to improve the lives of children with medulloblastoma.
About Di, in his own words…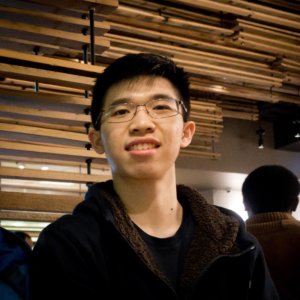 Being awarded a Brain Tumour Research Studentship is an important milestone on my way to pursuing a M.D. Ph.D. degree in neurology and becoming a brain tumour researcher. This opportunity will allow me to participate in a clinically important topic while developing advanced research skills and a professional network.
My ultimate goal is to contribute to new therapies, which will improve survival and quality of life for patients with malignant brain tumours. Brain tumour research is an advanced, cross-disciplinary field that is currently blossoming from recent genetic findings. It has excited me tremendously as a second year molecular biology student. Having faith in cross-disciplinary medical research, I strive towards excellence in biochemistry laboratory, computer programming, mathematical modelling and social sciences. With all these skills, I have the confidence and a solid basis through which I can contribute to the next generation of therapies for malignant pediatric brain tumours.
I'm sincerely grateful to Taite Boomer Foundation for maks this opportunity possible and will return this favour with my progress in the research of Medulloblastoma and Ependymoma with Dr. Michael Taylor.
Progress Report – November 2018
Medulloblastoma is the most common malignant pediatric brain tumour originating from the cerebellum and posterior fossa. Despite many recent advancements in its research and clinical treatment, this cancer still results in a substantially high mortality rate. My first research term at Dr. Taylor's laboratory at SickKids has focused on investigating the feasibility and effects of two novel chemotherapeutic agents, PLK4 inhibitor and AZD1390, on two medulloblastoma cell lines, MB002 and ONS76, under an in-vitro environment.
Read more from the first progress report, including the impact that this first summer has had on Di already.
Final Report – October 2019
During the second term of my co-op at Dr. Taylor's lab at SickKids, I explored much broader aspects of this research project. My repertoire encompasses cell culture, animal injection, tissue harvesting and many other molecular biology procedures. I was also introduced to the realm of
bioinformatics where programming plays a crucial role in understanding and pushing the research progress. It has been a truly eye-opening experience and it allows me to explore and put a greater amount of thoughts into where my future direction lies.
Biological research in modern days has evolved to become phenomenally complex, bearing a workflow where knowledge and capital from various personnel are demanded. Therefore, finding the right area where my passion lies and where my specialty resides has become urgently important, as a student entering his final year of studies for the degree. With a full year
of experience at this lab, I have discovered my interest and desire for the knowledge and prospect in bioinformatics which utilizes computers to approach biological challenges. My eventual goal is to become a medical doctor specializing in brain tumour research. With this goal in mind, together with my ongoing learning and implementation of bioinformatics, I'm
confident that my future endeavour in the frontier of medicine will benefits substantially.
Read more from the final report.
UPDATE: October 2020