Julie Poitras – Bourse de stagiaire de recherche 2013
Julie Poitras is a BSc Biochemistry student at the Université de Moncton. With her 2013-2014 research studentship, she worked with Dr. Pier Jr. Morin on a project looking at temozolomide resistance in glioblastoma brain tumours.
This studentship was funded in memory of James Vreugdenhil through the generosity of his family, friends, and The Ultragiving Foundation
About the Research
Project Title: « Understanding temozolomide resistance in glioblastomas using a metabolomics-based approach »
Project Description
Malignant gliomas are the most common and deadly brain tumours. In 2011, more than 2,600 cases of malignant brain tumours were reported in Canada and the mean survival rate for a patient diagnosed with a glioblastoma (GBM), the most aggressive glioma, remained slightly over one year. Current standard of care consists of treatment with the alkylating agent temozolomide concurrently or following radiotherapy.
The use of temozolomide has become a common therapeutic option for GBM patients, even though the therapeutic benefits are only marginal. Temozolomide adds a methyl group to purine bases of DNA thus leading to mutagenic and cytotoxic lesions. Mechanisms that can reverse this process and contribute to temozolomide resistance in GBMs are starting to emerge. Improving our knowledge of the molecular mechanisms and metabolic cascades associated with inherent and acquired temozolomide resistance in GBMs is, hence, of uttermost importance.
Over the course of two summers, Julie will learn new techniques including the crystal violet assay to assess the cytotoxic effects of temozolomide on GBM cells as well as the isolation of lipophilic and hydrophilic metabolites from cell models using well-developed extraction procedures. Using these techniques, she will identify metabolic markers that are associated with temozolomide-resistant and temozolomide-sensitive GBM cells. It is our hope that these different signatures can be used as a starting point in the development of a diagnostic tool for early detection of temozolomide resistance in GBM patients.
Then, Julie will attempt to isolate and measure metabolites obtained from primary GBM tumours. These clinically relevant metabolic profiles will further help us validate the metabolic footprint of temozolomide resistance in GBMs and will hopefully bring this type of approach closer to patients diagnosed with GBMs.
About Julie, in her own words…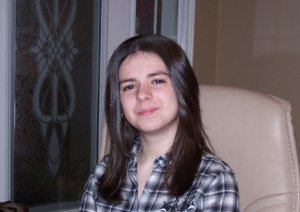 Many Canadians are either themselves, or know of someone else, who is affected by cancerous tumours. This disease has negative impacts not only on the patient but also on the families. Brain tumour research is essential to improve their lives. Our program of research stands to greatly contribute to the well-being of patients.
Brain Tumour Foundation of Canada is a remarkable organization. The organization not only supports cutting edge research in the field, but also gives hope to patients. In pursuing research and making important discoveries, we are making important strides towards improving patient well-being as well as finding a cure.  It is an honour for me to receive a studentship from an organization that has so much influence in the quality of life of patients with brain tumour.
I look forward to working again with Dr. Pier Jr. Morin and his dynamic research team in the Department of Chemistry and Biochemistry at the Université de Moncton. The research team in the laboratory of Dr. Morin is making important advances and contributions to a stimulating field. Our research conducted over the last few years in theory and simulation provides valuable training that will be of benefit in pursuing an advanced degree in this field. I look forward to disseminating our research findings to the stakeholders of Brain Tumour Foundation of Canada as well as the broader scientific community.
Final Report
The general research objective is to understand the metabolic footprint associated with temozolomide (TMZ) treatment in glioblastoma multiforme (GBM), an aggressive and prevalent brain tumor.  The median survival time for patients diagnosed with a GBM is between 12 to 15 months. Methylguanine DNA-methyltransferase (MGMT) is an enzyme that plays a significant role in TMZ resistance. MGMT removes the methyl group added by the alkylating agent TMZ and antagonizes its effects. This studentship helped the laboratory generate a TMZ-resistant U373 cell line (U373R) from TMZ-sensitive cells (U373S) to offer an additional model to study TMZ-resistance. Results obtained by crystal violet cytotoxicity assay indicate that there is a greater cell survival of U373R in comparison with U373S when treated with TMZ at 250μM. Furthermore, combination of lomeguatrib, an MGMT inhibitor, and TMZ treatment causes cell survival to be reduced in the resistant cell line. This reinforces the underlying involvement of MGMT in driving TMZ resistance in U373R. Metabolomics studies were used to assess the metabolic changes associated with MGMT inhibition, alone or in combination with TMZ, in TMZ-resistant and TMZ-sensitive GBM cells. Results notably show that citric acid cycle and glycolytic pathway intermediates such as aconitate, glucose, isocitrate and lactic acid are differentially regulated between the two cell models studied.  These metabolites provide interesting starting points in the search of clinically-relevant biomarkers of TMZ resistance in patients diagnosed with a GBM.  The search for such signature, in circulating as well as in primary tumor samples, will be undertaken in the upcoming year by leveraging key collaborations with local clinicians.
Read more from Julie's final report
About my experience
As a recipient of a Brain Tumour Research Studentship, I would like to express my sincere gratitude to the Brain Tumour Foundation of Canada for the great support that this scholarship has provided me. Besides the financial help associated with this award, the multiple biochemical and molecular biology techniques learned during the past two years, the various scientific presentations and publications I was involved with, as well as my overall research experience in Moncton has greatly influenced my decision to pursue a career in health research.  Accordingly, I will be starting my master's degree in 2015. I feel privileged to have received such a prestigious scholarship and I will always be thankful to Brain Tumour Foundation of Canada for supporting my GBM-focused research project here in New Brunswick.