Get Involved
No matter which way you decide to get involved, we thank you!
Brain Tumour Walk
Your generosity provides research, support, advocacy and HOPE for the brain tumour community.
Walk with us to #EndBrainTumours.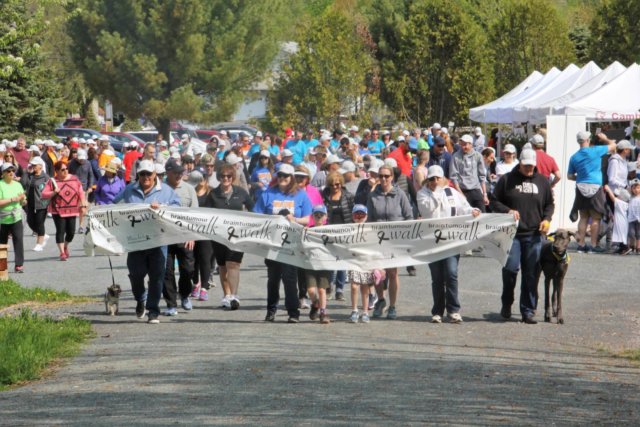 Every step we take, and every dollar we raise, brings us closer.
This May and June, 22 communities across Canada will be hosting a Brain Tumour Walk, with thousands of people from coast-to-coast-to-coast taking part. Some walk as survivors, some walk to support a loved one. Others walk in memory of someone dear.
All will be walking with a single goal – #EndBrainTumours.
Register a team of family, friends, co-workers, and colleagues, and join Brain Tumour Foundation of Canada's single-largest fundraising event of the year. Your gift brings comfort and hope to all those affected by brain tumours, and allows Brain Tumour Foundation of Canada to continue its mission of advocacy, support, research and HOPE.
There are an estimated 55,000 Canadians living with a brain tumour. Every day, another 27 will be diagnosed.
We walk for all of them.
Together we will #EndBrainTumours.
Volunteer with us – make a difference!
Are you passionate about making brain tumour journeys full of hope and support? Do you want to get more involved with Brain Tumour Foundation of Canada and the Brain Tumour Walk program? We need you! To learn more about volunteering through our Walk Planning Committee, please contact the Brain Tumour Walk Team by email Courtney at cmcdonnell@braintumour.ca.
Committee Positions
Committee members plan the Brain Tumour Walk from the kick-off to the wrap-up. Roles can include recruiting volunteers and securing sponsorships, event logistics, and enhancing the event experience. Planning committee meetings are held approximately once a month, with more frequent meetings closer to the event. To join a committee, or for more information, email Courtney at cmcdonnell@braintumour.ca.
We are currently looking for committee members in the following cities:
London
Winnipeg
Guelph
Day of Volunteer
We are also always looking for volunteers who can help promote and work the day of the event. They are the backbone of every successful walk.
NOTE: If your city is not listed, we do not require volunteers at this time, but thank you very much for your interest.
Thank you!
Thank you to the 10,109 people who joined a Brain Tumour Walk in 2019. We hope to see you back this year.
Registration for the 2020 Brain Tumour Walk events is now open. Sign up a team, or as an individual and make a difference in the fight to #EndBrainTumours.
Here are the highlights from our 2019 walks. Let's make more great memories in 2020!