Bayan Aloran – Studentship – 2015
Bayan Aloran is a student at the University of Windsor.
Bayan's project has been generously funded by a gift in Memory of Val Hobbs
About the research
Project title: "Evaluation of anticancer activities of alcoholic extract of long pepper in human neuroblastoma and glioblastoma cells"
Project Description:
This project evaluates the possibility of treating brain tumours with a natural extract from long pepper by testing its effects on cells derived from brain tumours (neuroblastoma and glioblastoma cells). The challenge of creating effective cancer treatments stems from a lack of selectivity against the proliferating cancer cells. Previous studies carried out by Dr. Pandey's laboratory have shown that LPE is selectively cytotoxic to colon cancer and leukemia cells, showing promise of similar effects in brain tumour cells. The field of Natural Health Products has a lot to offer science. Long pepper extract, a non-toxic Natural Health Product that can be taken orally, could present as a potential therapeutic material for treating brain tumours in patients, improving the quality of life of so many.
About Bayan, in her own words…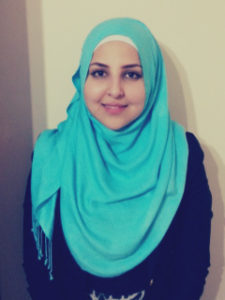 Being awarded a Brain Tumour Research Studentship means that I will have the opportunity to make contributions to the greater community at large. It means that I can explore my role as a scientists and a humanitarian, to make a difference in the lives of others in my own unique way.
My fascination of the human brain with all of the complex tasks that it can control drives my passion for science and research. Knowing that I can continue my education through research while benefiting others is an honourable privilege. I am genuinely ecstatic that I am the recipient of a Brain Tumour Foundation of Canada Studentship generously funded in memory of Val Hobbs. Thank you again for this wonderful opportunity, I will put nothing less than my best effort towards this entire experience. I cannot wait to see what this research journey has in store!
Project Update, May 2016

The goal of the first part of this project was to prepare the alcoholic long pepper extract and screen it for its effectiveness against brain tumour cells, while determining the optimal dose and time kinetics for the treatment.
During this first term, extracts have been prepared for three different samples of Long Pepper; water extracts (hot and cold) of PL1405 (purchased from Premier Herbal Inc, Toronto) and ethanolic extracts of piper longum – PLX (purchased from a grocery store) and Pipalli (Purchased from Premier Herbal Inc.). The research done in the first term indicates that the PLX strain of Long Pepper effectively reduces the metabolic viability glioblastoma cells at doses of 0.25mg/mL and 0.5 mg/mL at 24 hours and 48 hours. The Pipalli strain of Long Pepper also effectively reduces the metabolic viability of glioblastoma cells at doses of 0.05mg/mL and 0.1 mg/mL at 24 hours and 48 hours. Both strains function in a dose-dependent and time-dependent manner. Further research indicates that these strains also exhibit signs of early programmed cell death (or apoptosis) at the same doses and time points. Fluorescence microscopy was used to assess the role of the mitochondria in the induction of apoptosis and it was observed that there was clear destabilization of the mitochondria for the release of pro-apoptotic factors in the glioblastoma cells treated with the effective long pepper extracts. The PLX and Pipalli doses have further effects on the mitochondria of the glioblastoma cells, resulting in a high production of reactive oxygen species (ROS). This indicates that oxidative stress may play a role in the cell death mechanism that I hope to elucidate in the second term.
Based on these results, the first term has proven to be quite worthwhile and the second semester sounds promising. I am looking forward to finishing the second term. With results that can set the stage for future brain tumour treatments that are safe and non-toxic NHPs to improve the quality of life of brain tumour patients. At the end of April 2016, I will be participating in an Undergraduate Research Colloquium at the University of Windsor where I hope to present the work I have been doing regarding brain tumour research through an oral presentation.
Final Report
Ethanolic QP and PLX samples of Long Pepper have shown to be very promising as therapeutic agents against glioblastoma. Both were able to effectively reduce cell growth, induce selective cytotoxicity, induce apoptosis, destabilize the mitochondria, and cause DNA damage in glioblastoma. Even the nuclear morphology of the glioblastoma cells was indicative of apoptosis. Although the results indicate that the NHAs could tolerate these Long Pepper Extracts, the increase in ROS production seen for both cell lines urges further experimentation. Long Pepper has been used traditionally and has a safe track record. This work can be used as a foundation for ethanolic Long Pepper Extract to be developed into a selective and safe therapeutic agent against glioblastoma in the future while further propelling research into the field of Natural Health Products.
About Bayan's experience
This research studentship has had a tremendous impact on me personally. Through this studentship, I have had the opportunity to work in a state-of-the-art biochemistry research laboratory at the University of Windsor that is deeply engrained in the field of Natural Health Products. I was able to work under the supervision of a well-established professor and was mentored by several post-doctorate and graduate students, who unreluctantly shared with me their vast wealth of knowledge. Due to this project I was able to successfully complete my undergraduate thesis, write out a thesis report and present and defend my research in the form of an oral presentation at an Undergraduate Research Colloquim at the University of Windsor. I learned more than just laboratory protocols, I learned how to think like a scientist, I also learned the importance of patience when experiments don't go so smoothly and how to never give up because the field of research is driven by surprises. For all of these reasons and many more, I am forever grateful for this research studentship.