Carolina Nor – Research Fellow – 2016
Carolina Nor, William Donald Nash Brain Tumour Research Fellow, Hospital for Sick Children, Toronto, ON
Project Title: Rationale targeting of very high risk medulloblastoma of childhood
Project Summary:
Brain tumours are the most common solid malignancies of childhood, and account for the majority of the cancer related deaths. Medulloblastoma is the most common brain cancer in children for which treatment consists of surgery, radiation and high dose chemotherapy. Only 65% of patients survive and the survivors are usually left with severe side effects. More specific therapies with less injury to the brain are urgently needed. The most aggressive medulloblastomas present with a defect in a gene called p53, which is responsible for preventing cancer formation. When this particular gene is defective either in the tumor at diagnosis or at relapse, the tumors are resistant to all current therapies.
In this project I will evaluate two novel drugs that were designed to target p53-defective cancer cells. The drugs are called PLK4 inhibitor and ATM inhibitor. I will use a pre-clinical model developed in our laboratory that very precisely mimics the treatment given to children with medulloblastoma. The drugs will be given before and during irradiation to prevent the development of drug resistance. This novel approach has the potential to rapidly move forward to clinical trials, and may significantly improve the survival and quality of life of children with medulloblastoma.
Read what being awarded this Fellowship means to Carolina: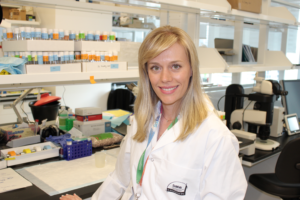 "Being awarded the William Donald Nash Brain Tumour Research Fellowship means that I will have the opportunity to conduct a project I believe can have a significant impact in the treatment of brain tumors in childhood. The traditional search for new therapies has been flawed where models do not exactly reproduce the human treatment conditions. My passion is to develop new and novel therapies in realistic pre-clinical models of brain tumours closely mimicking human condition.  As a pharmacist, I am excited to develop new therapies for high risk medulloblastoma that will be more effective and less toxic leading to better survival and quality of life for children with brain tumours.  I would like to thank the Nash Family and the Brain Tumour Foundation of Canada for your ongoing generosity and contributions to funding this fellowship."
From the first year report
Medulloblastoma is the most common malignant brain tumor of childhood and treatments for this devastating disease are very limited. A major roadblock in developing new treatments has been a lack of an efficient system to evaluate new approaches. My project aims to generate an accurate pre-clinical pipeline of drug development for medulloblastoma, which reproduces, with precision, the treatment currently given to children with brain cancer. Read the first year report (PDF).
William Donald Nash Brain Tumour Research Fellowship
Supporting research into the potential causes of and cures for brain tumours is often great motivation for patients and families to get involved, to donate funds or time or to raise awareness about brain tumours. For William "Bill" Nash, a dairy farmer from Ingersoll, Ontario who was diagnosed with a brain tumour in 1992, this was particularly true. Bill was so committed to advancing research that he committed a portion of his future estate to the goal of a fellowship program targeting brain research.
Sadly Bill passed away in 2007. According to Bill's cousin Vince Nash, "Bill certainly wanted a cure for brain tumours to be discovered and he understood the importance of research and youth mentorship to that goal."
Launched in August 2009, this Fellowship is offered to help us with our vision to find the cause of and cure for brain tumours while improving the quality of life for those we serve. It is also offered in recognition of the critical need for increased focus on brain tumour research. The Fellowship encourages and enables young clinicians and scientists to enter the field of brain tumour research and will accelerate studies leading to a cure for brain tumours.
Help build Canada's brain tumour research community by funding a Brain Tumour Research Fellowship. Contact us at 1-800-265-5106.