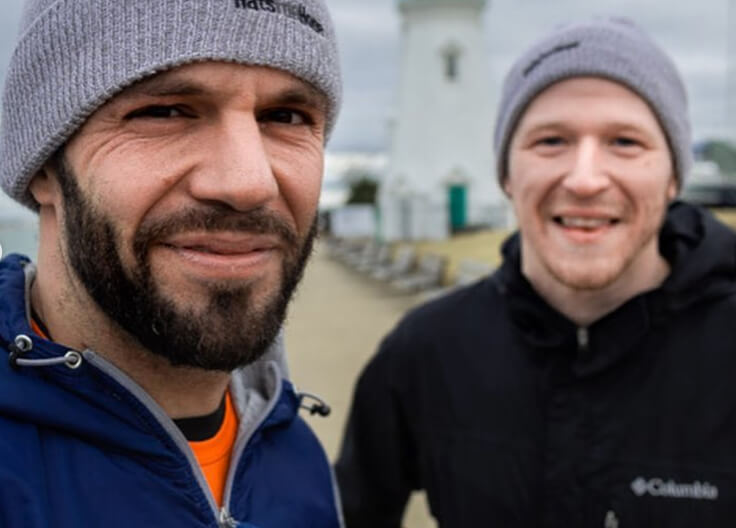 I Refuse to Sink
In the summer of 2017, while at work, I had my first episode of what I would now call vertigo or double vision. It was something I've never experienced before. Everything in front of me seemed to sink into the ground, my hands moving in super slow motion. It lasted about for a good 30 seconds before everything went back to normal. I brushed it off and continued on with the day.
That summer the double vision would come and go every so often. Mostly when I was doing exercises. I would literally have to stop in my tracks, take a knee, close my eyes, and wait it out. As stubborn as I am, I continued on for another few weeks before I decided to go see my doctor. In June 2017, I went for a CT scan to have my head examined. The results came up negative and it was suggested that my symptoms were sinus related and it could possibly be fluid which was causing imbalance and vertigo-like symptoms.
For the next few months the double vision would come and go with weeks in between, so I figured it must be sinus related. My wife, on the other hand, did some research on symptoms I was having and told a friend that I better not have a brain tumour. I didn't really think about those possibilities. After a couple months went by, things turned for the worse. On October 8, 2017, I had a grand mal seizure, luckily in the comfort of my own home. I don't remember much, only waking up in the ambulance extremely confused. Once sent to the hospital for further evaluation, I was told I had a mass on my brain. Still, at this point, I didn't quite understand the severity of a brain tumour because I never really knew anyone who had dealt with one. I was transported from St. Catharines to Hamilton to meet with the neurosurgeon. After much discussion, the surgery date was set for October 20. The doctor was fairly confident in the removal of the tumour as he claimed the spot was like a skin tag on the outside of my brain in the right occipital region.
Boy, did I underestimate the recovery of brain surgery! The good news was that the surgeon came out after surgery very happy to give my family the news that he did a 95% resection, if not full. While recovering from surgery I got a phone call for an appointment at Juravinski Cancer Centre… that's when my heart sank into my chest. Even when told it's just protocol for patients with brain tumours, your mind just continuously races.
November 2 is the day I will never forget! A team of doctors and nurses walked into a room, surrounded me and my family, to give me the devastating diagnosis of Glioblastoma (GB). I have never been so scared in my life. Once I heard GBM it reminded me of Gord Downie who just recently passed away from the same cancer, and instantly I thought my life was over. 31-years-young with a wife and a 9-year-old daughter. My mind went blank and I couldn't comprehend what the doctors were saying. I wanted to run away but where was I going to run to?
After all said and done, it was time for treatments, still unaware of what exactly I was getting myself into. After 30 radiation blasts while taking a low dose chemotherapy, it was time to take treatments into my own hands as well. From changing my diet to supplements and most importantly cannabis oils, I have scratched and clawed my way back. After ringing the bell on Jan 4, 2018, it was time to rest and heal. My first two MRIs came back with no disease progression. Once my 4-week rest period was over I started my 6 cycles of 5/23 heavy dose chemotherapy. July 6, 2018, I finished all SOC treatments with 6 clean scans of no disease progression and improved blood work so far! I am currently on 3-month maintenance for MRIs which hopefully will extend to 6 months. I am a very competitive person so losing is not an option.
Since being diagnosed I have entered running and biking events. I ran 305 km while recovering from treatments as well as biked 120 km. I owe all my success to my doctor for setting me up to win from the get go, my wife Crystal as well as my parents and in-laws who stuck by my side through some very dark days to the brightest days, and my daughter Jayda who I fight for every single day! I will see her graduate and hopefully walk her down the aisle in years to come. I'm also grateful to my family, friends, and the community for rallying around me with fundraisers so that this journey is as comfortable as possible and gives me the best interest to beat this disease. I believe diet is absolutely crucial in any recovery and as well as proper vitamins and Cannabis oil! 2019 will be the best year yet! Clean scans, improved health and most importantly kicking Cancer!
Breakfast Runners
I was running to help recover from treatments and realized when I hit the pavement with a solid playlist all my problems were put aside for the time being. The adrenaline and satisfaction I was getting was so uplifting that I couldn't stop. I loved being able to run to set goals and prove doctors and statistics wrong. I ran my first ever race on May 26 at the annual Rankin Run in St.Catharines. I was the first person in the orange survivor shirt to cross that finish line all while setting a personal best for 5K distance. A few tears were shed that day! Later that summer a good friend of mine decided to sign up for a half marathon and that's when this beast was unleashed. The gym I go to started a running club on Tuesday and Thursday mornings where we would train for the upcoming race in October. I signed up for the 10k in which I finished 21st overall and 2nd in my age group!!!. There were tears of joy that day as well!
After a few more weeks of setting goals and smashing them, my friend Paul wanted to join in on the fun, as he loved to run a few times a week as well. We got together and started to do 10K runs locally. Of course, after a long run you build up an appetite, so we started hitting up a few breakfast joints after running. That's when the idea came about. The B Fast runners (the name works well to be a fast runner as well as fitting for breakfast) were formed. Every week we would find a new town or city around the Niagara region, run a 10K route and have breakfast at a local restaurant. After a few more weeks together we decided to make this little project mean even more. That's when we decided to raise $1 for every KM ran. We finished with 111km in 2018 and we donated the money to Sick Kids. After all the love and support I received, I wanted to give back, all while helping myself by staying fit and doing something I love as well. It's a win-win for me, as I am beating cancer, giving inspiration to other brain tumour warriors, and helping others.
For 2019 the B Fast Runners have set high goals, as we want to accomplish 1000km. We will be running races all over Ontario, as well as continue touring the region for delicious breakfasts and challenging routes, while raising funds for Brain Tumour Foundation of Canada. In the spring, I am also looking forward to pulling on my blue survivor t-shirt at the Brain Tumour Walk (although I might run!), to continue our mission to give back.
Faced with a devastating diagnosis, I was given the option to sink or swim. I refuse to sink!