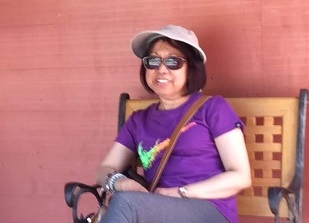 Helping Others Understand – Rubie's Story
Brain Tumour Foundation of Canada is fortunate to have people like Rubie to share their stories and help raise awareness of brain tumours. We are so very thankful for her honesty and advocacy. This is her story:
In 2013, Rubie started experiencing double vision and discovered that her left eye had turned. Her Ophthalmologist put her through several eye tests, examinations and eventually eye surgery, but her vision issues remained. 
Her left leg weakened, and she had several falls, prompting further tests, including an EEG, MRI, etc.
The MRI results brought the shocking news that day, Rubie became one of the 27 people who heard the words that day "You have a brain tumour."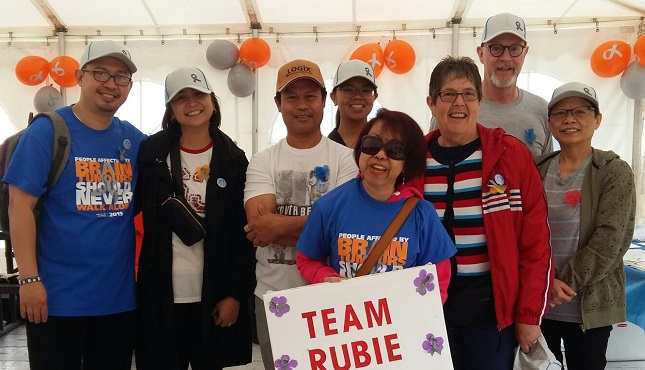 For awhile, the tumour was thought to be stable, but further MRIs showed it was growing, so in August 2014, Rubie had brain surgery.
During surgery, Rubie had a seizure, leaving her with paralysis. Worse, the tumour could not be entirely removed. A biopsy was performed, proving the tumour to be an aggressive anaplastic astrocytoma.
Rubie went through radiation, chemo and constant physiotherapy. Her tumour was stable for five years and actively monitored with MRIs every three months.
Six years on, Rubie suspected something was wrong again. Headaches, frequent falls, and memory problems lead her to urgent care. There was a shocking difference between the new and previous MRIs.
Rubie is once again undergoing chemotherapy.
"I am blessed to go through good and bad days. However, the uncertainty is beyond anybody's control".
Rubie shared her story "so that others can understand why we need to have awareness, be educated, and to understand our journey. With the support of Brain Tumour Foundation of Canada, we need more funding. l speak about myself that hopefully there could be a cure to brain tumours for young children and adults".