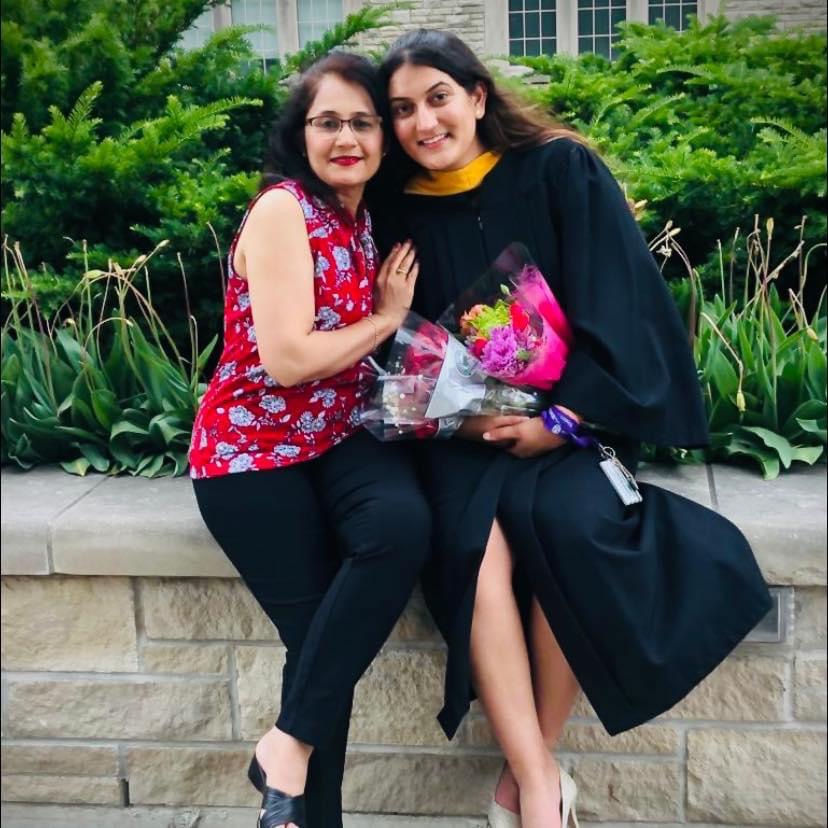 2022 Volunteer of Distinction Award – Shreya Gandhi
Location
Brampton, ON
Role
SUPERKIDS Committee Member
1. How did you start volunteering with the Brain Tumour Foundation of Canada?
My mom's brain tumour diagnosis had a severe impact on our family. Despite her surgery during my early childhood, the memories of crying myself to sleep each night as she lay in a hospital bed stay with me today. My mom was diagnosed with Bell's Palsy shortly after her surgery. While her transient episodes of facial paralysis became a harsh everyday reality of what life would look like after a diagnosis, it was also a brave reminder of her strong fight to keep her life. As a result of these experiences, I struggled a lot with severe anxiety as a child growing up – in high school. I joined the Brain Tumour Foundation of Canada (BTFC) as a volunteer not only to seek support as the daughter of a survivor but also to learn how to support my mom through her life post-surgery better. Acknowledging how BTFC helped me during a vulnerable period, I knew I wanted to pay it forward and support other young people through advocacy and awareness. As a result, my best friend, Visale Balarajah, and I co-founded a youth brain tumour awareness campaign called Project X-Never Alone which joined forces with the Brampton Brain Tumour Walk to increase youth presence at the Walks. Unbeknownst to us, Project X-Never Alone would become bigger than we could ever imagine and form the start of a lifelong friendship with some incredible members of the Foundation and the greater community.
2. What is your fondest memory of volunteering with us?
The Brain Tumour Foundation of Canada has always been very supportive of community initiatives that are hosted in support of fundraising and increasing brain tumour awareness. For one such initiative hosted by Project X-Never Alone, wherein our team hosted workshops for pediatric brain tumour patients at a local hospital, BTFC donated hundreds of teddy bears for us to give to the children. Coincidently, a pediatric brain tumour survivor had just gotten into a car accident that day and was transported to the trauma ward at that same local hospital. Our team was permitted to go into the ward, dress up the patient as a princess, and give her our care package to distract her from the trauma of what had just happened. Her grandmother arrived and, with tears running down her face, described us as "angels that were sent at just the right time" – a memory I will never forget.
3. This year's theme for volunteer week is how volunteering weaves us together and connects us. What does this theme mean to you? (You can see more HERE)
Often, a diagnosis can leave us feeling isolated and alone; we are made to feel like we are fighting a battle alone and in the dark. Volunteering and sharing our stories allows us to open our hearts to those around us and nurture a bond built from a mutual understanding of the other person's adversities. I have met many awe-inspiring people through BTFC, many of whom are now great friends of mine, and I believe that we are all connected through a similar desire to make a change for those around us. Volunteering has allowed us to cross each other's paths and now walk as a team towards a similar cause – to cure brain tumours.
4. What's the best advice you have given or someone has given you?
Growing up, my grandfather always told my brother and me in your life, no matter how successful and privileged you become, always dedicate at least one day each year to charity. That one day may feel insubstantial to you, but it may be enough to save someone else's life.