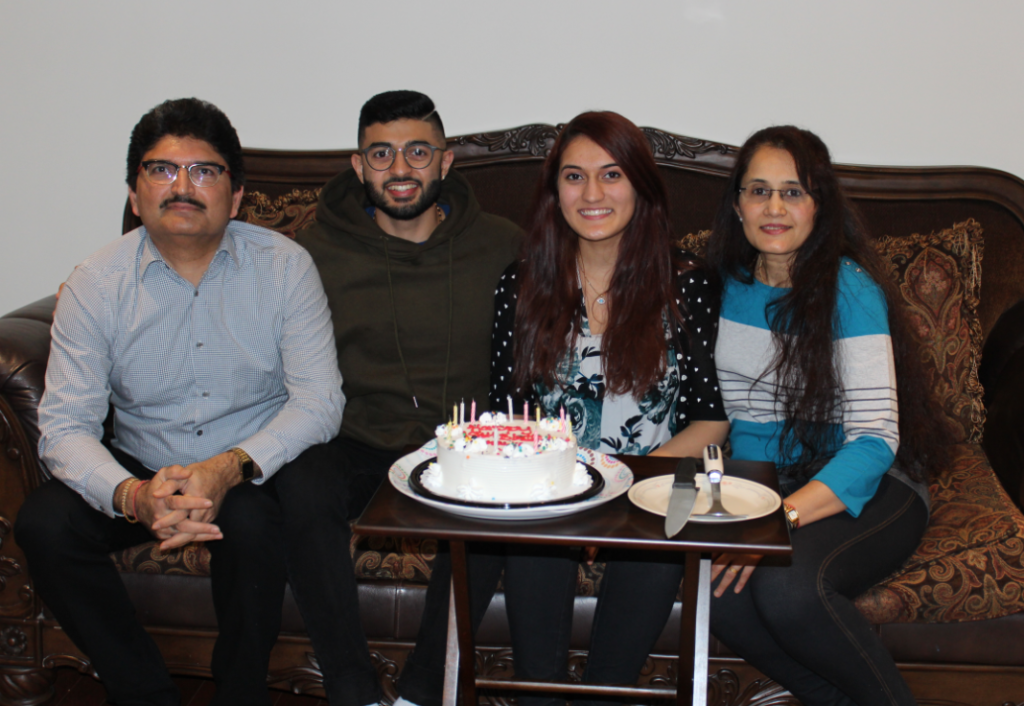 Faith, Family, Focus – Leena's Story
Leena knows the benefits of persistence and positivity.
One day at work in 2003, Leena suddenly got a severe headache and eye pain. The episode lasted 15 minutes, ending with her vomiting. Six months later, it happened again. While she thought it could have been due to the stress of a new job, she decided to have a CT scan done just to be on the safe side.
Her family doctor contacted Leena's husband, Sanjay, letting him know they found something and that they wanted to see her again the next day. That led to an MRI scan and an appointment with a neurosurgeon a few weeks later.
The day she found out though, she feared the worst. Her husband had gathered the family together – including Leena's parents who were visiting from India – to share the news.
"I thought, this is it. I'm going to die," she says. "I didn't think I could survive."
As the room became blurry from all the tears, her mind was screaming, but Leena remained quiet so as to not wake up the two young kids that lay asleep upstairs.
Time, however, has proven her wrong. She underwent surgery to have the tumour removed, and found out it was non-malignant. While Leena did not require chemotherapy or radiation, she did have some very serious, lasting effects from surgery.
After-effects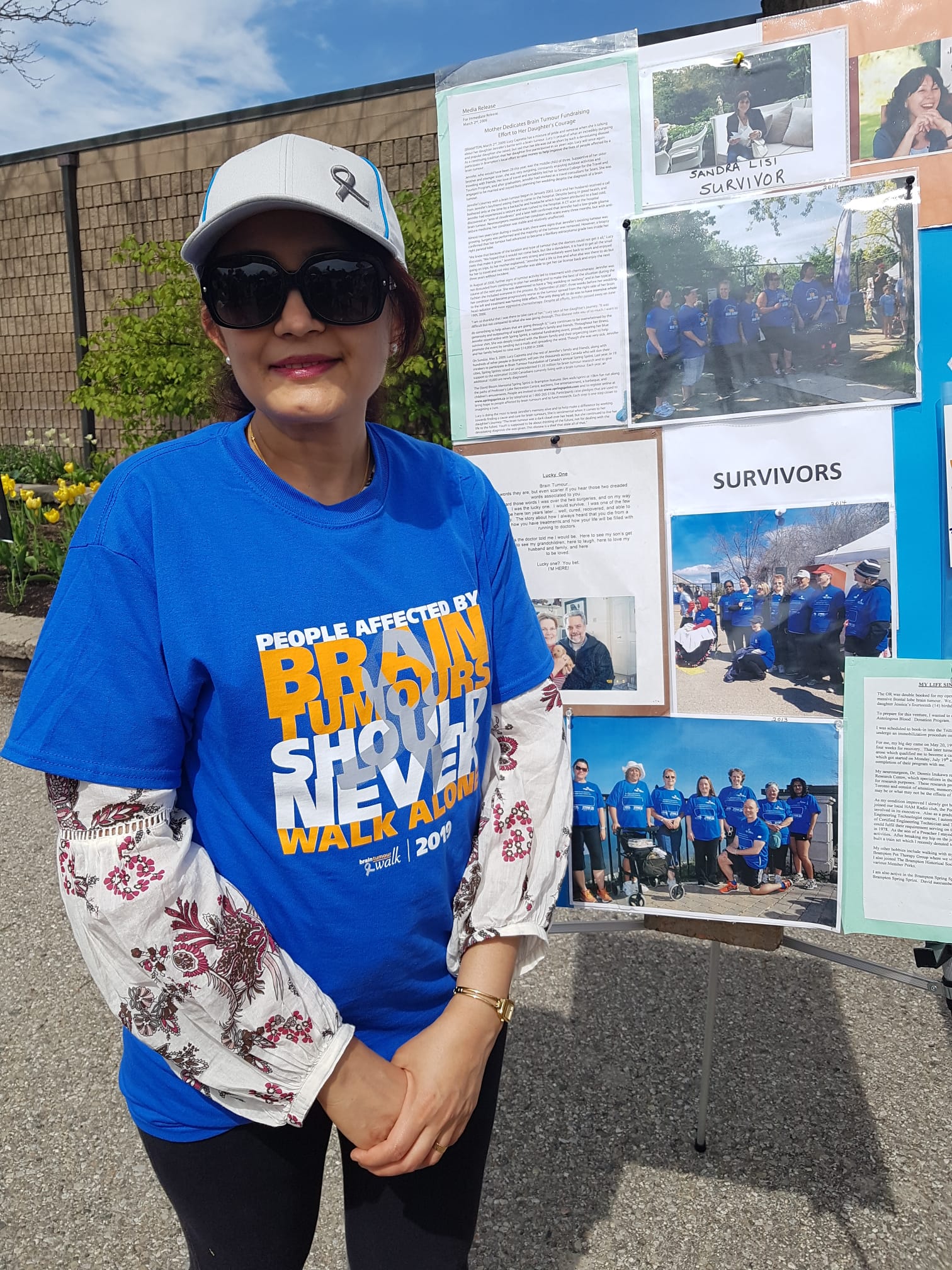 Leena has Bell's palsy — the sudden and transient onset of cranial nerve dysfunction — the effects of which include lazy/crossed eyes, twisted mouth, and trouble with speaking, breathing, and swallowing. Post-surgery, Leena's right eye would not close on its own. The surgeons stitched it from the corner and provided an eye weight to pull over her eyelid so that she could sleep at night.
She said she was in tears when she saw herself after surgery. She looked like a completely different person.
"My husband told me, 'This is all cosmetic, you will be fine.'" Leena says. His reassurances helped her slowly gain her confidence back. Recovery was her first priority. The after-effects, she says, could be figured out later.
But it was a hard recovery. Leena required two additional surgeries to fix her crossed eyes, the latter of which was done while she was awake. Unfortunately, this therapeutic intervention also had an unforeseen drawback – Leena could no longer look to her left or right without turning her head. Her license was permanently revoked as a result of her double vision.
Leena describes experiencing a disconnect between her brain's orders and her body's functions. After a few weeks in hospital, she was given a small cup of applesauce to eat.
It took her a couple of hours, and some intense focus, to be able to swallow it.
Sticking with it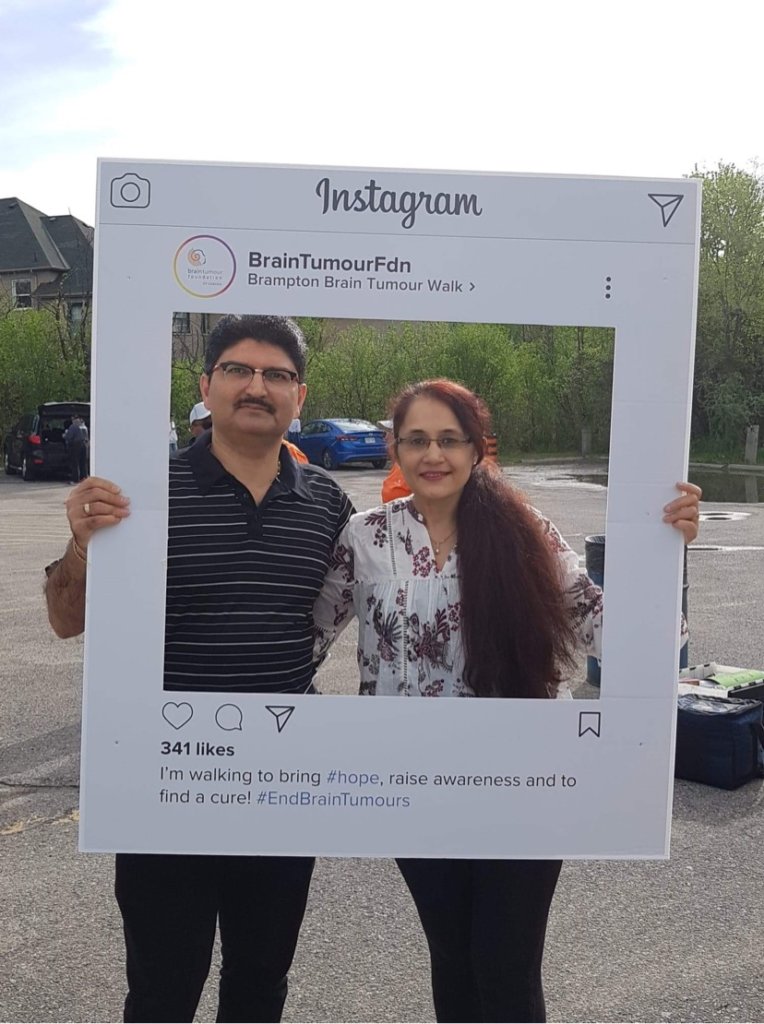 Leena still deals with the effects of her surgery. From time to time she will suddenly forget how to swallow or begin walking crooked, or her mouth will begin twisting again.
She is able to manage these recurrences thanks to two things – her rehabilitative exercises and her family. During her recovery, Sanjay would drive her to four different hospitals for different therapy sessions. Application of a special gel ointment before bed has become a night-time ritual for the two of them for the last 17 years.
She can't be thankful enough for his support, she says. Her family helps her focus when her coordination is off, and her exercises have kept her symptoms down for the last 17 years.
"You think it's small and minor and it's not going to work, but they do work," Leena says. "I do them every day."
If she ever misses a few days or becomes lax, she says she quickly notices the difference. Her family has a very subtle approach that helps her get back on track with her rehabilitative exercises.
"They have such a way to help me that it doesn't even feel that they are helping me," she says. Sometimes, it's as simple as her daughter holding her hand when she starts to lean to one side while walking. Those small things help a lot, she says.
Positive vibes
Keeping a positive mind, having faith in God, and trusting in her doctors' advice have kept Leena happy and healthy. She says she hopes her story can provide motivation for anyone who, like her, has faced the difficult task of recovering from a brain tumour.
"If you saw me 17-18 years ago you wouldn't even recognize me," she says. "People had pity on me. Now, today, they see me and they are motivated by me."
Nothing is impossible, she says, so long as you follow your diet, exercise and doctors' advice. Even if you're not back to 100 percent function, she says, you can take charge of your new normal. With the support of her family, she says, she can fight any battle in life.
Ultimately, she says, it comes down to one thing:
"Life is beautiful. Just live it to the fullest. I always give my children one crucial token of advice: in life, you have two options – you can choose to dance in the rain, or just get wet. I want to live by example. I know that it is up to us to make the initial jump that will lead to an eventual ripple effect in brain tumour advocacy, so that is what I will continue to do!"
Leena's daughter, Shreya, is an up-and-coming neuroscientist who recently placed third in the Brain Tumour Foundation of Canada's studentship research contest. Now 21 years old, she is currently completing an internship in the Division of Neurosurgery at St. Michael's Hospital in Downtown Toronto – the same Hospital that once saved her mother's life. You can read Shreya's story here.