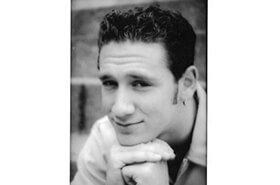 The Brampton Brain Tumour Walk – David Bloom's Legacy
Written by David's father, Lawrie
It all began the summer of 1999. David had been chosen to be part of the prestigious Young Company of the Charlottetown Festival in Prince Edward Island.  The program offered young performers the opportunity to learn and perform.  Classes were held in the morning and afternoon with the group performing their show, Somewhere in the World, every noon hour at the outdoor amphitheatre.
In late July, David started having headaches, sometimes so debilitating that he could not perform.  After a visit to the doctor, David was diagnosed with migraines.  As the summer went on, they became more intense forcing him to come home a week earlier than the scheduled end of the program.
When he came home, he was feeling better, but his Mom and I started noticing that something was not right.  He started having these spells where his eyes would glaze over and he would seem to fade out for a very short time.
Arrangements were made to see a neurologist.
At the neurologist's office, David had one of these spells. The doctor immediately phoned Peel Memorial Hospital, where a CAT scan revealed that there was a problem.  Within a few days, a biopsy was done and we learned that David had an inoperable, malignant brain tumour.
Radiation treatment began immediately with his Mom taking him to Princess Margaret Hospital in Toronto in the early afternoon.  He would then go back to school for rehearsals of the musical, Carousel.   David was playing the lead role of Billy Bigelow. The musical was a great success with a packed house for every performance. David's performance was superb, despite his condition.
One afternoon, as we were leaving the Pencer Centre at Princess Margaret, David noticed a flyer for Brain Tumour Foundation of Canada's Spring Sprint – now known as the Brain Tumour Walk.
At the event in Toronto, as we handed in our $2,500 in donations, David asked the organizer why there was no event in his home community of Brampton. The answer was that there was no one to organize the event.
David looked at me and said, "Well Dad, what do you think?"
Right then, we started talking about organizing an event in Brampton for the next year.
Talking with family and friends about organizing a Walk in Brampton was met with overwhelming support. We chose the first Sunday in May. David was to be our honourary chair and start the walk, but sadly passed away just 10 days before the event. His request was to not cancel, but go on with the event.
That first year, the Walk raised $75,000 for Brain Tumour Foundation of Canada.  We had a huge silent auction, a live auction, a BBQ, business sponsors, live entertainment, special guests and hundreds of participants – family, friends and people from the community.
Our family and friends continued to host the Walk for 12 years, during which time we raised $1.4 million for the work of Brain Tumour Foundation of Canada. Families of individuals with a brain tumour or those that lost a family member were involved in our event and helped to make it the success it has become.
The Bloom family and friends, David's friends and their families are truly honoured to be part of this great event and continue to support the coordinators of the walk for the past four years, Sandra Lisi and Dee Ferlisi, and all of the support they have received from family and friends!
Special thanks to Brain Tumour Foundation of Canada for all your support!
Together we are making a difference!