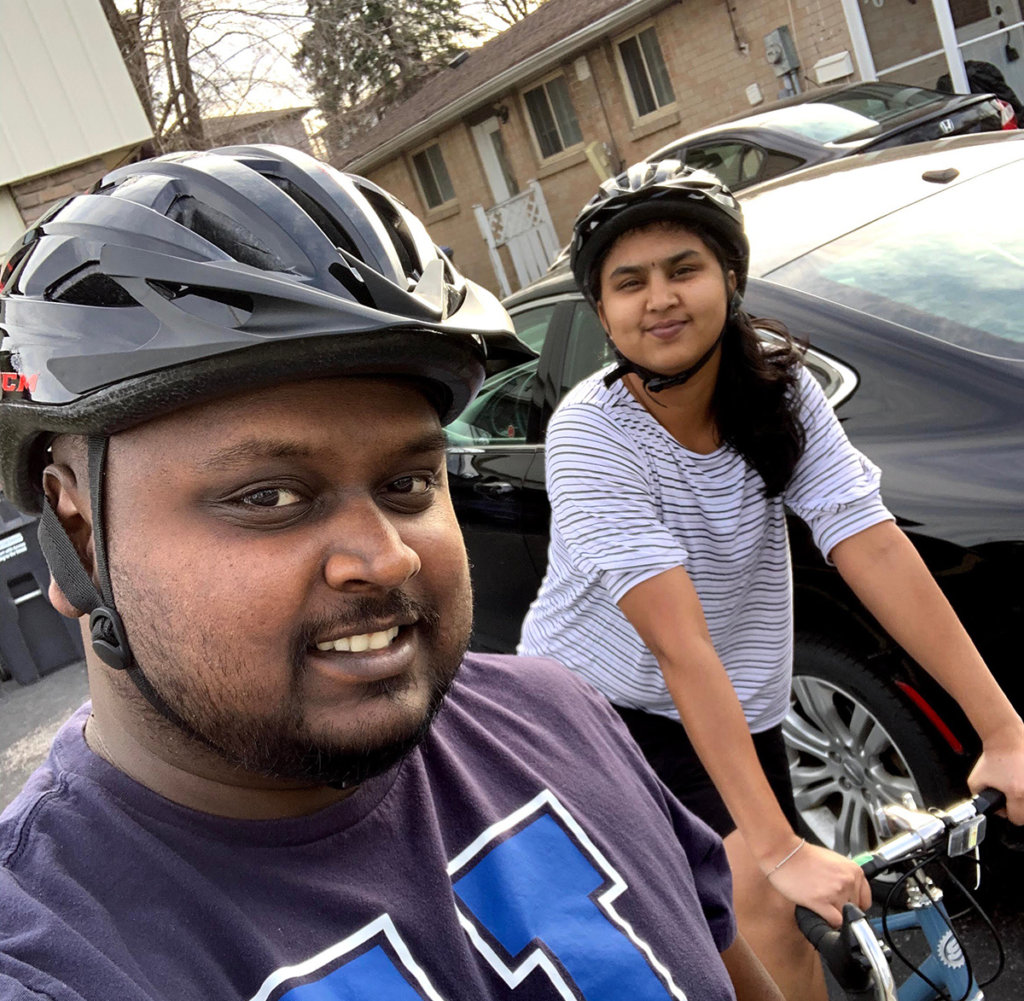 A Chance For Something New – Mani's Story
If you were offered a brand new treatment for a brain tumour, would you take it?
For Mani, the answer was an unequivocal yes.
The Toronto resident is just the second person in Canada to undergo LINAC radiotherapy – a groundbreaking, ultra-precise treatment that carries little to none of the discomfort and side effects of traditional radiation therapy. It is a bit of good fortune, both for doctors and for Mani.
Mani has a Grade II Ventricular Glioma, which is an extremely rare tumour type. Only about 150 people worldwide have one. His LINAC treatment will be closely watched by medical professionals, both because of his tumour rarity and because of the newness of the treatment itself.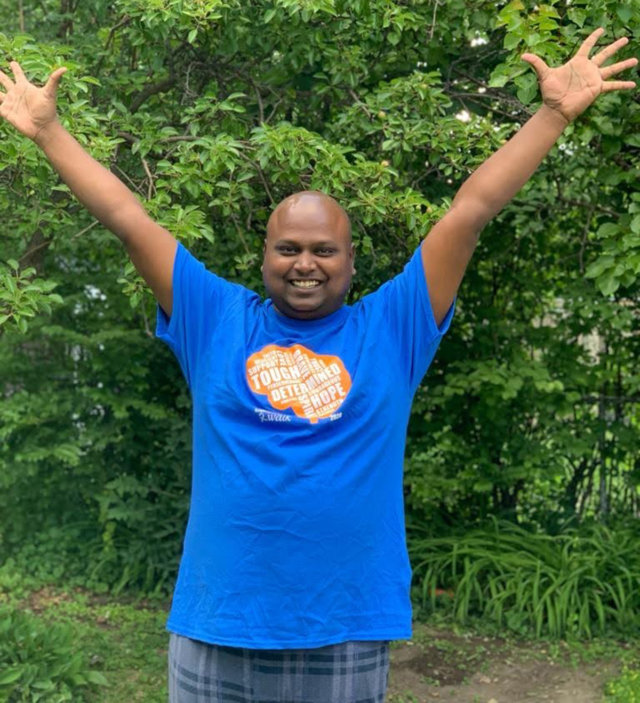 Mani's symptoms showed up one day on the way to play volleyball. While driving his car, he began to have a coughing fit. Thinking he had a cold, he went to the game, but the severity of his coughing was getting in the way of his driving.
After hitting the drug store for cold medication, Mani suffered a grand mal seizure. His wife called 911, and he was sent to hospital. Doctors at first believed the seizure to be an issue of oxygenation related to his coughing fit. However, on returning home Mani had a second seizure – this one inside the body. He says he was alert and open-eyed but couldn't move.
A CT scan revealed a mass, and after further examination, they discovered the tumour near his eyes and pituitary gland. Because of the rarity of the tumour, a biopsy was needed. It was a terrible experience, Mani says.
"I had a situation where I couldn't even remember my wife's name," he recalls. "It was a really tough journey."
His wife, Jothimani, had only just arrived in Canada when Mani's tumour manifested. It wasn't the welcome she was expecting, but thankfully, she was there with Mani every step of the way.
Due to the tumour's proximity to Mani's pituitary gland, doctors were not able to remove it surgically without causing severe hormonal problems.
Mani began his treatment with 10 sessions of conventional radiotherapy, when his doctor brought up a new treatment that he could volunteer for – Sunnybrook's new LINAC machine. Short for Medical Linear Accelerator, LINAC is precise enough to only target tumour tissue and prevent damage to the surrounding healthy tissue.
Mani agreed to try it. He says it felt like the right place at the right time.
He is only the second brain tumour patient in Canada to receive treatment on the LINAC machine, and his experience is an encouraging one. He says it didn't even feel like radiotherapy, and had none of the side effects.
"When I was in traditional (radiotherapy), I would get forehead rashes and such where the beam passed through," he says. "With (LINAC), I didn't feel like that. It was exactly like an MRI machine."
Surgery, however, had left Mani with some serious side effects. Prior to his biopsy, he had no diabetic issues. Now, however, he says he is adhering to a new diet, restricting his sugar intake and replacing starches with other grains like millet.
"Now I'm more health-conscious," he says. "Before that I was, 'Whatever comes is okay. You only live once and so on…'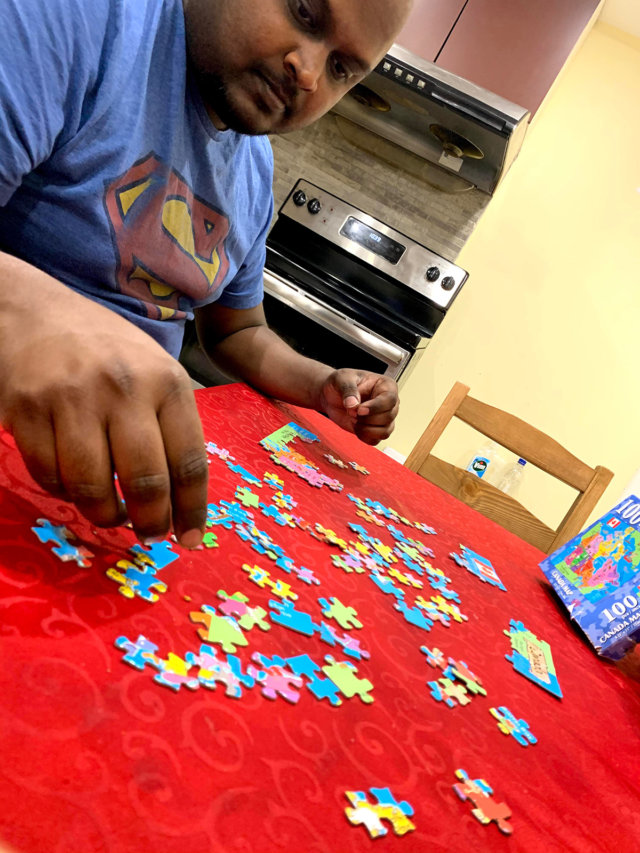 While the volleyball and more adventurous pastimes have been put on hold, Mani has shifted his focus from physical activity to mental. Mani has taken up brain games and building activities to counter the memory issues caused by surgery. Using wooden Lego-type blocks and Mechanical Gears sets have helped him with his cognitive function, and replaced his former hobbies. Life has regularity now, albeit slightly different.
"I wouldn't say it's back to normal. It's a different pace now."
Reading the stories on www.braintumour.ca, and listening to various TED Talks gave him motivation and sharing his story is Mani's way of paying it forward.
He says he considers it a responsibility to share his story, and let others know about his experiences, his LINAC treatment, and how he is mitigating his side-effects.
By seizing the opportunity to undergo a new type of treatment for brain tumours in Canada, Mani is living up to that responsibility – sharing hope and positivity along the way.