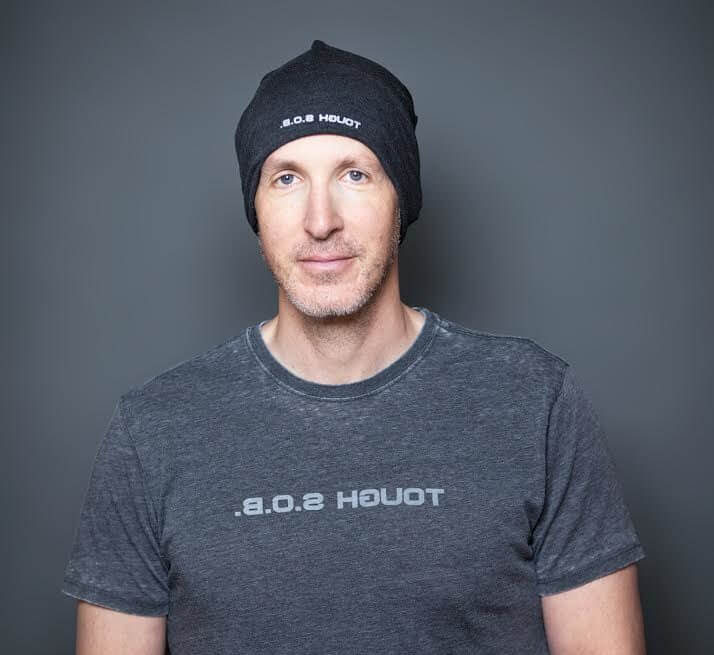 Andrew's story of being tough
What do you see when you look in the mirror? When Andrew's friend looked at him, he saw an immensely tough person and wanted to let Andrew know. Andrew wanted to see those words when he looked in the mirror, as his own private message. Andrew has since dedicated his time and energy into setting up a charity to help other cancer patients, incredible for someone battling brain cancer since 2011.
At 41, Andrew was a successful energy lawyer with a wife, two young sons and a bright future. Following a seizure, then hospitalization, and many tests, Andrew was diagnosed with a brain tumour.
"Out of nowhere, my entire life changed immediately," remembers Andrew. "Even though I tried to return to normal life, I knew things would never be the same."
Over the last seven years, Andrew, like many brain tumour patients, endured surgery, radiation, two years of chemotherapy, and numerous scans and blood-work.
After leaving his law practice, Andrew and his wife launched a charity called TOUGH S.O.B., which offers a unique way to comfort and support those in cancer treatment, by providing them with free toques carrying a special 'hidden' message of empowerment and strength.
"A friend gave me a toque when I was sick," he explains. "He had embroidered the words 'tough s.o.b.' on it. The toque meant a lot to me. It was warm and covered my bare head and my scars. I liked the idea of a reminder that I was braver than I knew. But I didn't want to proclaim that idea to the world in such a brazen way," recalls Andrew. "I wore the hat for many years, but never in public."
Tough S.O.B.Andrew made his own version of the toque with the words 'tough s.o.b.' printed backwards, so only the wearer could see them in the mirror. "To the rest of the world, the words are cryptic and cool," says Andrew. This logo is printed across the brim of each free toque.
"Medical treatment for brain cancer can be disfiguring and debilitating for many people. When you look in the mirror, sometimes you don't recognize the face looking back," he explains. "Our backwards logo is more than letters and words. It's a private reminder to the wearer that we are more than patients in hospital gowns, more than statistics, more than symptoms and circumstances. TOUGH S.O.B. is a reminder that we are all strong, resilient and brave."
"I want cancer patients to know what I did back then, and still do today: that you are stronger than you think," Andrew says. "And, you are not alone." In the last three months alone, the charity has made it possible to give free toques to over 1,000 cancer patients and plans to give out many more.
Learn more about the initiative in this news video.