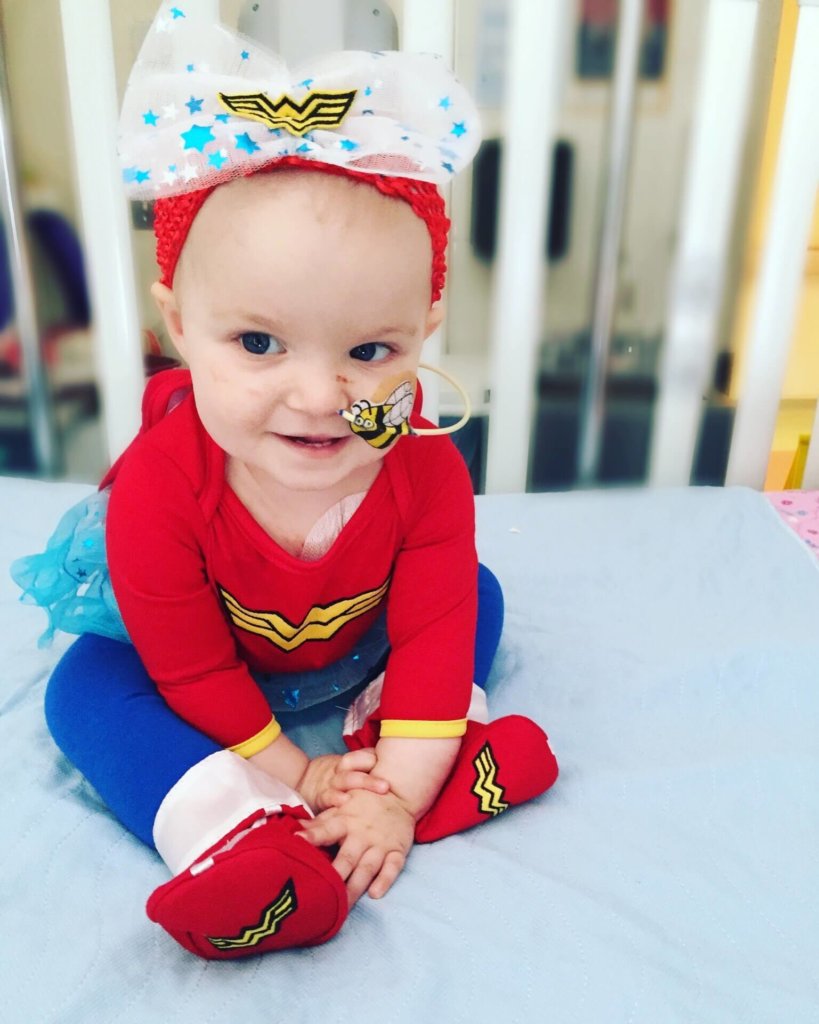 Hayden's Story: The eyes have it.
Eyes might be the window to the soul, but in Hayden's case, they were telling her Mom that something was seriously wrong with her baby. Hayden's Mom, Candice, is forever grateful to the ER physician who spotted her brain tumour and the health care professional team who subsequently saved her eyesight. Candice is now advocating for every parent to look to the eyes.
Hayden was just 10 months old when her Mom noticed that she seemed irritable and not the content, happy baby that she had been. Hayden would no longer pull herself up to stand at her activity table as she used to. They went to the family doctor who confirmed that her percentile weight had slightly dropped, but he couldn't quite connect a direct cause and referred them to a pediatrician. Before that appointment had been made, Hayden was in the bath when Candice realized Hayden couldn't control her body, she wasn't kicking or splashing.
Candice took her daughter to the emergency room. The ER physician who saw Hayden, looked Candice in the eye and said: "Your concerns are valid. We need to perform some tests to rule out either an infection or something in the head." Within one and a half hours, they had had a CT scan, and had the diagnosis of a brain tumour, likely medulloblastoma – the most common form of childhood brain cancer. This was just the beginning of what was to come…

Two days later, Hayden had a total resection of the tumour. The neurosurgeon thought that there might be a little left. The pathology confirmed that it was medulloblastoma, and one of the more aggressive subtypes. Too young for radiation, Hayden was given three rounds of chemotherapy at McMaster Hospital, followed by 3 rounds and stem cell rescue at Toronto Sick Kids Hospital.
During her treatment at Sick Kids it was apparent in her viral screening that she had high numbers of Cytomegalovirus (CMV), a common virus that can infect almost anyone but is of particular concern to anyone with a compromised immune system, so they began treating her with antivirals. They expressed no concern other than monitoring her liver function.
Hayden was discharged from hospital after her second cycle with the decision to stop the antivirals at home until her last cycle. Within a short time at home Candice became concerned with her vision. Hayden's pupils were dilated and she did not respond to a flashlight. Candice took her back to the emergency room. They wanted to do a CT scan to see if her cancer had returned. Once that had been ruled out, Candice advocated for an ophthalmologist to take a look at her. When the ophthalmologist came, Candice could tell that it wasn't good news. They looked stunned, concerned and then admitted that they had not seen anything like it before. She was quickly diagnosed with CMV retinitis, her condition was terrible. Candice and her husband were told both retinas were detached, and she would likely be visually impaired. Despite it being Family Day weekend, a huge healthcare team were quickly assembled and tests were performed to ensure that that the right treatment was prescribed. Within days to weeks her vision improved drastically.
Hayden has since fully recovered and her parents have been told she has minimal scarring but that she likely has no problem seeing anything at all. Hayden's MRIs show No further Evidence of Disease (NED).
Hayden's journey may be different to any other child. She is now monitored differently. There's a paper being written about her, as the healthcare team cannot find anyone having had autologous transplant subsequently being diagnosed with a complication of CMV retinitis.
Candice, a nurse, is convinced that there are some commonalities in this story that she hopes that others can learn from. "Parents, go with your gut! If you think something is wrong with your child, take them to the emergency room. Go. Wait. Advocate. If nothing is wrong, think of how reassuring that would be. I've reached out to Brain Tumour Foundation of Canada in the hopes that they will share Hayden's story, with the hope that it never happens to any other child."
---
Story Updates
Update, January 2019. We are deeply saddened to learn that Hayden's journey has come to an end due to respiratory failure.
Hayden's family joined a Brain Tumour Walk event to walk in Hayden's memory in 2019 and was awarded the Cup of Hope in October 2019. The Cup of Hope is awarded to the team that raises the most money at the Brain Tumour Walk events each year. We are grateful to Hayden's family and friends for raising more than $45,000 to change the future for other families affected by a brain tumour.