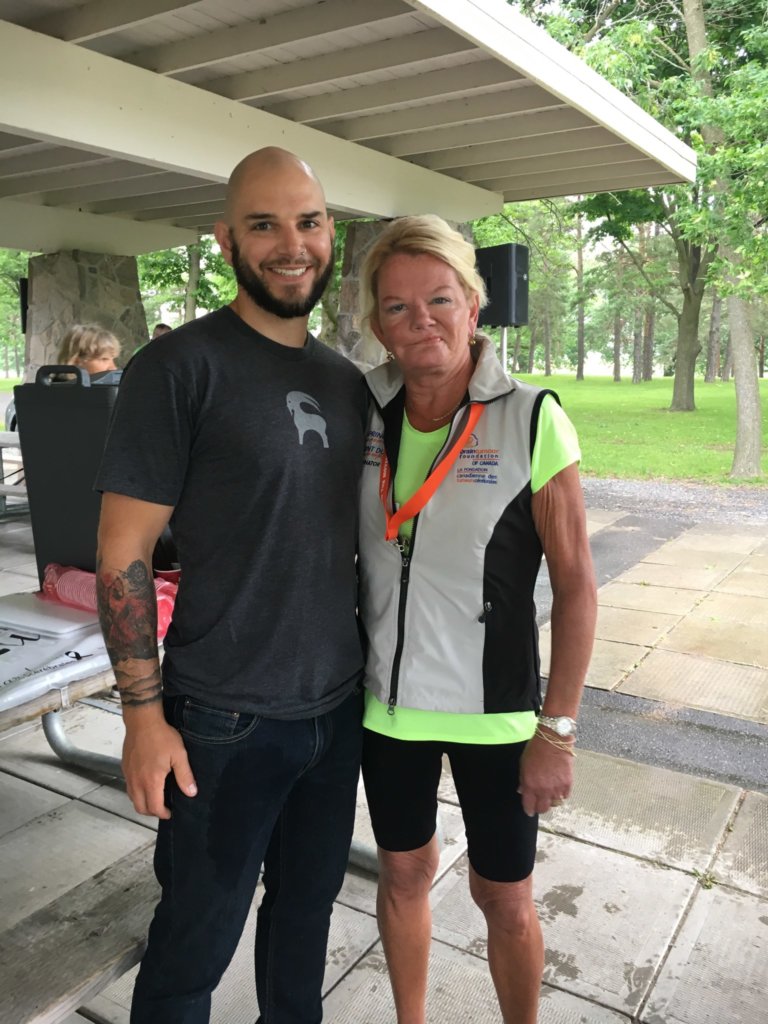 From Survivor to Walk Convener – Liz's Story
My name is Elizabeth Gyuk and I am a Brain Tumour Survivor!
I have been coordinating the Belleville Brain Tumour Walk, formerly Spring Sprint for several years. This year, along with other coordinators from across Canada, we will be creating the first ever VIRTUAL Brain Tumour Walk on Saturday June 27!
Here is my story.
In March 2000 I was diagnosed with a very large brain tumour – an acoustic neuroma.
Two very lengthy surgeries later by a wonderful neurosurgeon in St John New Brunswick and my tumour was gone!
Hopefully.
The after-effects of my surgeries certainly outweighed my previous symptoms prior which were quite frankly almost nil.
Sure, I was having a little trouble with my hearing… Both my Dad and my Grandfather were practically deaf. It was obviously just happening to me a little earlier in life.
Yes, I was a bit unsteady and unbalanced at times… Those new boots and shoes must have defective heels.
I had a little vision, hearing, and taste disturbance… (a word I became very familiar with later)
Probably a cavity. Even worse, I likely needed a root canal.
I was a nurse and a very common phrase many of us have heard of course, "a little knowledge can kill you."
I believed secretly, in the very back reaches of my mind I was likely suffering from Meniere's disease or worse yet, MS. I probably had a few years to live if I was lucky. What I finally acknowledged was there was definitely something going on with me, and that I should perhaps get a check up.
When I awoke from my surgery, I was deaf on the right side.
As was discussed with me prior to surgery, the auditory nerve would have to be cut, rendering me deaf. No problem. I still had one perfectly good ear so I would be fine, right? Well, you have no idea.
If only it was that simple.
My right eye was a little messed up. I couldn't shut it. One option was to simply sew the eyelid shut permanently. Option two which I found far more appealing was to insert a solid gold weight into my eyelid which was virtually invisible. It would allow me to close my eyelid.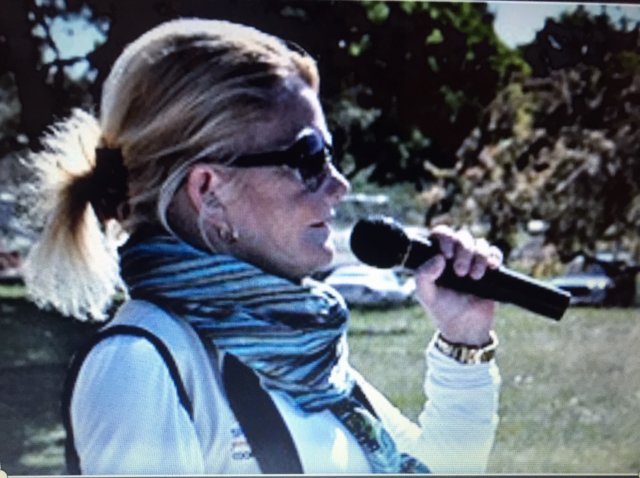 Well… I'm a blonde, I wear gold. That worked for me! Nothing however prepared me for the dryness and endless irritation that would plague me for the rest of my life. I do have the occasional good day!
The imbalance continues. Its annoying, sometimes embarrassing. I can usually come up with an excuse to get away with it.
The facial paralysis…not so much.
I make sure I'm not chatting with myself when I do my hair and makeup. I've always been a very expressive person when I talk and tend to use many facial and hand gestures, etc. That unfortunately doesn't just shut down when you suddenly acquire facial paralysis.
Sometimes if I'm walking along and throw my head back in laughter and happen to catch myself in a window or worse yet, mirror believe me, it's quite sobering. People, friends and family have said over the years that they don't even notice it anymore.
I thrive on these little lies of course.
My only other option was to curl up in a ball in my own little world 20 years ago. Again that wasn't an option for me. I was far too young!
Each of my three wonderful boys, ages 17,14, and 12 at the time, showed me in their own special way and time that the "new look" of my face was something they had certainly come to terms with. Each of the three stories are an incredible example of complete and unconditional love.
Then there is my husband. He of course was always and still is my solid rock. A humble, kind guy who spent 37 years in the Air Force. Now there are likely several past and present members who might not agree with that description! However, after almost forty years of marriage we have enjoyed and continue in retirement to enjoy our life together.
We are each other's greatest cheerleaders, whether it be in discipline, education or physical and emotional challenges.
Sandor's career is what brought us to Belleville where he finished up his career as base chief at CFB Trenton, and it is here in Belleville that I discovered and quickly became involved with the Belleville Brain Tumour Support Group. I joined the group as their convener.
I then moved on to facilitator as well. When I was approached to take over as the coordinator of the Belleville Brain Tumour Walk, it seemed like the obvious road for me to take.
Although it goes without saying, I have received endless emotional support, uplifting, and newfound knowledge and education from Brain tumour Foundation of Canada.
For me it is truly a privilege to be a part of such an incredibly important movement dedicated to ending brain tumours.
I have a way to truly give back when I myself have had so very much handed to me with the endless amount of blessings I have received in my own life.
Each year with the help of such dedicated, loyal family and friends volunteering we strive to make our Belleville event the true "Day In the Park" we strive for. It's always a memorable one for us all.
This year will be no different.
Belleville's been walking for 20 years! I've been surviving for 20 years. YES…Were doing it differently this year. Virtually!!
We're definitley still going to get our…."Day in the Park!!"
Brain Tumour Foundation of Canada is incredibly fortunate to have Liz as our Belleville #VirtualBrainTumourWalk coordinator. Her dedication over the years has been invaluable, and her story is a perfect example of how one person can make a difference.