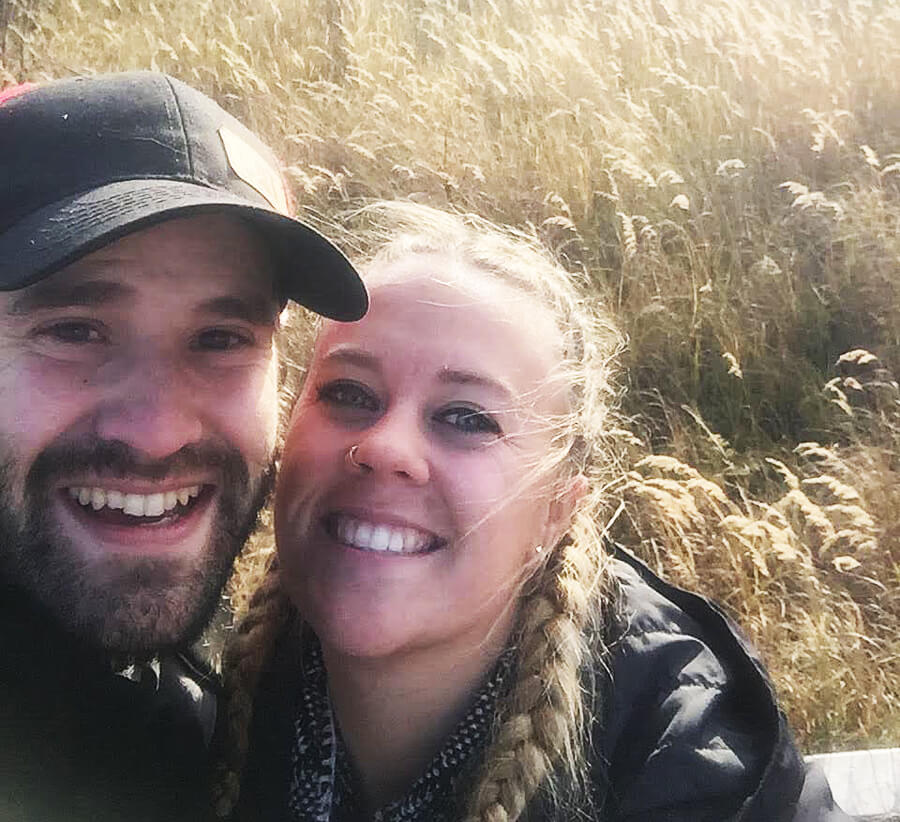 I Am a Stone – Abbey's story
"WHAT?"
"Yes!"
"WHAT???"
To say Abbey was surprised when her now-fiance Tom proposed to her at the 2019 Yellowknife Brain Tumour Walk would be an understatement. However, they now have the unique distinction of being the first couple to be engaged at a walk event. More on that later.
The 2019 Yellowknife Brain Tumour Walk was Abbey's first. The reason she attended, she says, was to find a connection.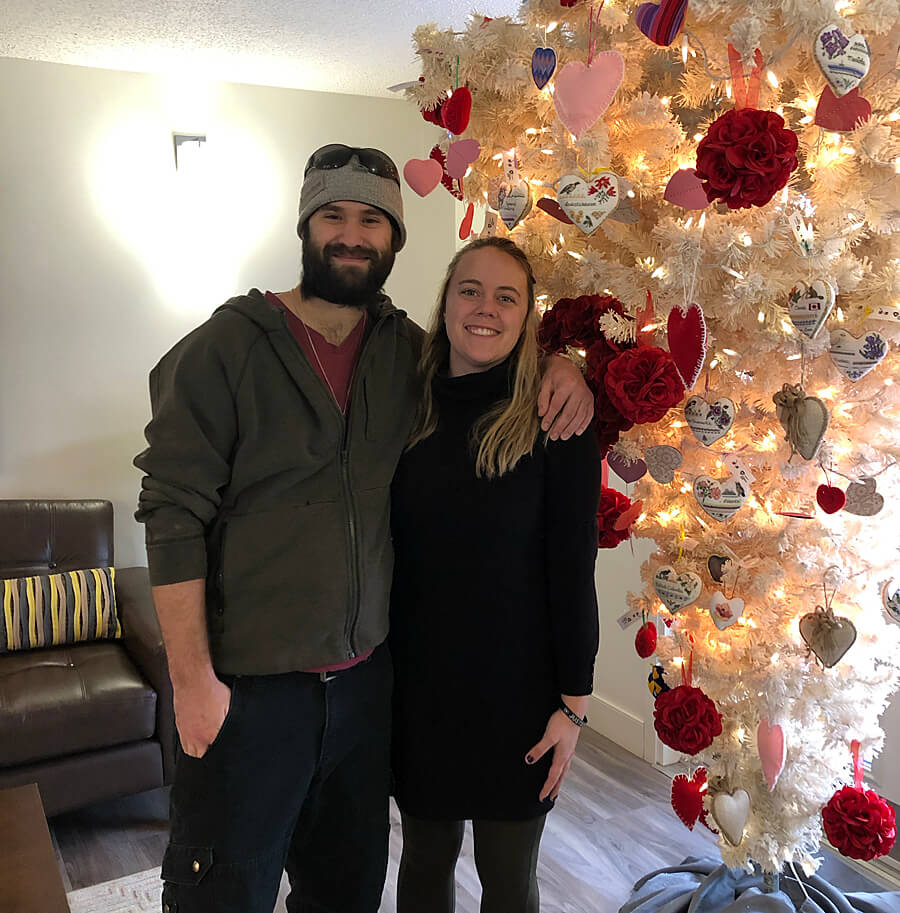 "I thought if I got in contact with other brain tumour people I might not feel so alone," Abbey says.
While the walk enabled her to meet others going through similar situations, she has also been reaching out to people all over the world through various brain tumour sites. It's been great, she says, to find people in her own age group and situation.
She has a grade 4 glioblastoma, with one surgery already under her belt. Unfortunately her tumour, named Pearl, is tenacious, and grew back within four months of her surgery. It's not a ticking time bomb, she says, but it's not the greatest feeling in the world.
She's currently in chemotherapy treatment, after completing six weeks of radiation earlier this year.
Pearl is not going to get her down, no matter how hard it tries.
"Sure, cancer is a big deal," she says. "But I can keep my life going as best I can and try to focus on the happiness going on rather than the tumour that is growing inside my head."
Music is a big help, she says. Metal is her music of choice, and she came equipped to treatment with her angry music in tow. The song 'I Am a Stone by Demon Hunter' sums up Abbey's fighting spirit.
"I am a stone, unaffected
Rain hell down onto me
Flesh and bone, unaffected
Your fool I will not be"
Heading into radiation, Abbey says this song and these lyrics are fitting for the occasion, saving stronger language for Pearl itself.
Humour is one of Abbey's strong suits, and she's not hesitant to dish it out. You have to find the funny in these situations, Abbey says. There are already too many negatives out there.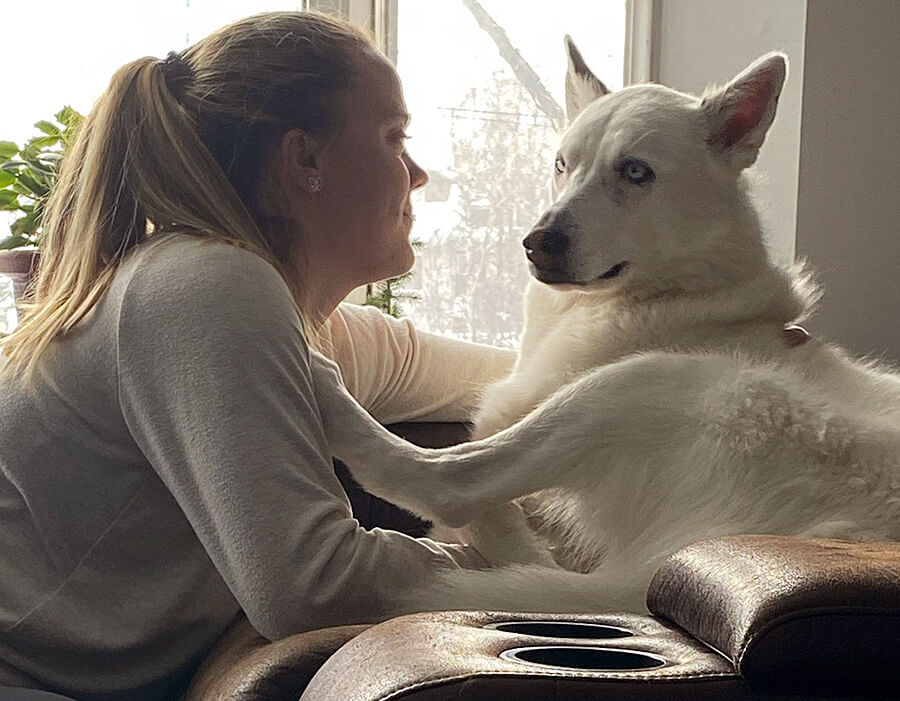 One of the biggest positives in Abbey's life is her dog, Maggie. She's an 85-pound SPCA special, and the biggest bringer of calm in tough times.
"I can't even imagine my life right now without my dog," she says before adding. "And my wonderful fiance and my family.
"But I swear, my animals really make me feel like I can do this."
On days when anxiety is high, a loving look and a cuddle from Maggie can set things right again for Abbey.
Fitting enough, her favourite place is outdoors and in Yellowknife there is plenty to explore. She's grateful to be from a small town, where there is plenty of fresh air and space to roam.
Heading to Edmonton for treatment is too big and too loud. Coming home to NWT, there is at least an end to the day.
This isn't Abbey's first time fighting cancer. As a child, she was diagnosed with adrenal carcinoma. Her mother, Ann Timmins. accompanied her to treatment while her father had to stay back to work.
"It was mine and my mom's thing," she says. "I even find it hard bringing other people into it now.
It's not the same. I feel like I'm doing it wrong without her."
Radiation is a bit of a gamble for Abbey. She also has a condition called Li-Fraumeni syndrome (LFS), which attacks the immune system. Those with both cancer and LFS have a higher chance of secondary and tertiary cancers. In theory, radiation could actually cause more tumours. However, she says, it's one of her best options to evict Pearl.
"I just want to cook the little *@#$!."
Abbey lost her mother a year ago but says she would have wanted Abbey to take on the role of spreading awareness, hope, and happiness. We couldn't agree more.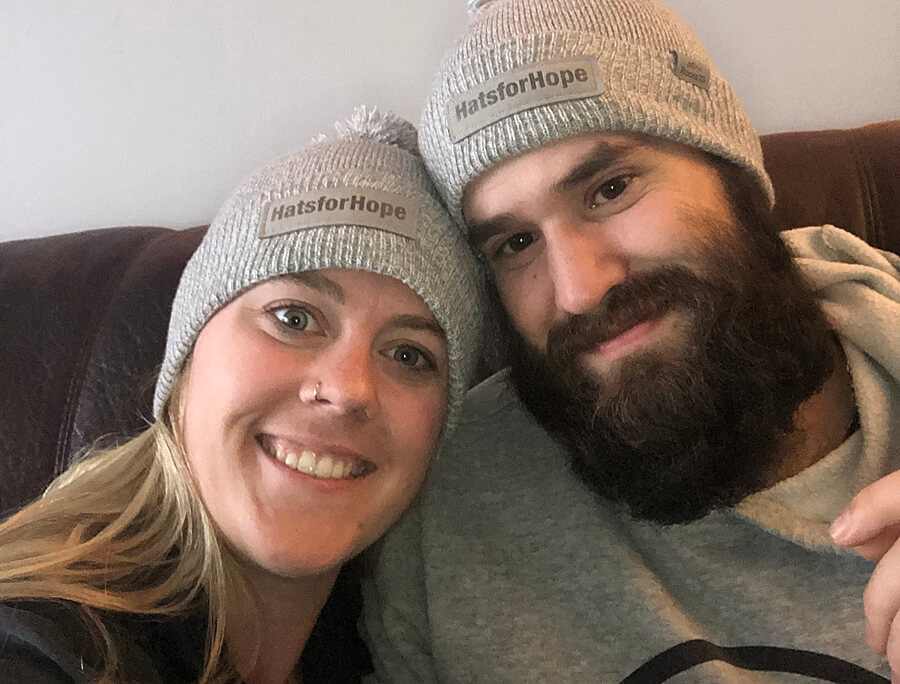 Jumping back to 2019, Abbey says she had no idea Tom was going to propose. During the survivor photo shoot at the Yellowknife walk, Tom asked if she'd hand over Maggie to her dad. Reluctantly, she agreed and by the time she turned around again, Tom was on one knee.
"I definitely said yes because it's been eight amazing, wonderful, difficult, workable years," she says. "He is the love of my life, a pain in my butt."
The rest, she says, is history.
Brain Tumour Foundation of Canada is proud to have Abbey as our Yellowknife 2020 Virtual Brain Tumour Walk ambassador. Her resilience and humour are a shining example of strength during tough times.