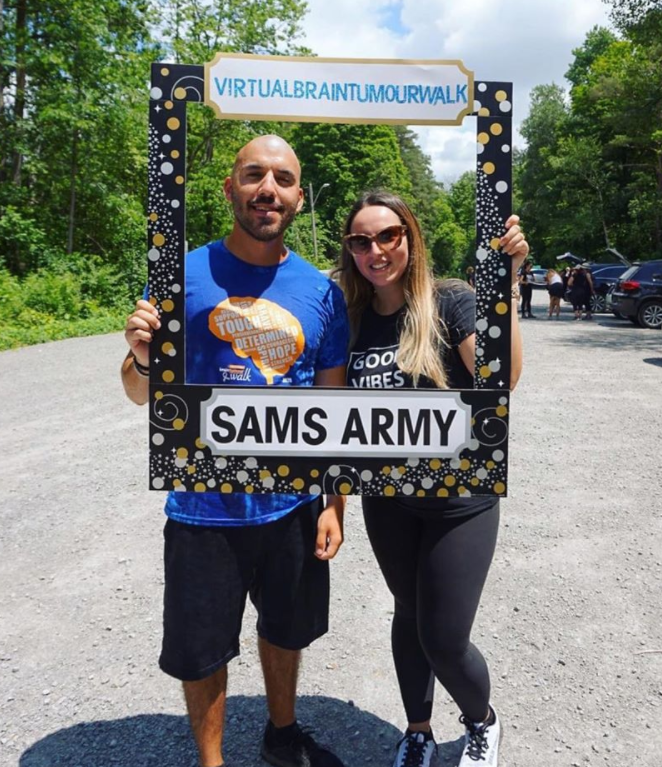 Raising an Army – Sam's Story
Sam (Salvatore) Morana went from a brain tumour patient to an inspiring advocate in a short span, even while undergoing a rare treatment for his brain tumour.
It all happened pretty fast.
In his own words:
"One Friday in June 2019, I was at work not feeling good. I went to the walk-in clinic and was told I had the stomach flu. The next day I was much worse, and my girlfriend and mom took me to Markham Stouffville Hospital. I was told I had a severe migraine and was given a steroid. I felt much better after that for a few days. I worked a 14-hour day at my construction job on the Monday. When I woke up on Tuesday, it took me 20 minutes to put on my pants on and tie up my shoes. When I got to work my entire left side was weak so left and I went to go see my doctor. He told me to go get a CT scan ASAP."
On June 24, Sam was rushed to St. Mike's Hospital and on June 27, he underwent a craniotomy.
Two weeks later, Sam was diagnosed with a Grade 4 Glioblastoma.
As a new cancer patient, the learning curve was a little overwhelming at first Sam says. Taking things day by day and staying positive helped ensure he did not get caught up in the negativity.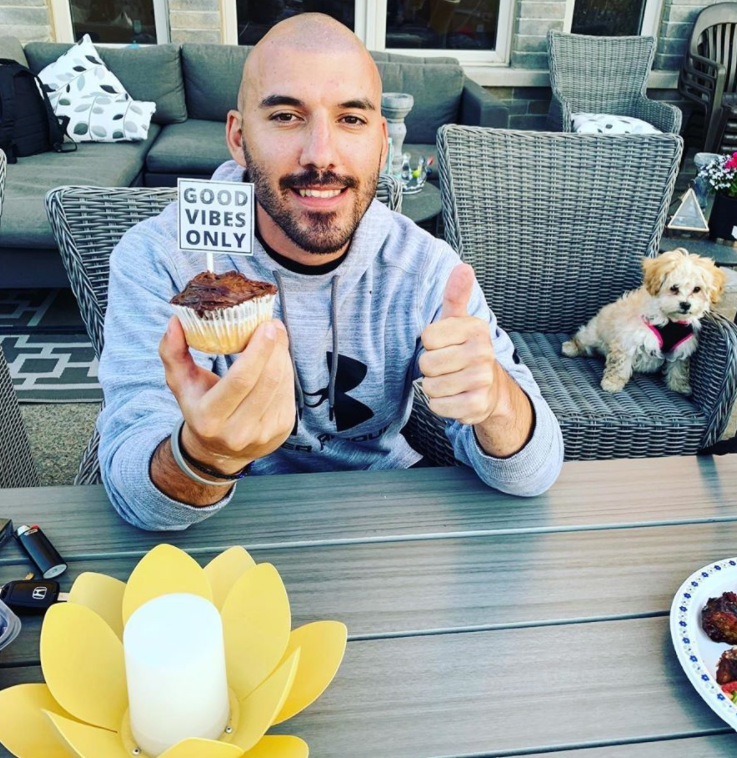 "In the beginning, there are lots of appointments. You're getting poked a lot with a needles, and there are lots of technical terms you don't understand," he said. "But you have to remember there is light at the end of the tunnel. Trust your doctor, but also advocate for yourself."
Sam says he is fortunate to have had his girlfriend, Laura, by his side. She asked all the right questions and – most importantly – made sure Sam did not feel alone.
It was the best part of his journey, he says.
Sam's research into his disease came up surprisingly lacking. Sam says he was shocked to learn that glioblastoma is one of the most underfunded types of cancer – especially considering how common and how deadly it can be. However, he saw his disappointment as an opportunity for change.
"Once I was aware I was a GBM patient, I learned glioblastoma was one of the most under-funded types of cancer," Sam says. "I had to do everything I can to change that."
In May 2020, Sam had to undergo another, much rarer treatment after the discovery of a new tumour – this one on the outside of his brain lining. Sam's radiologist suggested Gamma Knife surgery as the most efficient and least intrusive option.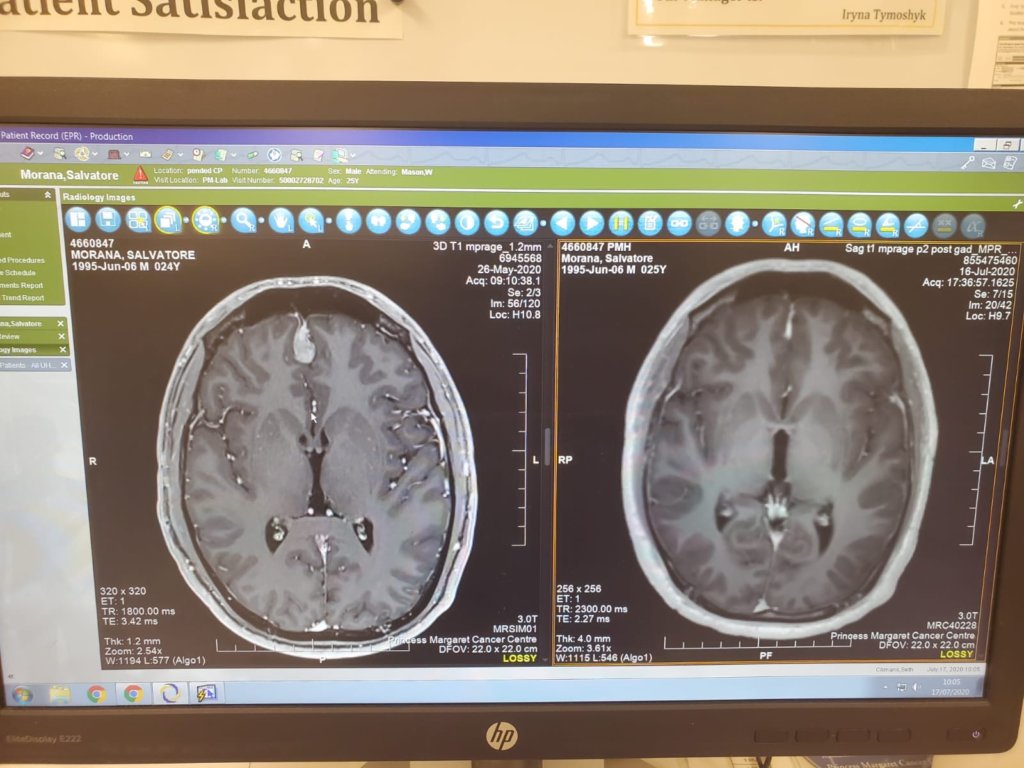 He is one of only a handful of glioblastoma patients who have undergone Gamma Knife treatment in Canada. Gamma Knife is a form of high-focused radiotherapy normally used to treat non-malignant tumours. Unlike conventional radiation therapy, this treatment can be done in a day.
Time was a factor for Sam. Quick treatment was needed to prevent the tumour from spreading. All told, the procedure took about 90 minutes.
"I had a new mask made similar to my one I had for radiation but this one was a lot tighter to be even more precise," Sam recalls. "I walked out of the hospital after the radiosurgery. When I got home, I was very tired. I slept and rested for about three days and after that I felt great. No other side effects.
"It was amazing."
Over the course of just a year, Sam went from knowing very little about glioblastoma to being a dedicated advocate for more research. Even as he was undergoing treatment, he began laying the groundwork for what would become a viral fundraising campaign.
True to his message of positivity, he began selling t-shirts proudly emblazoned with the words Good Vibes Only under the hashtag #Sam'sArmy.
The name came from an unusual place.
"It's funny…" says Sam. "I come from an Italian family so when I was in the hospital, I had a lot of visitors. My surgeon said I had an army behind me, so we came up with a joke – #Sam'sArmy."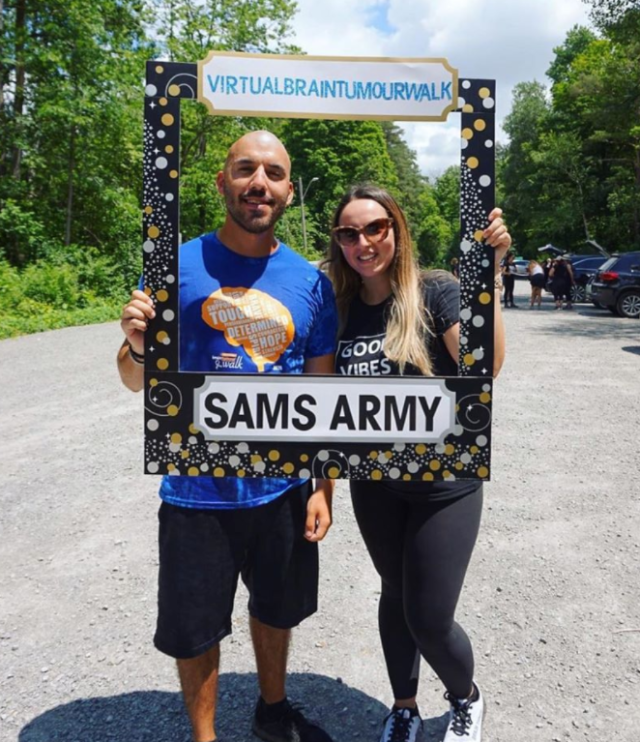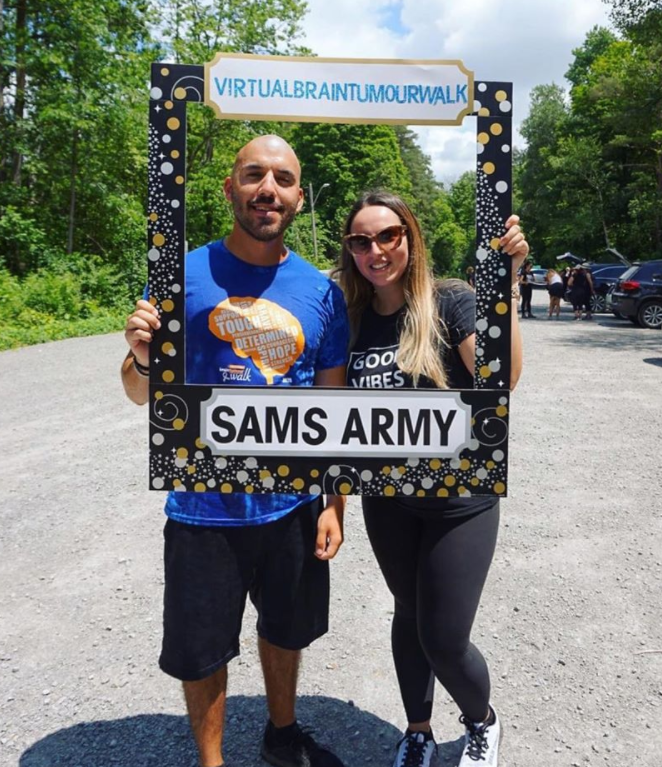 Sam may be at the head of the army, but it's a group for all brain tumour patients to be a part of and know they are not alone.
"The whole point is you're stronger together," he says.
In the beginning, it was mostly friends and family buying shirts but once he created an Instagram page, Sam's Good Vibes Only merch blew up. People were buying shirts from across Canada, and even some in the United States and as far away as Australia.
People the world over were in need of some good vibes.
"It can apply to anyone's life just to have good energy and positive," Sam says. "Yes, you may be diagnosed with a scary disease, but it's all mental. Every day you have to have good vibes, perspective and a positive outlook."
Sam (and his army) shared their good vibes with Brain Tumour Foundation of Canada in June, taking part in the Virtual Brain Tumour Walk and raising more than $10,000. The people he's met along the way have been one of his greatest motivations for raising funds and awareness of brain tumours.
That contact is extremely important in making people feel less isolated, and knowing they are part of a larger community. To that end, social media has been a force for good, Sam says. It's a place where survivor groups can share positive stories while the media generally only share the negative ones.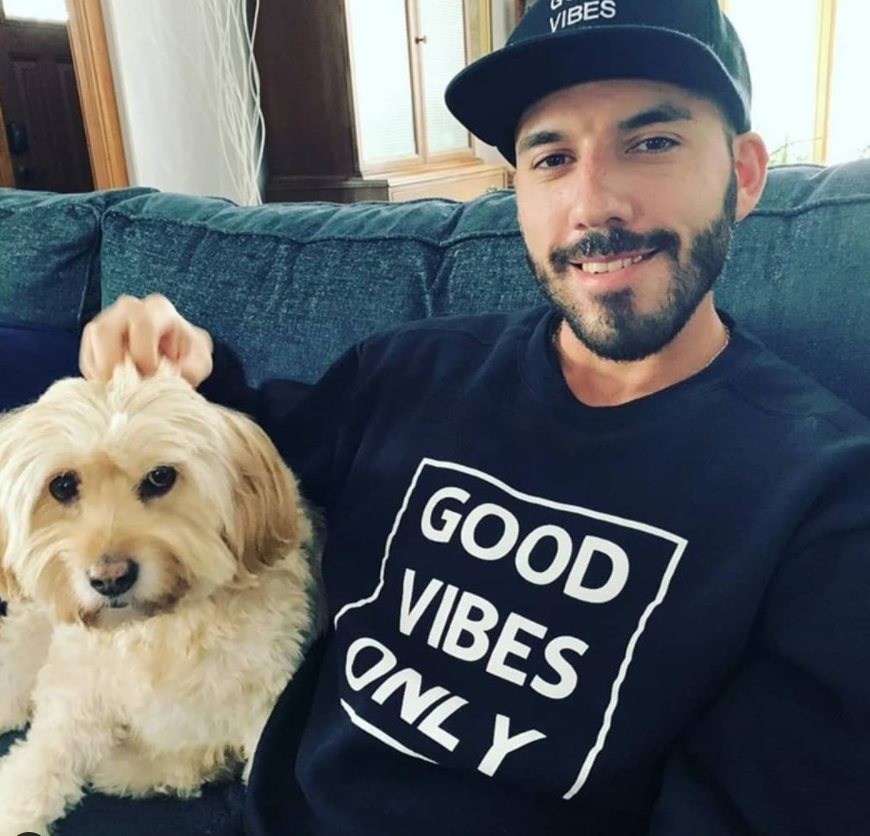 It's a community where good vibes can flourish.
"Never lose hope, no matter how dark the days or what Google or your doctor tell you," Sam says. "Google told me that I had a year to live. I've passed that."
Story Update:
February 2022: We are deeply saddened to learn that Sam has passed away.