2020 Outstanding Youth Volunteer – Andie McGugan of St Thomas, ON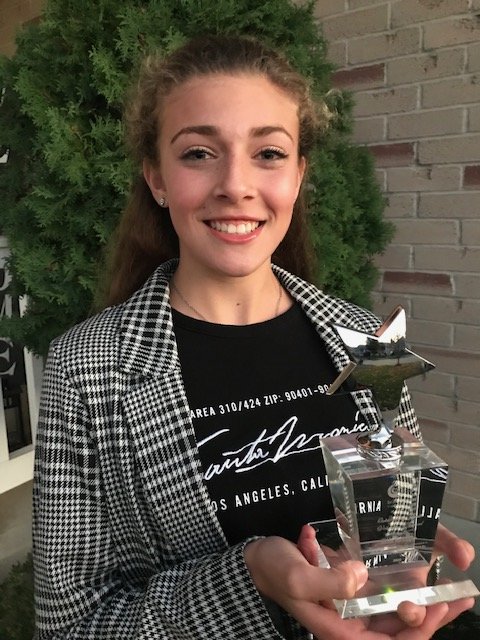 Find a cause you love and dedicate your time and talents to it. 
That's the advice from St. Thomas student Andie McGugan – recipient of Brain Tumour Foundation of Canada's national Outstanding Youth Volunteer Award. 
The 14-year old has earned national recognition for her Bracelets For Brains fundraising program, and for encouraging other youth to become involved in volunteerism. 
The Outstanding Youth Volunteer Award is a national honour given to a youth aged 19 or younger who has shown initiative, innovation and commitment in volunteering, and provides inspiration to the brain tumour community.  
Crafting for her cousin 
Andie's contribution to the brain tumour community all began with a bag full of beads at a Christmas bazaar. 
The industrious young woman began making and selling bracelets, on behalf of her cousin Mckenna, who was diagnosed with a brain tumour while Andie was just three years old. 
As Andie aged and learned more about her cousin and her condition, she wanted to get involved and make a difference for her cousin and for others like her.  
She decided to donate the proceeds from each 'Bracelet for Brains' to Brain Tumour Foundation of Canada and in the four years she has been doing so, has raised more than $4,000 for the foundation.  
Travelling salesperson 
She's taken her bracelets all across southern Ontario to markets in Windsor, St. Thomas, Ingersoll and Oakville – and everywhere she stops, she raises awareness for brain tumours and the brain tumour community.  
It's that dedication to spreading awareness that makes Andie so exceptional. In 2018, Andie took part in a 'meet the makers' market in St. Thomas where she led a bracelet-making session while also introducing her peers to the work of Brain Tumour Foundation of Canada.  
Inspiring others 
Her work stretches beyond simply raising awareness or funds, to inspiring youth to use their time and talents to support causes dear to them.  She has shared her Bracelets For Brains approach at her school, encouraging fellow students to find a cause close to their hearts and use their creativity to make a difference. 
Brain Tumour Foundation of Canada is incredibly proud of Andie and the leadership she demonstrates at such a young age. She embodies the spirit of the Outstanding Youth Volunteer Award in a way that inspires all ages.  
Andie will be receiving her award virtually this year, as part of Brain Tumour Foundation of Canada's volunteer recognition ceremony Friday, November 20. She is one of just three youth across the country selected to receive the honour.