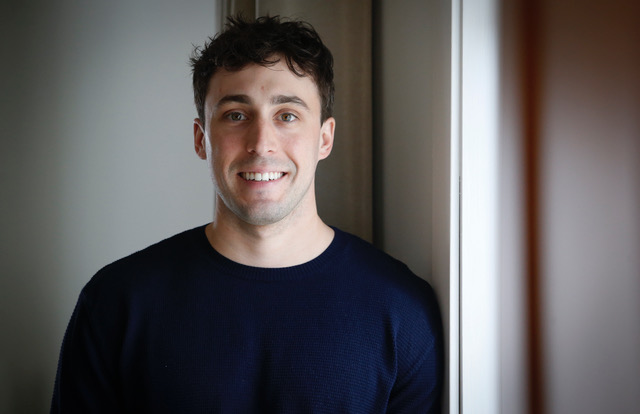 You Never Know What Can Happen!
"It's not like me to be so public regarding my life, let alone my health. I have overcome what I have, and I'm happy to be put in a position where I can make a difference, raising money," proudly states Max Erenberg.
One morning in April 2021, Max woke up and experienced a bad headache, but according to him, at that time "it was just a headache."
Despite the condition persisting throughout the day, he felt like nothing was out of the ordinary and powered through it. He had been working five and a half seasons in hockey analytics with the Winnipeg Jets.
"I went to work that evening because it was game time," explains Max.
That night in the office, however, Max experienced excruciating pain.
"I complained to my colleagues and said, "Hey guys, I am really hurt here. It's bad!'"
After completing his work following the end of the game, Max came home and lay on his couch.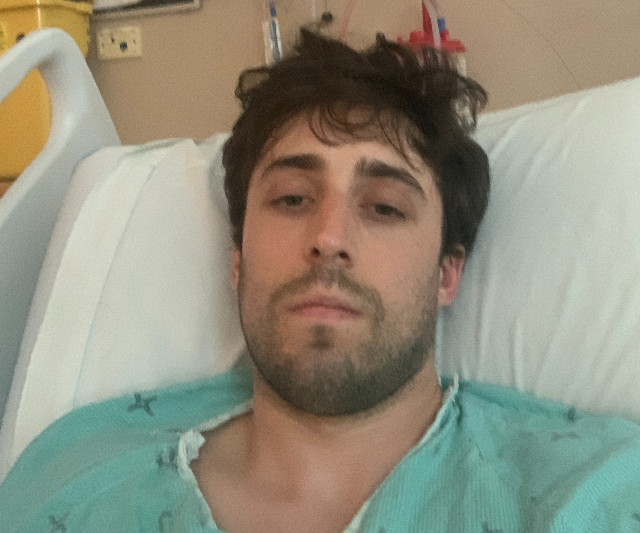 "This headache was just unrelenting! All the adrenaline powering through me that day had gone, and my body was shaking. I thought maybe it was a migraine," Max remembers.
"There was a family history of migraines, and I didn't think it was a crazy concept at the time."
Unfortunately, Max's agony escalated the next morning, making him physically ill. He battled the throbbing headache that would neither disappear nor ease.
He reported his symptoms to his doctor, who initially replied that his symptoms were a result of a migraine, which can continue from a day to a week or longer, and this was not a cause for concern. But by the end of the week, Max was constantly vomiting. He had no appetite, and his head felt as if it was going to explode.
Max knew that there was something terribly wrong with him. He called his doctor for help and guidance and was sent to the hospital for a CT scan during the day, receiving a phone call from the doctor moments later.
He remembers the doctor telling him the results of the scan did not appear as a tumour, nor did it appear that this was affecting a delicate part of his head.
"My world was rocked when I got a call back promptly and was told, "We aren't quite sure what it is yet, but there is an abnormality in your head."
He was rushed to the emergency room and spent four to five days in the neurosurgery ward. Max endured numerous MRI's, CT scans, rounds of bloodwork, and an angiogram.
"It was during the pandemic, and I was by myself. It was quite challenging, personally. I'm not used to this kind of thing happening to me," he says.
Max was sent home to recover, being advised to lay low and take things easy. An MRI was scheduled for June 21, 2021, to compare with the last image taken.
"I was doing a little better, having good days and bad days. I had been back on the golf course, going to the gym but not doing anything vigorous or strenuous. I was back at work but still very uneasy about the whole thing," he reflects.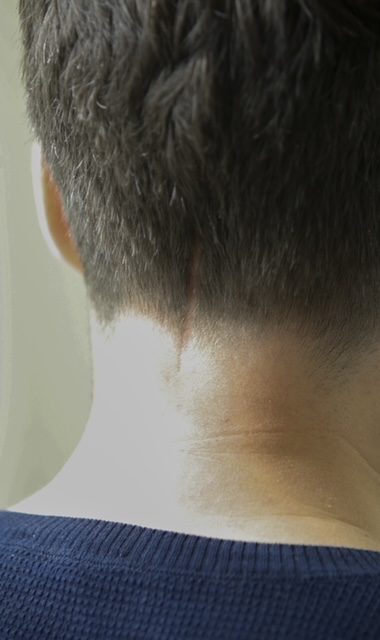 On the morning of June 2, 2021, Max woke up and experienced dizziness and nausea. He could feel the room spinning for a short yet gruelling period. Still shaken and queasy, he contacted his doctor and explained the episode.
Max was called into his doctor's office, where a series of neurological tests were conducted, appearing to be clear. He was directed to have another CT scan. When his fiancée Mikaela drove him to the hospital, Max was immediately referred to the emergency department at the Health Sciences Centre in Winnipeg.
There was now an answer to the issue!
"They said, "we don't want to alarm you, but the growth in your head has more than doubled in size, and it needs to come out immediately. We don't know what it is yet, but we do know that it has more than doubled in size and you have a cranial hemorrhage. This is life-threatening and altering,'" shares Max.
On the morning of June 3rd, 2021, Max underwent a successful craniotomy which removed a mysterious hemorrhaging growth from his posterior fossa, located in the back of the head. After 8 hours of brain surgery, Max's journey to recovery was now beginning.
Eight weeks after the operation, he received a phone call from the neurosurgeon. Molecular analysis of the dissected tissues confirmed the abnormality as a pilocytic astrocytoma, which was a low-grade benign tumour often completely cured by surgical resection.
"In October, I felt physically OK. Because of the tremendous support from friends and family, and perseverance in general, I recovered, but it took months," expresses Max, describing the journey as "a grind, both physically and mentally."
He was determined to return to his life on the golf course, playing sports and having a beer with his friends. He wanted to make a full recovery!
"Those things were within reach yet so far away! It was unclear when I would be able to do those things again. I still struggle to this day. I probably always will with a handful of things that arose from that distinct disruption," he states.
"I'm grateful for my physical health more than ever now, and I will never take that for granted again. I'm out here to raise awareness, support and hope, believing that you can overcome your obstacles."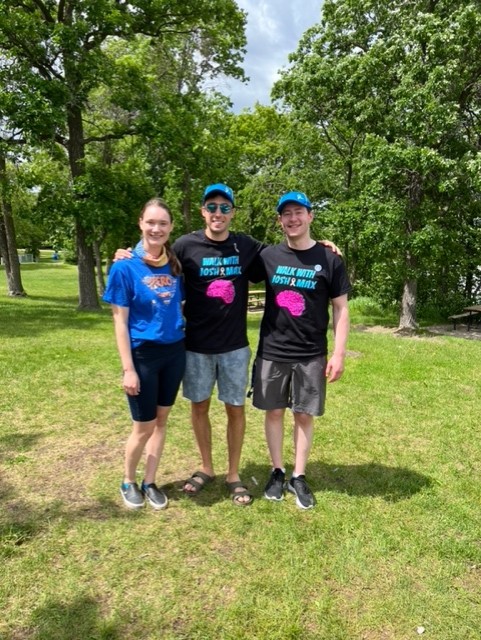 Max is very grateful to his healthcare team, describing them as "nothing short of unbelievable." His recovery has shifted his focus to those whose battles with a brain tumour were not over.
"The doctors are very optimistic about my most recent image. They said it looks great. Nothing to worry about thus far," he proudly states.
In 2016, his friend Josh was diagnosed with a similar type of brain tumour in a different part of his head. Fortunately, his recovery also had similar success.
"Josh always said, 'I want to do this fundraising every year. It's an important part of who I am, and I want you to do the same thing. People will relate to your story, and you should post it. And I did.' Every year, he posted on Facebook with his fundraising towards Brain Tumour Foundation Canada Walk," Max remembers.
Max has transparently shared his experience on his personal fundraising page for the 2022 Brain Tumour Walk Weekend.
"It's really humbling," he says. "I've just made friends with a girl from Winnipeg. She reached out to me and said she was touched by my story."
The feeling is mutual as Max had received her story which she'd written in the hopes of connecting with someone who had shared a similar experience.
"I have that true connection now with the organization and the community and have felt a true connection with the organization and the brain tumour community. It's really humbling," expresses Max.
Today, he works as an Insurance Agent at the family agency R&D Insurance. He sells life, disability, and critical illness insurance among other policies.
He takes pride in his career, as he serves a crucial role in advocating for personal protection.
"I am a textbook example of something that can turn bad and having to overcome that hurdle. I feel like I'm doing good work to help make sure that all our clients and families are protected," states Max.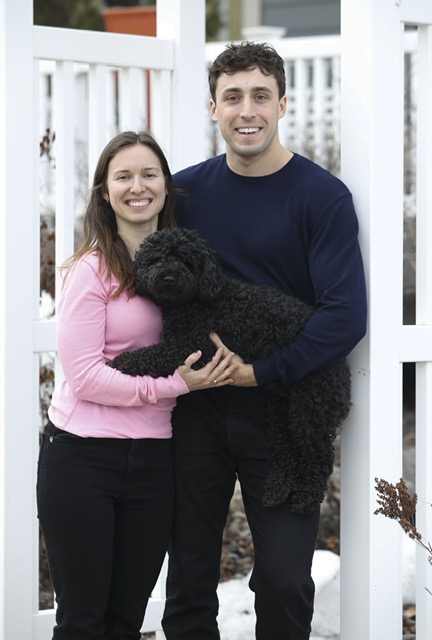 With the overwhelming support and unconditional love from his family, friends, and his beautiful girlfriend Mikaela—to whom he has been recently engaged—Max feels he was truly able to start the healing process.
"Mikaela was by my side from day one through this whole ordeal. Last year, she was with me all day, and all night. Anytime I needed her, she was there. That says a lot. I follow her lead in a lot of ways," he says.
"Elton John's 'I'm Still Standing' is one of our theme songs. It's kind of like a victory song!"
Max goes for MRIs every six months and most likely will need to for the next ten years. Fortunately, there has been no sign of regrowth, and the tumour seems to have been resected.
He is set on living what he calls a "relatively normal life".
"I have this new lease on life. My perspective shifted. I'm quite optimistic these days and have more appreciation for the little things," he expresses.
With the support of his psychologist, he continues to unpack and process any residual emotional trauma.
"I've done a ton of exciting things in my life. I travelled, and I elevated fast. When I was knocked off that pedestal instantly last summer, it felt like anything I've done to that point in my life didn't matter," he says.
For Max, his recovery was an opportunity to rebuild himself, and he was able to find satisfaction in his life and career.
"I'm happy to be living the life I am now, and I hope to continue doing that in the future while making a difference for those who need that extra encouragement," he smiles.
The Brain Tumour Walk is more than just a walk for him, but a cause to show support in numbers—for those whose battles are ongoing, have ended, or have not started. The money raised for the 2022 Brain Tumour Walk Weekend will be used by the foundation to research, diagnose, and treat brain tumours.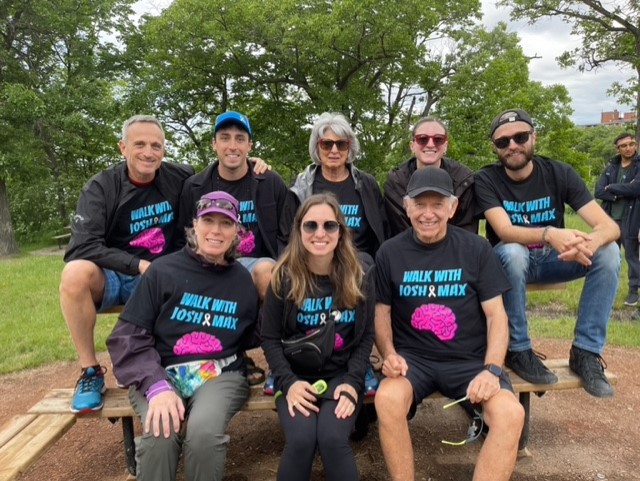 Max is very grateful to Brain Tumour Foundation of Canada and acknowledges the staff who work tirelessly in putting together their social media, fundraising efforts, and many events.
His words are encouraging. "Put yourself out there. You never know what can happen. It's about helping people feel supported throughout their journey; you know you're giving that. You can relate, so you're making a difference that way. Just be confident, and don't be shy," Max says.
"I have an amazing circle of family, friends, and people I don't even know!"
On behalf of Brain Tumour Foundation of Canada and the brain tumour community:
Thank you, Max Erenberg!