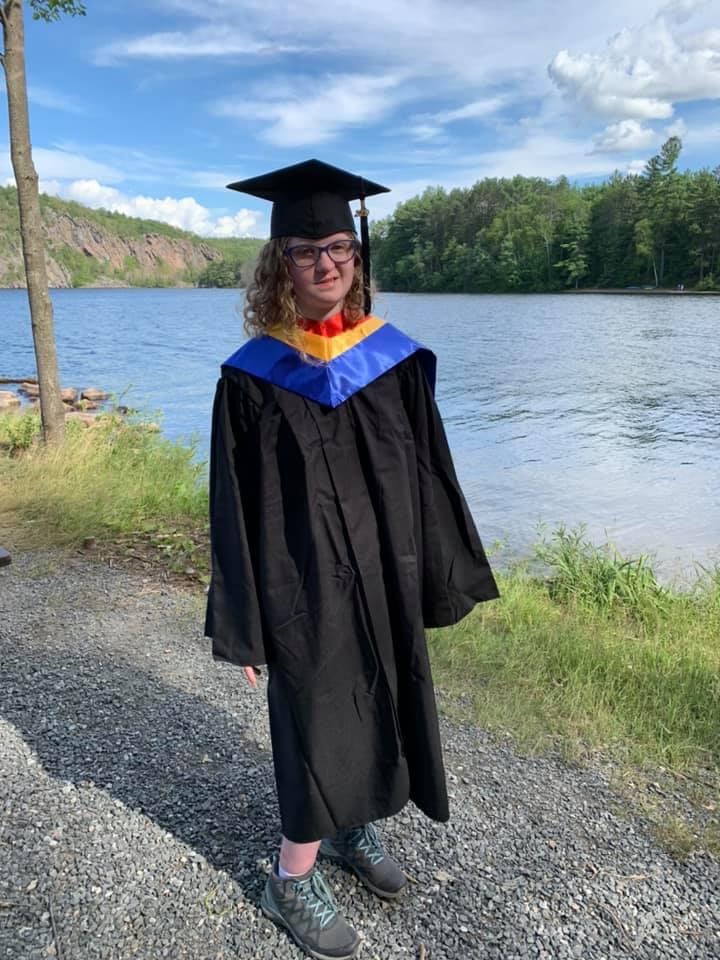 2020 Youth Education Award Recipient
Carolyn Cowan (Toronto, ON)
Pursuing degree in Early Childhood Education at George Brown College
Diagnosed with a Pilocytic Astrocytoma at age 6
Generously funded by Rigatoni for Research
I am honoured to receive the Youth Education Award. It means so much to me and I greatly appreciate it.
This award will help me in my journey to achieve my ultimate goal to become a Child Life Specialist. My Child Life Specialist made an especially big impact in my patient experience throughout my medical journey, inspiring me to one day become a Child Life Specialist to help children and youth in their medical journey. I look forward to starting my first year in the Early Childhood Education Program at George Brown College this fall.
I have an acquired brain injury so it is difficult for me to focus on more than one thing at a time because I get overwhelmed and stressed. This generous award will allow me to enjoy my time at college without worrying about fees. I am honoured to receive this award and am so grateful.
Thank you so much to the caring team at Rigatoni for Research and Brain Tumour Foundation of Canada for making a difference.
May 2021 Update
It has been an exciting year! I have really enjoyed my first year in the Early Childhood Education program at George Brown College. The funds from The Youth Education Award allowed me to focus on my education, without worrying about tuition costs.
Due to the COVID-19 pandemic, my classes were fully online for the 2020 – 2021 school year. This actually benefited me because it made it possible for me to get used to my college classes from the comfort of my own home.
I normally use a walker to get around and will be using Wheel-Trans to get to and from campus. Having classes online alleviated getting used to a commute while getting used to college classes. When classes resume on campus, I will be more comfortable with college and will be able to focus on getting used to the commute between home and campus.
In my courses, I had the opportunity to learn about child development in Introduction to ECE and Applied Curriculum. College English gave me the tools I need for college level reading, essay writing, and research strategies. Introduction to Sociology was a very fascinating course because it explored subjects such as; culture, social inequality, education, mass media, families, healthcare, ageing, disabilities, and globalization.
Over the last couple of months I have been dealing with some medical complexities which required surgery. I am currently recovering from abdominal surgery to remove a pelvic mass.
Everyone at George Brown has been very understanding and supportive as I waited for my surgery. I am very grateful that everyone at George Brown was so supportive of my accommodations which allowed me to juggle school while dealing with my medical complexities.
I have also recently learned that I will need brain surgery later this summer/early fall. My accessibility counselor has been very quick to assure me that George Brown Accessibility Services will work with me in the fall if my surgery delays me starting the school year.
I have had such a positive first year at George Brown College! I am very grateful that everyone at George Brown was so supportive of my accommodations which allowed me to finish the school year before my surgery. My studies gave me a positive distraction from my medical complexities. I am so excited to continue the ECE program!