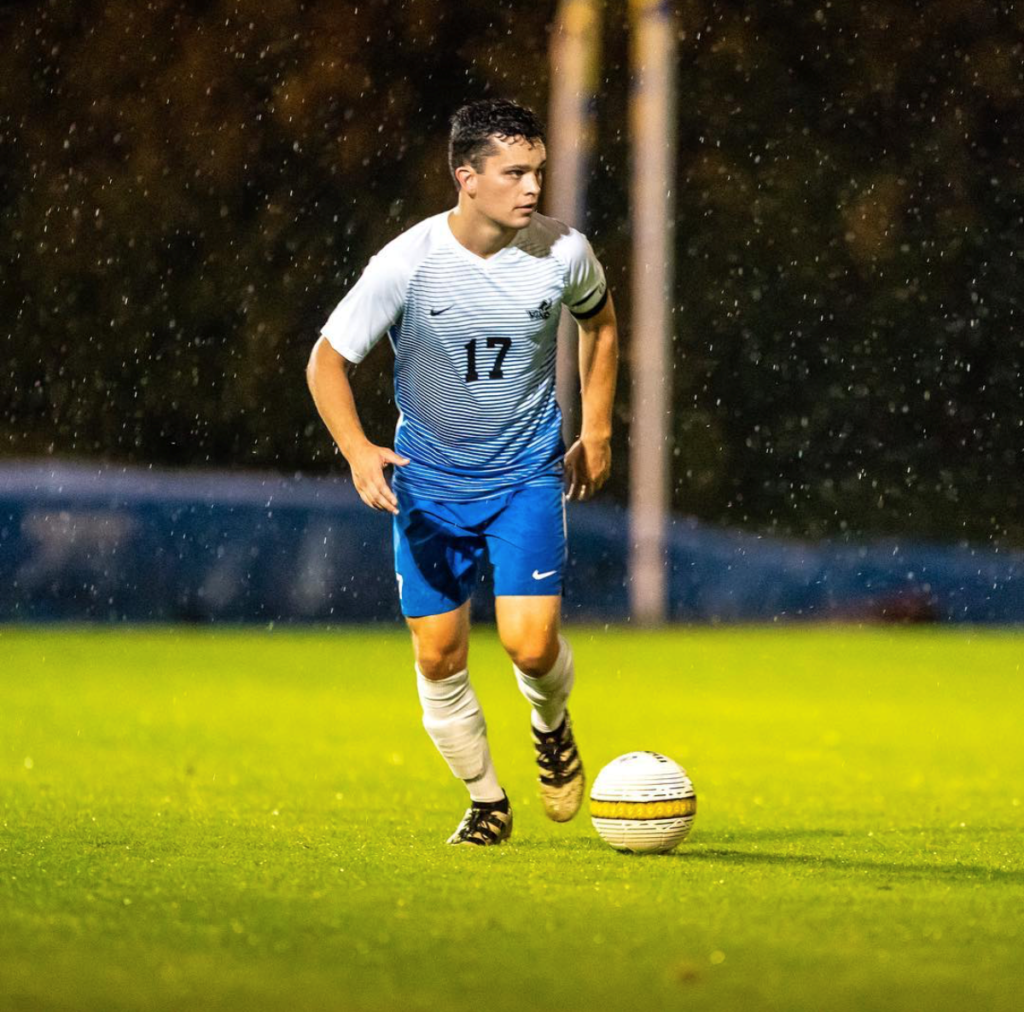 Funds Raised Come Full Circle in Tribute Soccer Match
This Friday, Oct. 13, the University of Windsor's men's and women's soccer teams will face off against their University of Waterloo rivals. Though, as the University of Windsor's Lancers have shown, rivals on the field make for community in real life.
The Lancers are dedicating their Oct. 13 games to Mackenzie Rigg, former captain of the men's soccer team at the University of Victoria, who lost his life to brain cancer in 2022. The matchup is set to raise money for Vikes Kick Cancer, an organization established by Mackenzie's family and supported by his alma mater, to advance brain tumour research, find new treatments, and improve the quality of life for those affected.
So far, Vikes Kick Cancer has funded two ground-breaking studies that aim to combat brain tumours. One of the grant recipients and researchers, Dr. Lisa Porter, is the executive director of the WE-SPARK Health Institute and professor of Biomedical Sciences at the University of Windsor.
Dr. Porter was instrumental in organizing this coming weekend's fundraising game in support of Vikes Kick Cancer, bringing efforts full circle.
"My lab received one of the first grants that was given by Mackenzie Rigg's family," says Dr. Porter, "so I thought it would be great for our soccer team to do this event in solidarity. I'm a soccer mom as well, and soccer goes beyond just the team your kid is on. It touches people in unique ways. So, I thought it would be a good opportunity for us to support Mackenzie's teammates and the University of Victoria, and thank them for the support they've shown us."
Another major supporter and organizer of this weekend's fundraising efforts, dubbed Lancers Kick Cancer, is the family of McKenna Lumley, brain tumour survivor and proud Lancer.
"As a brain tumour survivor, I believe that it is my responsibility to raise awareness and funds for research, and work towards a future where everyone survives a brain tumour diagnosis," McKenna says. "This event brings together my passion for Brain Tumour Foundation of Canada with my pride as a Lancer."
In the spirit of friendly competition, the Lancers challenged McMaster University – whose lab, through Dr. Sheila Singh, received the second grant from Mackenzie's family and whose men's and women's soccer teams will take on the Lancers the weekend of Oct. 20 – to also raise funds for the cause.
With the McMaster Marauders accepting the challenge, the teams will go head-to-head to see who will reign victorious in their soccer matches and in collecting the most fundraising dollars.
"Funds raised from this event will support fundamental and basic discovery science, and allow scientists to pursue 'high-risk, high-reward' projects and ideas that may not be considered safe investments by conventional funding agencies," says Dr. Singh. "It is from these discoveries that the next cure for glioblastoma (GBM) might emerge, so thank you to everyone who will support scientists to take risks and be bold in uncovering the underpinnings of these hard-to-treat and challenging brain cancers."
Mackenzie's family is appreciative of the community that's rallied around them and helped to carry on Mackenzie's legacy.
"If this was happening to somebody on his team, he would be the organizer," says Mackenzie's mom, Barbara Rigg.
Mackenzie fell in love with soccer from a young age, says Barbara.
"We put him in soccer when he was three years old," she says. "The other little ones would take a break and sit on their mom's knees, but Mackenzie would take a sip from his water bottle and run back onto the field."
He continued to play soccer as he grew up, and his team became family as he went off to university.
"When he needed support, he got it and then some," says Barbara. "So having the Lancers do this just exemplifies the power a team has, just rallying around its people. I think Mackenzie would really buy into this sense of community."
Mackenzie valued the "varsity experience" and wanted it to be a positive experience for others as well, Barbara says.
"I wouldn't say it's where he found himself, because he was always very confident and self-driven," Barbara says, "but it's where he flourished. The varsity world was kind of his happy place. To see others living that, and the ripple effect all of this has had, I think Mackenzie would be proud."
No matter which team you're cheering for, you can show your support for their unified cause by donating at the games – the University of Windsor Lancers versus the University of Waterloo Warriors on Oct. 13, or the University of Windsor Lancers versus McMaster University's Marauders on Oct. 20 – or online, at the links below.
Your support will make further research possible, and perhaps fuel some healthy competition!