Interested in learning more about brain tumours?
Come to a free event on October 26, 2019, in London, Ontario. Anyone with an interest in brain tumours is welcome!
At this event, you will hear from researchers who we have entrusted with funds to find the cause of and a cure for brain tumours. We will also hear from the next generation of researchers, undergraduate students who will be competing for cash prizes.
Speakers include:
Brain Tumour Foundation of Canada representatives
a former Brain Tumour Research Studentship recipient, Alexander Rodzinka: "A Novel Approach to Dissecting Brain Tumour Heterogeneity"
a former Brain Tumour Research Grant recipient, Qi Zhang: "Gap Junction and Related Proteins in Brain Metastasis"
the event also incorporates The Pam and Rolando Del Maestro Family Undergraduate Student Research Competition Awards
There is no cost to attend. Register now at www.braintumour.ca/ResearchSymposium.
We want this event to be a valuable use of your time. Please don't take our word for it though. These are quotes from previous Research Symposium attendees:
"I enjoyed all of it. I found the student ideas fascinating – they all seemed so invested and interested. It's great to know that the future of research has these people involved."
"I loved the whole research Symposium…very informative and well delivered."
"Where would be today without these dedicated, exceptionally brilliant individuals?"
"The keynote was excellent! The student presentations were encouraging. Bright young minds that may lead to future treatments for brain tumours."
and from Undergraduate Students who participated:
"Brain Tumour Foundation of Canada's Student Competition was a phenomenal learning experience! It provided a great opportunity for all students across Canada, who are interested in brain cancer. By exploring a clinically relevant case study, it fostered innovation, creativity and collaboration amongst team members. Having participated in the 2017 competition, I felt that I was able to broaden my own perspective on the ways to approach the case study, and by extrapolation, my research project. I have since stayed in touch with some students from the competition and have been fortunate to see their current research progress!"
"I have been interested in research from an early age and the Brain Tumour Research Competition gave me a unique opportunity to showcase my research, teamwork, and presentation skills and receive constructive feedback from esteemed judges. I loved being able to apply basic science to a real world issue and propose a novel solution for a debilitating disease. I also had the chance to meet other like-minded students and interact with people personally affected by brain cancer. Overall this was a great experience I am happy to have been part of and encourage other emerging students to participate in this amazing project."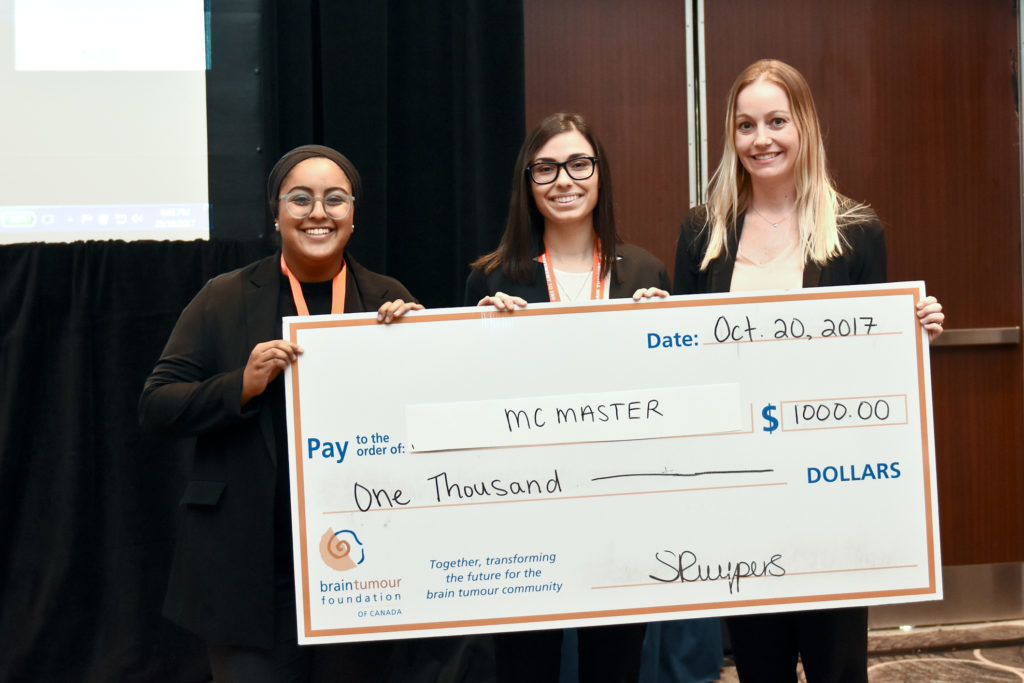 We can't wait to issue other cheques to more brilliant Undergraduate teams!
We can't wait to see you there!
See the full agenda and register now at www.braintumour.ca/ResearchSymposium.