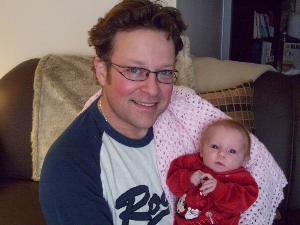 Lois Tucker– Team Keating – Toronto, ON
Lois Tucker's journey with Brain Tumour Foundation of Canada began on July 27, 2009, when her husband, Paul, was diagnosed with an astrocytoma at the age of 34.
"Each day on average, 27 Canadians are diagnosed with a brain tumour, and that was our day," she says.
"Paul was handsome, handy, and the love of my life. My daughter, Briar Rose, was six months old; we had the perfect family and our whole life ahead of us," reflects Lois.
Paul's tumour was determined to be inoperable and incurable. He started treatment at the Pencer Center, at Princess Margaret Hospital in Toronto, but the family was not given a timeline.
"A neighbour found an article in a local newspaper about Brain Tumour Foundation of Canada support group. Soon after, I received information, their handbook and connected with them. We met so many lovely people," says Lois, referring to the Mississauga Brain Tumour Support Group.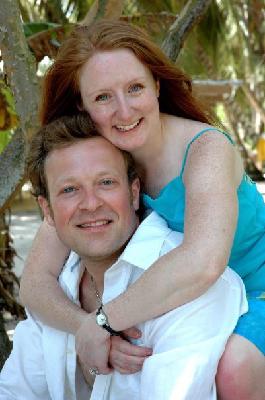 She and her family learned more about what to expect and received inspiration from people going through their own treatment experience as they spent quality time and made memories with their families.
"They had survived their tumours; some treatments were very successful and provided so much hope for us," Lois advocates.
After hearing about the Toronto Spring Sprint– as the walk was then called, Lois joined and participated along with some friends and family members to walk a 5K route.
"Paul was feeling unwell; his treatment was not working as we had hoped, but in a bright blue survivor shirt, he managed a short walk," recalls Lois.
Sadly, Paul died July 17th, 2010; one year short of his diagnosis. Every year since, Lois and Briar participate in the walk with friends and family, raising money and support for the foundation. Lois is grateful for the lasting friendships made possible by the support group.
"Some of them from our original support group with the same kind of tumour as Paul, are now widows and widowers. The support we received gave us what we needed at the time, support, tips and tricks. It was amazing and I will be eternally grateful for those connections and volunteers," expresses Lois.
Usually, she and her daughter participate in the Toronto walk, but in 2020 and 2021 they have chosen to bike and kayak, as the events were done virtually. This year in 2022, they not only hope to walk, but also share their hope with others on the journey.
"We will see those blue shirts of folks living life to the fullest and making memories. We will see a sea of gray to help #EndBrainTumours," says Lois.
She describes Paul as a fighter, remembering their Superman-themed wedding, "He had a Superman tattoo, and I was his Lois Lane. He did not want to leave us. I encourage everyone to keep an eye out for our Superman logos on the walks, continue to keep memories and hope alive, and follow our family motto, "Play to Win"!"
On behalf of Brain Tumour Foundation of Canada and the brain tumour community:
Thank you! Lois Tucker and Team Keating!
Learn more about the Brain Tumour Walk and register for the event at www.braintumourwalk.ca!