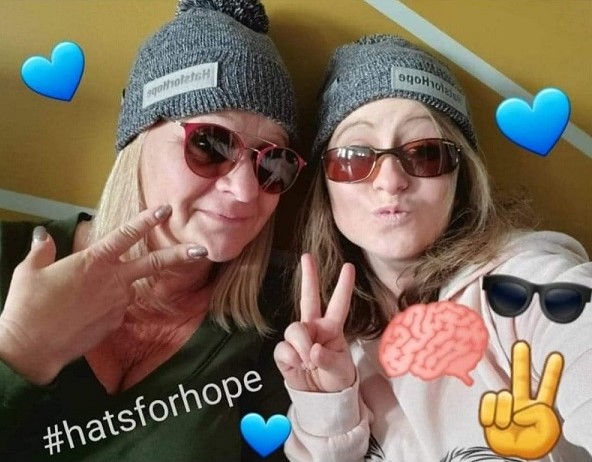 Marni Mills – Team TUMOURnators – Calgary, AB
Marni Mills is grateful to the people who have participated in another year of the virtual Brain Tumour Walk.
"It's a bit different not being able to walk together physically. But I think that says a lot about our strength and determination as brain tumour warriors. It also says a lot about our amazing support team we have," she says.
Marni is 30 years old. She is one of 55,000 Canadians living with a brain tumour.
On August 11th, 2020, marked 25 years since she and her family first heard the words: "You have a brain tumour". She was diagnosed with a glioma, which was roughly the size of a golf ball.
"It was blocking the drainage of fluid from my head, causing a condition called hydrocephalus," explained Marni.
This condition manifested as dizziness, nausea, double vision, and gave her a "booming headache", as she had described to her mother.
The incredible medical team at Alberta Children's hospital performed an emergency third-ventriculostomy on her. It was continually monitored by her doctor. Four years later, she started radiation therapy, as the glioma had slowly grown to a point where it could have caused more complications for her.
Fortunately, the radiation shrunk the tumour back to its original size.
"It has minded its own business since then. So that's why I'm here, doing the walk; to help raise awareness, continue the ongoing research, and to support such a truly amazing cause. It's because of all that I am here today!" Marni states proudly
She is amazed at not only how much she and her family has learnt over the last 25 years, but how much they know now. Marni credits this to the funding, research, and awareness from events such as the Walk. For her, these events represent strength, love, and support. More than anything, they represent hope, for a cure, and a future without brain tumours.
"This wouldn't be possible without you guys, so a huge THANK YOU to everyone who was a part of making this happen!" Marni expresses.
On behalf of Brain Tumour Foundation of Canada and the brain tumour community:
Thank you! Marni Mills and Team TUMOURnators!
Learn more about the Brain Tumour Walk and register for the event at www.braintumourwalk.ca!