"You miss 100% of the shots you don't take" – Wayne Gretzky
For James Rolph, his family and career are two of his greatest successes.
He works for Parkland, a leading national fuel retailer and convenience store company that includes Pioneer, Ultramar, Chevron, and On the Run.
"I'm in charge of everything not to do with gas – the necessities and simple pleasures sold in-store. I throw myself a lot into work, and pride myself on how well my team works together to achieve our goals," he says.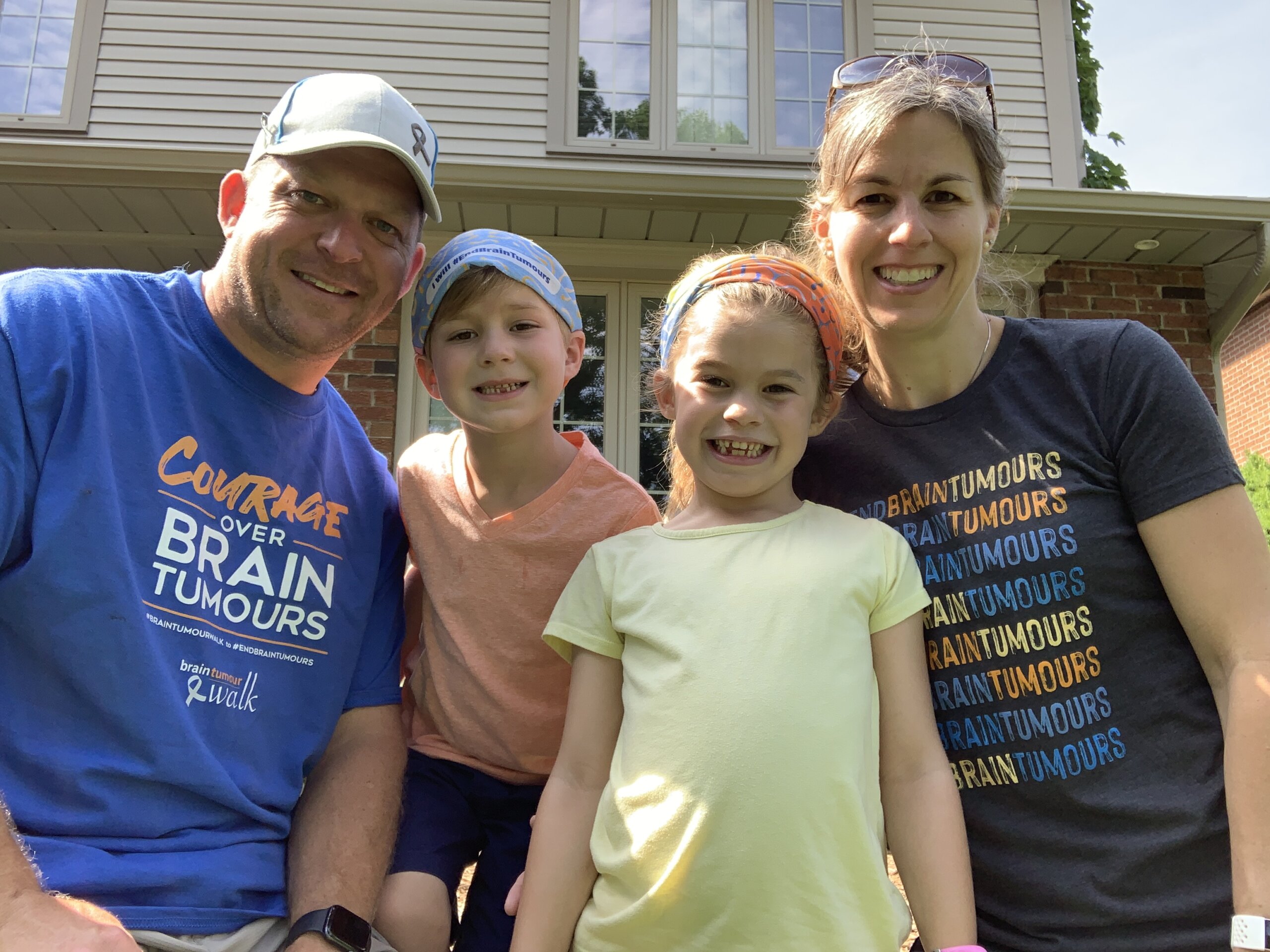 James and his wife, Julie, are raising their two young children in Burlington, Ontario.
"My number one priority is being a husband and dad," he expresses.
"I grew up in a very tight-knit family with strong values, and my parents worked extremely hard to ensure we were happy and successful in our chosen pursuits. They had fun with us, and we made many great memories together."
Outside of work and family, James devotes his time to hockey and golf. During the summer weekends, he, his wife, and children enjoy spending time at their cottage in Grand Bend, Ontario.
He is also grateful for his strong friend base. "It's all about outdoor time, connecting with those closest to them, and enjoying life," he states.
In August 2017, while working with a neurologist to find the cause of his life with migraines, James was diagnosed with a brain tumour. Surprisingly, the tumour was not causing the headaches.
At the time, he and his wife, Julie, were raising a two and three-year old, and he was worried how the diagnosis would impact his life and his career; how would he tell those closest to him? He would also need time off from work.
James describes the experience as surreal and a "huge shock".
"We didn't have a lot of information in the early days because so much was unknown," he states.
"My neurosurgeon advised me not to use Google. He referred me to Brain Tumour Foundation of Canada's support groups and gave me their handbook," he recalls.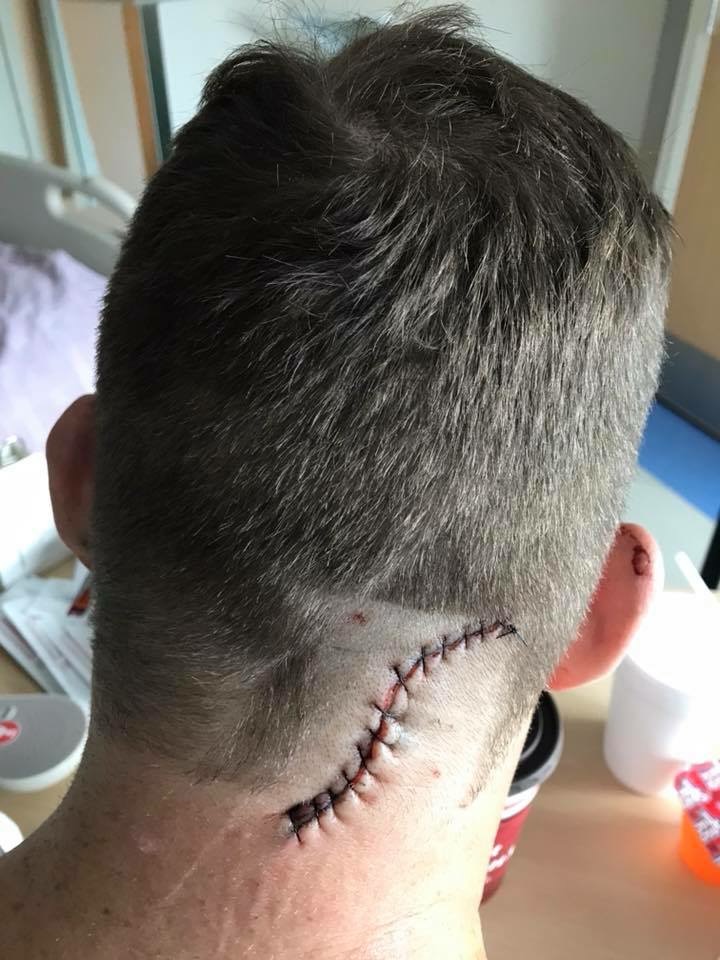 In Canada, approximately 27 people a day are diagnosed with a brain tumour, averaging 55,000 people per day affected at any given time.
A series of MRIs followed, and the decision was made to surgically remove the tumour that November. It was shortly thereafter that he learned that his was a hemangioblastoma, a rare, non-malignant brain tumour.
While the news came as a relief, James worried that misconceptions around non-malignancy meant others may not understand the impact his experience with a brain tumour had – and continues to have – on him. "I've been called a tourist, but I've also been told that a tourist has a journey and is still impacted. You can still help others going on a journey."
Together, they educated themselves on his condition.
"To change the world, it starts with one step/ However small/ First step is hardest of all" "You Might Die Trying", Dave Matthews Band.
In 2018, James and Julie – Team Mind Over Matter – embarked on their first Brain Tumour Walk in London, Ontario. In the beginning, he was very private about his condition and did not publicly fundraise.
"Because my tumour was non-malignant, it felt weird, and I didn't know anyone else who had one. When I saw other people like me in blue shirts and stood with them in the group picture, I was just overwhelmed with emotion," he reflects.
"I understood each of these men, women and children have been through something. It is for this reason that I have been walking every year since and will continue to do so."
He remembers attending an awards event in Toronto with Julie within the the last couple of years. There, they met Dayna and Raymond Magnuson, who had raised major funds for the Whitehorse Brain Tumour Walk in Yukon Territory.
"Dayna told us her story," he says. "They are wonderful people, and we kept in touch through social media. She passed this year, but she had so much hope when we met her. She was an inspiration".
"Celebrate we will/ 'Cause life is short but sweet for certain" "Two Step", Dave Matthews Band.
This year, the Halton Brain Tumour Walk fell on the same weekend as James and Julie's wedding anniversary, which they were celebrating at the Grand Prix in Montreal.
Team Mind Over Matter donned their shirts, hats, signs, and capes, and walked 10 km throughout Old Montreal. They received 76 donations, raising more than $12,000 for their team. Included was a generous $5,000 donation from his employer's Ultramar Foundation, headquartered in Montreal.
James and Julie are very grateful for the support of their family, friends, coworkers, and to those of the participating survivors. This support includes that of his young children.
"My daughter collects and sells golf balls and wanted to give a percentage of the money raised to charity. In addition to Brain Tumour Foundation of Canada, she wanted to donate to the local food bank. Her spirit of giving makes me so proud as a dad," James states proudly.
While James has raised more than $30,000 since 2018, he says that the walk is not only about fundraising, but connecting, with other survivors, supporters, Brain Tumour Foundation staff, and volunteers.
"Every time I share my story on Facebook or LinkedIn, someone reaches out and shares, 'My brother, friend, cousin, uncle– someone that I know– just got diagnosed.' I know way too many people," expresses James.
In addition to his fundraising, James is a member of the Survivor and Family Advisory Council and reports to Dr. Robin Urquhart in Halifax, Nova Scotia. This work has given him an opportunity to understand his own experience while connecting with others from around Canada and the United States. Since there is some relief from the pandemic, the council hopes to resume prior activities and functions in the near future.
A person who strives to live life to its fullest, James has skated with Wayne Gretzky at a fantasy camp in Las Vegas and has seen his favourite Dave Matthews Band more than 25 times, including a trip to Seattle's Gorge Amphitheater to see them.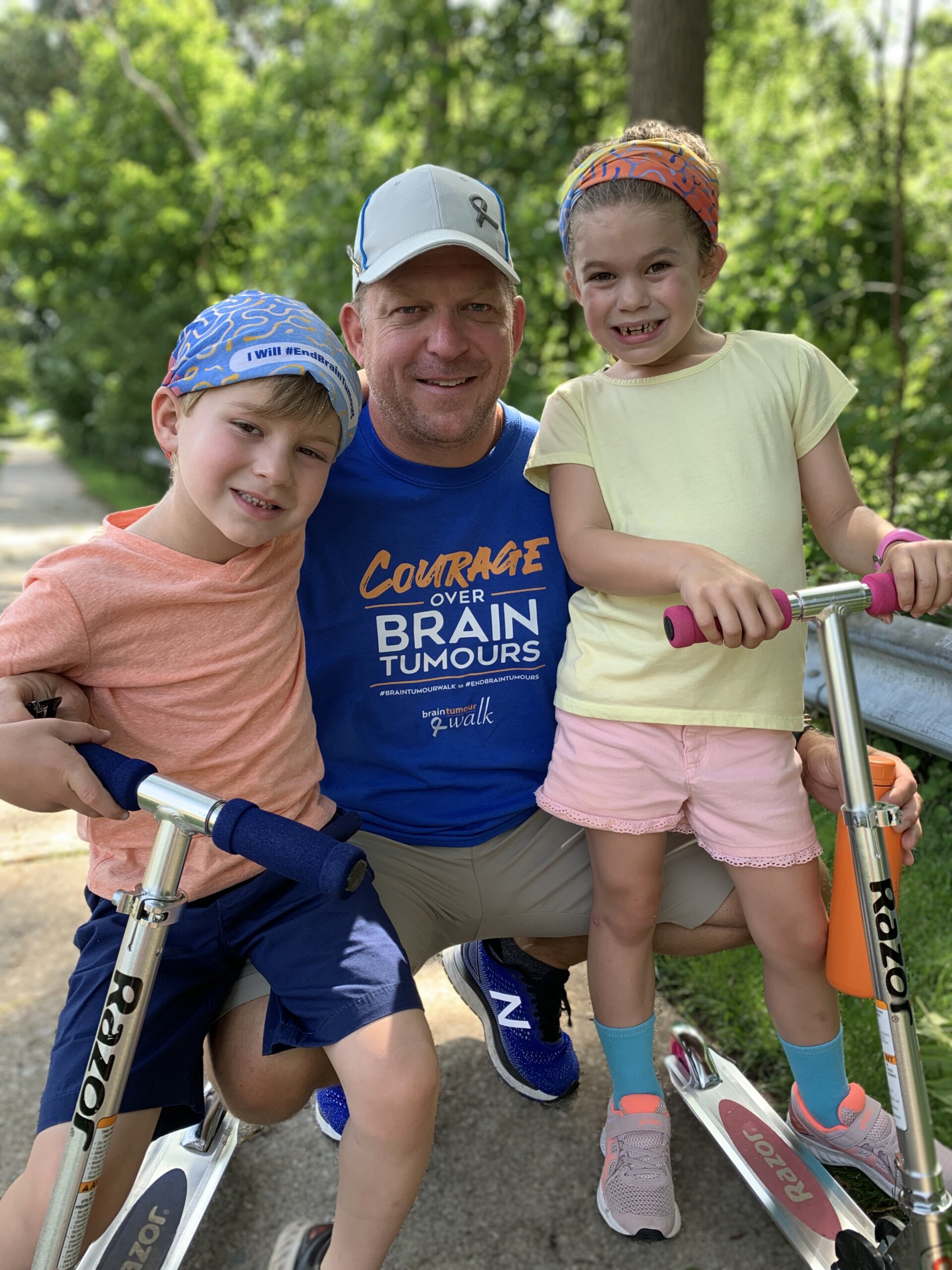 "We go to concerts and see all the people we have always wanted to see. We don't have to wait until tomorrow to travel if we can do it today. Once I went through what I did, I realized life can be short. I'm a very 'life experience guy'. My wife is similar. She's amazing and inspirational," says James.
Today, James celebrates a clean bill of health. "While I try to make the most of every moment, not a day goes by when I don't think about what I went through. It's then that, I stop and say 'Wow, am I ever grateful I am experiencing life, and happy that my kids have a dad!'" he says.
James hopes that his story will help individuals and families who are affected by a brain tumour know they are not alone and to live with hope.
"Hope is about remaining optimistic and appreciative of positive progress. It's having faith in people – yourself, and those around you – and knowing that others have been there before you and that you are willing to help. It's up to us to pay it forward and provide hope," he encourages.
On behalf of Brain Tumour Foundation of Canada, and the brain tumour community:
Thank you, James, and Julie Rolph!