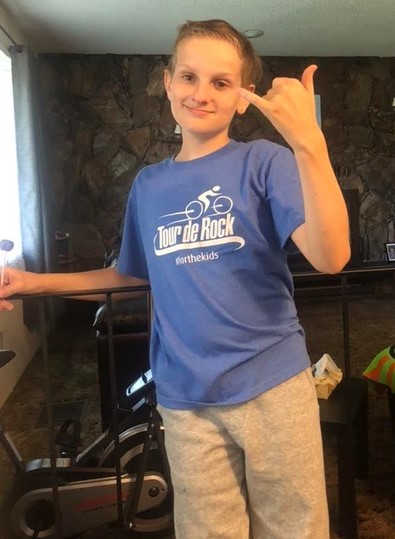 Tasha Finley describes her son Kaiden as a "quiet guy, until he got to know you. Then his humour would come out from within. He was always making people laugh and wanting to help if he could. He loved playing hide and seek with his siblings" she remembers lovingly.
Kaiden spent much of his time with friends riding his scooter, playing video games or basketball, and trading Pokémon cards. "He liked school, and loved Math and Gym," she beams.
In March 2017, when Kaiden was 9, Tasha took him to their family doctor for a tilted neck and morning sickness. "I was told it was a muscle issue, and acid reflux," she explains.
Kaiden was prescribed physiotherapy and medication, in the hopes to relieve the symptoms. Unfortunately, his condition had worsened.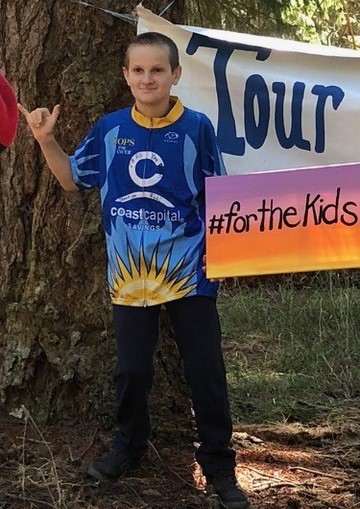 When he was taken to hospital for tests, a grade 3 anaplastic ependymoma was found, a lemon-sized brain tumour. After an extensive 12-hour surgery and six weeks of radiation, he was in the clear. Kaiden was to have MRI check-ups every three months.
Every day on average, 27 Canadians are diagnosed with a brain tumour. Their unpredictability and complexity can cause a lifetime of physical, emotional, and financial effects. They often result in several sensory, mobility and memory disturbances.
For Tasha, the Brain Tumour Walk is an opportunity to come together across Canada, in remembering and celebrating the heroes who have been affected by this disease.
In 2018, Tasha, Kaiden and the team walked their first event in Victoria. "We loved it and decided that we will continue each year, and Kaiden loved being part of the Brain Tumour Walk. Walking or in a wheelchair, he was determined to be there," she says.
"He had a huge heart and wanted to help Brain Tumour Foundation of Canada and the brain tumour community if he could, in raising money to find a cure so others don't have to go through it. Even though he was fighting his own battle, Kaiden was always thinking of others first. He was my hero!" says Tasha lovingly.
In September of 2018, Tasha's life changed drastically. One of Kaiden's MRIs revealed six new brain tumours, which had returned and metastasized to the neck and spine. "I was told there was nothing that could be done. He was now palliative and was given six months," Tasha expresses.
Unfortunately, Kaiden passed away on March 21st, 2019. He was eleven years old. He had been looking forward to going on a walk that year, but Tasha feels he was there in spirit.
As they wear their capes and hold their signs proudly, team Kaiden's Kape Krusaders walk to keep his memory alive– with a united goal to see an end to brain tumours.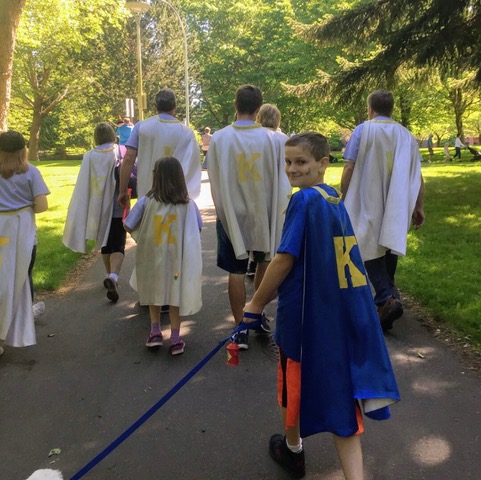 "There is no cure, but together we are going to change that! Raising awareness is beyond important to us," advocates Tasha.
The funds make it possible for critical research to advance, trusted education to spread, and compassionate support to continue.
"With every dollar you donate to Brain Tumour Foundation of Canada, you make it possible for people affected by a brain tumour to live longer, better, and with hope. Together, we will #EndBrainTumours."
Tasha uses a quote to keep her inspired and motivated with continued hope for the future.
A hero is an ordinary individual who finds the strength to persevere and endure in spite of overwhelming obstacles." – Christopher Reeve
On behalf of Brain Tumour Foundation of Canada, and the brain tumour community:
Thank you! Tasha Finley and Team Kaiden's Kape Krusaders!