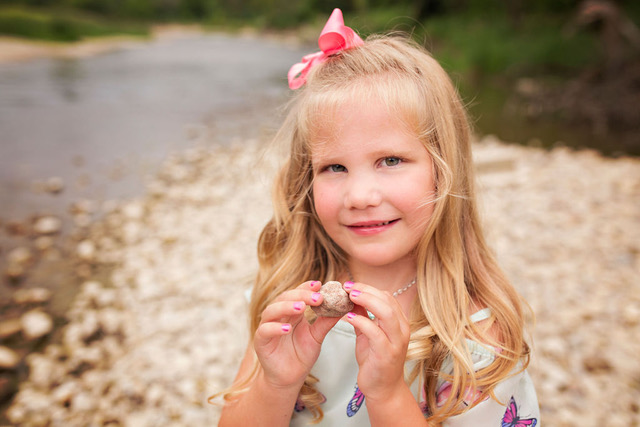 Sharna Collier and Team Bailey
Theatrical, spunky, and strong, only begin to describe this vibrant six-year-old. "People are always happy to see her, and she makes a lot of friends. Bailey lights up the room!" beams Sharna Collier.
Sharna owns a home-based hair salon in Paris, Brant County. She lives with her husband, Brad, along with their daughter, Bailey, and son, Parker.
"Our story is a little bit different. Bailey and her brother are adopted. Brad and I have always felt they were meant to be with us as a complete family. We feel very special and fortunate to be able to take care of her. She has a strong personality which gets her through this, and she is a trooper for what she must go through each day," she says proudly.
When Bailey was only 14 months old, her parents Sharna and Brad noticed that something was not quite right with her. Her eyes were beginning to turn in.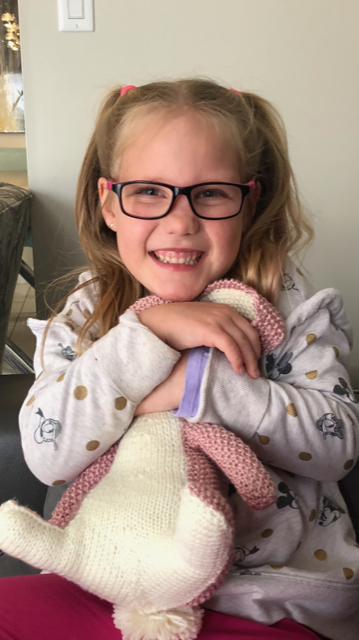 "In the beginning, it was extremely scary. The family doctor tried to reassure us this was relatively normal and would subside. We didn't know she had a brain tumour, but I knew something was wrong with her," recalls Sharna.
Bailey's motor skills gradually declined. She was losing her ability to walk and maintain balance, which caused her to fall frequently. Her quality of life was fragile and in jeopardy.
In September 2017, she was rushed to McMaster Children's Hospital after hitting her head on a sprinkler at a splash pad. She was sent for an MRI and was diagnosed with a Pilocytic Astrocytoma Grade One, located on her cerebellum. She was only 19 months old when her brain tumour journey began.
Sharna says that she and her family experienced every possible emotion a person could fathom in a single heartbeat. "She was so young, but at the same time, we had to be strong for her and get through this. It brought us all together to work as a family that loves, supports, and gives hope." she states proudly.
Five days later Bailey had surgery, but the tumour could not be completely removed due to proximity to a vein. Even though she had returned to daycare two weeks later, Bailey could not be physically active for up to six weeks. Her condition had to be carefully monitored, having MRIs every three to six months.
"It got to a point where the scans were good. It made us feel very positive and happy," Sharna says. "Take each day at a time, because you never know what tomorrow is going to bring."
In May 2021, the oncologist gave the family sobering news. The tumour, although benign, was slowly growing. To control and maintain the size, Bailey was administered a low dose of chemotherapy for a total of 72 weeks.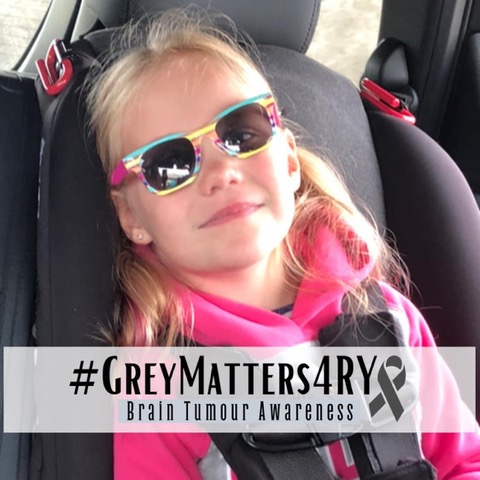 "She can live with her tumor right now because it's not affecting anything. Even though chemo was a step back at first, it was the right thing to do. It's working how it's supposed to. We're on the right track," explains Sharna.
"She was scared at first when her port had to be accessed, but she was given a doll with a port and the procedure was explained to her step by step." Sharna and Brad praise the child and youth worker, who sits with their daughter on her "chemo days", providing support to both Bailey and her family, answering any questions they may have.
"I think she's a very positive kid because the hospital makes it such a great experience. She's fully aware of everything. Every Wednesday, she says 'hey, it's chemo day' or 'I have to go for an MRI.' After about six weeks of going, both Bailey and I completely relaxed and changed. We knew we were going to get through this, and we worked as a team. It's all because of the child and youth worker!" Sharna raves.
Sharna and her family are grateful to McMaster Children's Hospital for the connection to Brain Tumour Foundation of Canada. Since 2018, Team Bailey has been participating in the Kitchener-Waterloo Brain Tumour Walk, having raised over $1500 in 2021.
With Bailey as captain, the team will be participating in the Kitchener-Waterloo walk in Paris, with friends and family in 2022. "In May we wear grey! Brain Tumour Foundation of Canada is an excellent organization that has access to resources for survivors, loved ones and family but most of all hope!" advocates Sharna.
This year, Bailey will be seven years old. She loves her Barbies, singing and dancing, and being intensely imaginative. Her family follows her achievements with pride. Every step Bailey takes brings her one step closer to her gaining independence in her life.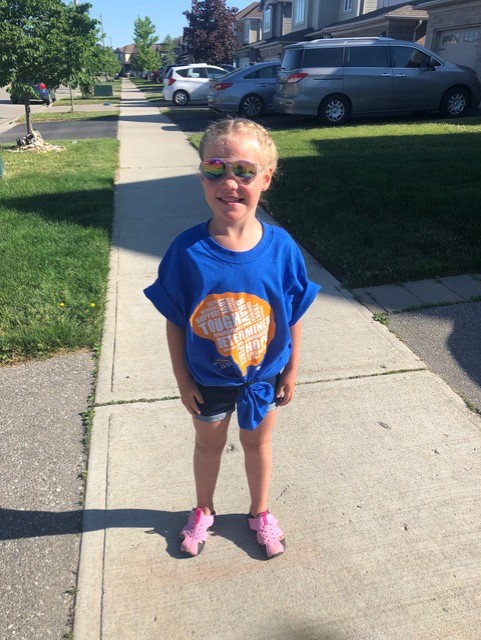 "She recently had a dance recital. Considering how her brain tumour can affect her balance and flexibility, I was a very proud mom watching how well she did. She's a complete rockstar," Sharna smiles, as she also grew up dancing.
"I want Bailey to be happy and able to do what she wants while on her journey, carry on dreaming, have quality in life– and reach for the stars!" mom lovingly expresses.
The pandemic created barriers, such as giving in-person support through family and friends. The Colliers' unfaltering gratitude, positivity and encouragement to patients, survivors, and their families give hope.
Sharna aspires to support other parents and caregivers whose children have a similar experience as Bailey's and give them the space to tell their story.
"Hope means so many things to us," says Sharna. "We hope for a cure to end brain tumours, have continuous support, and raise awareness for the brain tumour survivors and their families."
On behalf of Brain Tumour Foundation of Canada, and the brain tumour community:
Thank you, Sharna and Brad Collier, and Team Bailey!