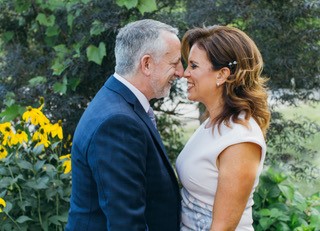 The Moment It All Changed: Jeffrey Albaum's Story
Jeffrey and Susan's story is about love, gratitude, family, community, strength, and support. Jeffrey Albaum is 61 years old and a "living with" patient. Before December 2022, he was rarely sick.
"He's the type of guy who is always busy and involved with work, coaching his baseball team, playing golf, hiking with the dog, helping around the house and being an involved, smart, interested and contributing kind of guy," remembers Susan fondly.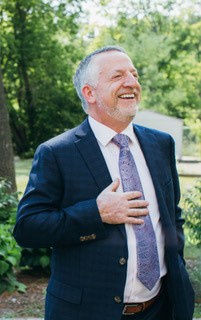 After having a seizure on December 2, 2022, he underwent surgery in January 2023 to investigate the drastic change in his health. Two weeks after the surgery, the doctors diagnosed Jeffrey with a grade-four glioblastoma. But, unfortunately, the doctors told him and his wife there was no cure.
At that moment, everything changed drastically.
Jeffrey and Susan were shocked and devastated as they had never imagined hearing this news. Susan remembers feeling like all their hopes and dreams for a beautiful life together were shattered instantly—individually and in partnership.
After their first marriage ended, Jeffrey and Susan had a long time to find one another. They met in 2017, first dating, then living together. They were finally married on August 23, 2020, in the turmoil and uncertainty of the Covid pandemic. It was love at first sight, and their connection grows stronger every day.
"Susan should have been my first wife, but we never crossed paths. Of course, when you're looking for somebody the second time, you hope to fill many life voids. Without question, though, there's nobody like Susan. She has truly impacted my life in healthy, positive ways," says Jeffrey proudly.
Having grown tremendously as individuals and as a couple, they are the best of friends, the first ones they share big and small news with. They considered themselves "blessed and so lucky" to have found each other, sharing a sense of adventure and appreciating each other's crazy sense of humour.
They have inspired each other to try new things, jobs, and ideas and take risks. One of their strongest motivators is the unconditional encouragement that they give one another.As a couple, Jeffrey and Susan anticipate many opportunities; travelling, enjoying weddings, spending quality time with grandchildren—simply living and loving each other daily.
Sadly, Jeffrey's brain tumour has crushed this dream, which is now a reality.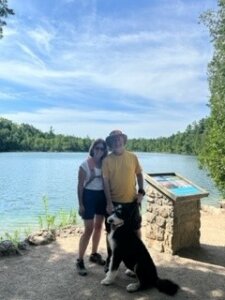 Jeffrey, Susan, and those who love them are scared, sad, and sometimes angry about Jeffrey's grade-four glioblastoma diagnosis. The path ahead is unclear and frightening.
The first week of the diagnosis was a complete blur as they took their moments to hug and cry together.
"Jeffrey said, 'This isn't supposed to be the plan. We are supposed to have many years together. After a long hug, I replied, 'I know. But now it's time to have a new plan.' Life quickly changed. Going to the Odette Cancer Centre Monday through Friday became the new normal. I will say that the hospital has been beyond anything we could have expected. The support we are getting from them is incredible," expresses Susan.
After his operation, Jeffrey participated in a six-week targeted radiation trial and concurrent oral chemotherapy at the Sunnybrook Odette Cancer Centre in Toronto, ON.
The couple tried to keep life as normal as possible throughout his treatment, finding reasons to laugh and smile each day, which was understandably challenging sometimes.
"We did some research after the diagnosis and found Brain Tumour Foundation of Canada. Jeffrey and I decided to attend the support groups, and that's how we learned about the walk. So we decided to get involved," explains Susan.
She says that Brain Tumour Foundation of Canada has many helpful resources and online information for the brain tumour community.
"We've both joined the support groups. They are a helpful, safe space to share our experiences with others navigating a brain tumour diagnosis, the ongoing, changing needs of patients, or being a primary caregiver for a loved one who is," Susan says.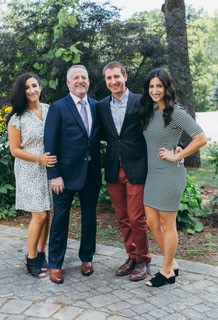 For Jeffrey, the support he received post-diagnosis from someone with the same condition was life-changing. "You appreciate it more because you're conversing and relating with someone on the same level as you," he states.
Jeffrey has three children. As a single father for many years, he made sacrifices to ensure his kids did well.
His son, Jordan, is a senior anesthesia resident. His oldest daughter, Carly, is a Ph.D. Candidate in clinical child psychology, and his younger daughter, Erin, is a physiotherapist.
Susan has two kids from her first marriage. Her son, Shane, works in sales and marketing for Hewlett-Packard. Her daughter, Lauren, recently graduated from university and is continuing her studies to become a private investigator. She also owns a lash-extension business.
"We have our adorable and loving fur-baby Bernedoodle dog named Bear. She brings us a lot of joy," Susan smiles.
Susan has worked as a teacher for most of her career. Approaching retirement age—but not ready to retire—she returned to university in her 50s to become a psychotherapist. She has always wanted to do it since earning her BA in psychology as an undergrad student.
Since Covid, she has seen many children, and often, parents, struggle with their mental health.
With Jeffrey's undying and incredible support, she completed the academic portion of her program while continuing to work full-time. Susan, ironically, had been drawn to grief and bereavement counselling.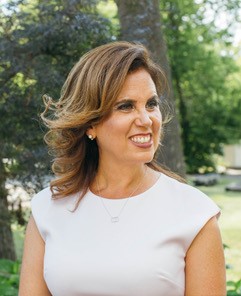 She had completed three weeks of her internship at a site which supports grieving children, families, and individuals—when they received Jeffrey's diagnosis.
While initially wanting to try continuing her program because Jeffrey did not want to be the reason for her to stop, it soon became evident that taking a break was ethical for her clients, loving for her husband, and compassionate for herself.
"He is my biggest supporter in life. Without his support and encouragement, I couldn't have started this master's degree. I know it's hard for him to see that I've stepped back, but I will finish it. Weirdly and ironically, it's as though this was meant to be my new career path," explains Susan.
Jeffrey works as a controller for a packaging manufacturer in Toronto. He is experienced in finance and has been employed by various manufacturing companies.
"I'm glad I can wake up in the morning and go to my office to get some work done. I'd be lying if I said it doesn't hit me multiple times during the day. Given how I'm feeling physically now, I like going to work. For five hours, I'm only thinking about the business at the office. Then I come home for my radiation treatments," Jeffrey expresses appreciatively. "I am lucky and grateful my bosses support me 100%."
He has primarily worked with senior business management and human resources personnel to help develop corporate policy. "I mainly worked on benefits for the company and employees in tandem and made sure they had tools to move forward; I have sat in on six union negotiation contracts. It's nice to know I've been able to help make a positive impact on their lives. Whether you're a manager or baseball coach, there are certain things you try communicating to people that you want them to accomplish. Sometimes, you need to take a tough position. It results from your own experiences in life. That's the whole challenge, to make people think," he encourages.
"Having dealt with various scenarios, Jeffrey holds people to a high standard. He supports them to believe in themselves and loves to see that they've been able to do it! It's the same in his volunteerism, where groups try to reach a shared goal. He's inspirational and analytical that way," Susan proudly says.
Jeffrey Albaum inspires people he connects with. He is highly down-to-earth, often minimizing his words and actions and having no idea of the impact of someone believing in another.
"I remember coaching 10-year-olds in a tournament, and 18-year-olds were playing in a diamond across from us. I heard some kids yelling, 'Coach Jeffrey!' So I looked around, and it was two boys I had coached. They shouted, 'We didn't see you, but we were watching this team play, and we knew that you would be the only coach who could show them what to do.' So I thought, OK, I finally got to you guys," he smiles.
Yogi Berra's biography, "Baseball is 90% Mental, and 50% Physical," has stuck with him and makes him laugh, he says.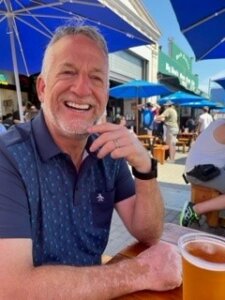 "It blew me away! The first thing is that the percentages don't add up, but it doesn't matter, as not everything in life is 50/50. It's a reminder that every day is different. I told the players, 'If you're a great hitter, you hit .300 on average. That means a 30% success rate, but if surgeons save only 30% of their patients, they will do few operations. They took a lot of what I said or showed them to heart. It's become part of their lives in thinking and doing," reflects Jeffrey.
He is still a dedicated coach, as baseball took up considerable time before his diagnosis. However, he hopes to regain his strength and continue in the coming season.
Jeffrey played baseball until his mid 30's. In the last 24 years, he has successfully coached approximately 200 kids. Jeffrey was also an approved coach, developer and evaluator during that time. In addition, he has played a significant part in educating nearly 600 coaches in courses they require for certification.
"Baseball has been my love. It's always been about teaching that it's not about winning or losing, but that the game itself strongly reflects on what life is all about," he states.
This year marks his 23rd on the Richmond Hill Phoenix Baseball Club board. For 14 years, Jeffrey was a board member of Baseball Ontario and distinctly was named Director of the Year.
He previously sat on the regional association for York Simcoe Baseball, having been the President for four years, and holds lifetime memberships for both York Simcoe and Richmond Hill Phoenix.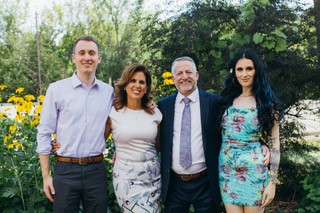 "I helped instate a lot of new rules and regulations. I wanted to change people's thinking and offered multiple ideas to ensure the coaches and players had the tools to maximize their time on the field. Despite the prognosis of my brain tumour, it is not totally consuming me to the point I can't or won't do anything. It's about balancing how much to push and when to rest. I need to be able to contribute, regardless of whether it's with our kids, baseball, home, or the office. I am not as healthy as I would like, but that's now the day-to-day thing. I'm not worrying about what could happen. It's like, 'What can I do today, and how can I be a contributor?" Jeffrey advocates.
He loves connecting with different people and gives back to the communities he's been part of.
"That's who he is and why he is absolutely loved. I think the world deserves to know who Jeffrey is. He's everything; loving, strong, smart, talented, passionate, fun, and adventurous," Susan explains. She is both a positive and realistic person. "I understand the situation with a glioblastoma diagnosis. We will not get the happily ever after, including travelling, adventures and growing older together. However, we take advantage of each day. Jeffrey and I are blessed to be together. I tell myself, 'I know. This won't be easy, but I have what it takes to get through this turmoil. When feeling overwhelmed with any emotion, thought, or task, I remind myself to take things one day, hour, minute, or second at a time. My mind can certainly spin out these days, but I try to remember, "First things first," and that the best ideas are the simplest ones," says Susan.
The Albaums are actively involved with their synagogue, volunteering time to initiatives and committees within the Jewish community.
"My spiritual connection and being part of that community has helped me a lot throughout Jeffrey's diagnosis, and we enjoy participating in worship services when we can," Susan states.
She has volunteered a great deal in her lifetime, recently with people in hospice. Before that, she helped serve the homeless population and vulnerable sector at Out of the Cold programs and soup kitchens. Susan shares that being told there is no cure for this tumour can make one feel hopeless. "Yet, we still live with hope, although our definition of it has changed. Hope means that we can find time each day to feel like the "us" we were before. Hope means making simple, manageable plans we can look forward to and achieve. We love taking a short hike, walking our dog, cooking and wine with music together, cherishing time with family and friends and hopefully, some travelling. Jeffrey cannot wait to get back onto the golf courses with his kids soon," she expresses.
"I hope we can all be attuned to one another to show our love, admiration, and respect for each other. We must laugh and have fun—sometimes while we cry simultaneously, even during the not-so-good moments."
Jeffrey and Susan try not to get too far ahead with their thoughts, as they try to take everything a day at a time "because anything is survivable for a day, a minute, or an hour. We're only dealing with what's going on today."
Jeffrey feels fortunate to have been able to access a radiation trial procedure. The medical team looks at images of his tumour daily, consulting with the radiation oncologist every Wednesday.
From a medical standpoint, they discuss what is evident in the pictures and what he has been experiencing since the last appointment.
"I am not sitting in a chair all day long and letting all the bad stuff go through my brain. That will not work for me. But, on the other hand, I'm not taking it such that I can't do anything because that is not my perspective," Jeffrey states.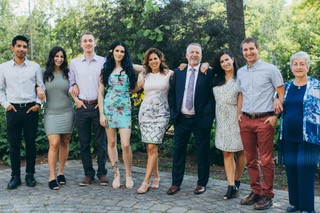 One of the reasons he decided to have this therapy through this physician was the amount of research, and the program has potentially good results to improve his quality of life.
While sitting at Sunnybrook Hospital, he was astonished, having read a sign stating that radiation is performed for over 400 patients daily. "I think the purpose of research is that maybe it doesn't work for me at this point, but who knows? In a day, month, or year from now, they may find something to assist me down the road," he ponders.
Jeffrey and Susan have rough days and moments here and there, but they try to take every day to its max—and go from there.
They refuse to worry about what may happen in six months, a year, two years, whatever the case. Instead, they feel they can only deal with it every day.
"When you get a diagnosis of a glioblastoma, there's no cure available currently," Jeffrey sadly expresses.
"We both face many daily challenges. We are problem-solving and planning people and try to find resolutions to problems. We know that there is no solution to this strife nor a cure for this type of tumour. I've stepped out of my comfort zone and have been motivated to give hope— through sharing our story and the fundraising page," Susan states.
For the Albaums, The Brain Tumour Walk fundraiser is a way to show their support and tell Jeffrey how much of a positive impact he has had on them.
"We don't often take enough time or wait too long to say that to people," says Susan.
Their Toronto-based,14-member team is called Mind Games. They have already exceeded their goal, with over $28,000 donated to their team thus far.
"To some degree, it's not even about money. More importantly, this is to let people know how I feel and where I am in this challenge. The dollar amount represents 50% of the donations received for the Toronto Brain Tumour Walk thus far," explains Jeffrey.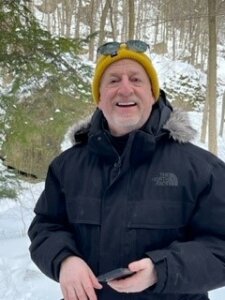 Susan says that the event is a "pay it forward," being thankful for all the compassionate care that they both have received. The walk also educates people about brain tumours and how they impact the patient and family.
"Jeffrey is fortunate to be in this medical trial. We're benefiting so much from fundraising that's been done before us!" Susan raves. "HOPE is an acronym for 'Helping Our People Endure.' We all have had challenges. But, with the support from family, friends, and the medical profession—along with Brain Tumour Foundation of Canada—we all get the help to endure our hardships and be as positive as possible!" Jeffrey exclaims.
On behalf of Brain Tumour Foundation of Canada and the brain tumour community, thank you, Jeffrey and Susan Albaum!