BrainWave Carousel Theatre BC Event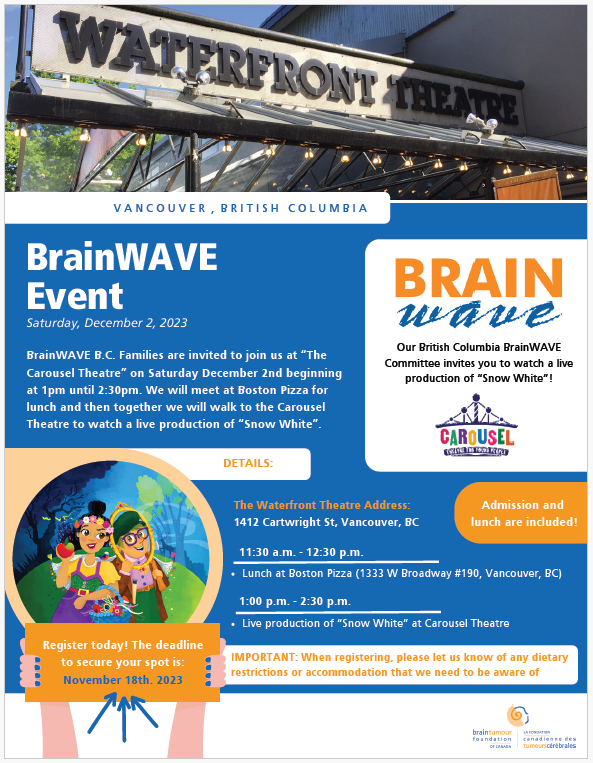 BrainWAVE B.C. Families are invited to join us at "The Carousel Theatre" on Saturday December 2nd beginning at 1pm until 2:30pm.
We will meet at Boston Pizza for lunch and then together we will walk to the Carousel Theatre to watch a live production of "Snow White".
Admission and lunch are included!
Please note: Granville Island has several pay parking lots and many free parking spots that are available for a maximum of 3 hours before 7pm.
The Carousel Theatre Details:
Date: Saturday, December 2, 2023
Time: 1:00 p.m. – 2:30 p.m.
Address: The Waterfront Theatre, 1412 Cartwright Street, Vancouver BC V6H 3R7
Event Agenda:
11:30 a.m. – 12:30 p.m. – Meet at Boston Pizza (1333 W Broadway #190, Vancouver, BC V6H 4C1)
12:00 p.m. – 12:45 p.m. – Walk together to the theatre
1:00 p.m. 2:30 p.m. – Snow White at Carousel Theatre
When registering, please let us know of any dietary restrictions or accommodation that we need to be aware of; this helps us to ensure you have an amazing time at our BrainWAVE events.
The deadline to secure your spot is: Saturday, November 18, 2023
Registration for this event is available using the form below.